Greetings once again from Chicago! Hope all is well at your end of the Long Gray Line! Please note that your scribe and his lady have moved. Home and office overlook the 14th green on Boulder Ridge Country Club in beautiful Lake in the Hills. Life is good. Come visit!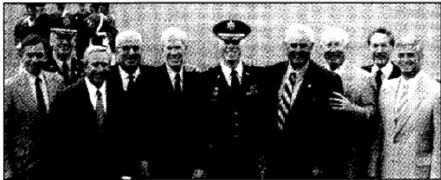 More photos from Dan's retirement and the class picnic for Dan & Susan at Ric & Patty's quarters at Ft. Myer. The group photo on the Plain was just after the Corp's pass in review for the outgoing Supe. Joining the Supe and your scribe are Tom Barron, Bob Doughty, Nate Kantor, our president Fred Laughlin, Denny Lewis, Rollie Stichweh, Chuckie Pfeifer, and a svelte-looking Don Parcells. The Corps feted the Christmans at a fantastic FD gray dinner in the Mess Hall later that day that we all attended. A truly great and proud day for Strength & Drive.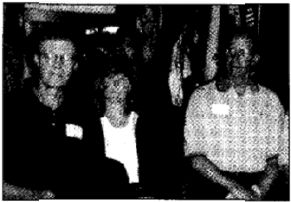 At Ric & Patty's Saturday party, we took a side trip to pay our respects at Arlington. As mentioned last time, one of the previously entombed unknowns was later identified by DNA analysis. As it turned out, this young USAF captain had been taught by Walt Oehrlein, shown here in the memorial chapel at the Tomb standing alongside John Pickler. By the time you read this, John & Karen have retired (late October), even though Ric has tried to get him to extend for another year. More on the Picklers in the next issue.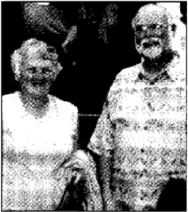 On the front steps of Quarters 1, we see a smiling Tom & Marilyn Kovach about to depart for Arlington. The other two photos show our folks inside and outside of Quarters 1. Everyone had a super time and the turnout, given the weather, amazed most of us. Our thanks to the Chief & his lady for hosting this fun experience.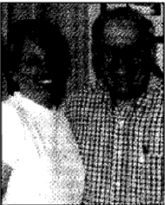 After the June festivities, you all should have received, by mail, a copy of the revised Class History, updated for Dan's retirement. If not received, let me know. I have a few extras. Several classmates have written with additions or suggestions. Bob Rojas "really enjoyed" reading it. He now is the Costa Rican Secretary of State (1998-02) and has formerly served as the Secretary of Commerce (1990-94). Roberto also reports that Jose (Speedy) Gonzalez still is in Toronto. Pete Lounsbury took the time to read the history and compare it with his files. Pete, I will go back and compare your information versus the history's when we next update it. Thanks again for taking the time, buddy.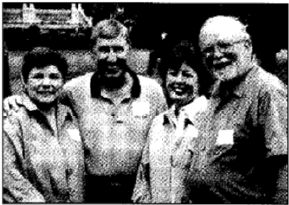 If you have a free moment today, please stop and say a prayer for some of our classmates who are/have just weathered some tough times. Ron Bailey is facing some trying days ahead as he battles cancer in Alexandria, VA. His number is as listed in our 1998 roster. Ron Williams lost his wife Judy (Wojtowicz-Ladycliff 1965) in late July after a short battle with asbestos-related cancer, diagnosed just last year. Ron & Judy have two sons. Ed '98 is an Infantry lieutenant just back from Kosovo and stationed at Ft. Campbell. Matt graduated from Missou last December and had been at home caring for his mother. Some of you may remember Judy from her days at Ladycliff. Her remains were returned and interred in Mahopac, near WP, her childhood home. Contributions in her memory can be made to St. Cecilia's Church in Glen Carbon, IL. Once again Strength & Drive rose to the occasion and was well represented. Johnny Wells was our point man. Ron noted that "the thoughtfulness of classmates means a lot to him." Ron's sister, as you may recall, married Jim Talbot. And finally, our thanks to Bob Scully for his patience and loving concern in working with Hope Pullen to finalize Rusty's memorial article, to be published soon.
For some strange reason, my computer has a tendency to copy Ed Abesamis on some of my business and personal e-mail. He is the first name in my address book. But it turns out to be a neat way to get people to respond. He & Susanna expect their first grandbaby this fall. Bruce Clarke opened two new sites in his expanding consulting business. Try them out at and . A good friend of mine, Bill Taylor '70, opened a neat West Point-related site. Check it out at . It provides tours, history, cadet close-ups, games, and webcast for the Long Gray Line.
Frank Meier sent his regrets at being unable to attend Wayne Scholl's memorial in June. Frank & Kathy are located in Las Vegas, near their two sons. Skip & Marilyn O'Donnell also moved there. Give them a call if you are in the area. Received a nice note from Doug Heckman in Atlanta. He liked the "Class Notes" issue on the Christmans. He also reported that after being a platoon leader in Sandy Hallenbeck's battalion (when the current CinC-Korea Tom Schwartz '67 was the XO), he (Doug) decided to go SF just to slow down. Never ceases to amaze me how many people outside of '65 read these "Class notes."
From time to time, I receive notices from the AOG of classmates who are officially "lost." So, if you are listed below, please note that you no longer exist in the eyes of our alma mater. These lost souls are: Richard Bryant, Chuck Burgardt, Bill Connolly, Charles Cook, Garrett Davis, Rich Donahue, Claude Fligg, Terry Grandstaff, Don Hall, Richard Horst, Henry Kelley, Leo Konermann, Tony Livic, Ray Ludwig, Ladd Metzner, Jim Mims, Ken Moorefield, Fred Scruggs, Denny Sellers, Grover Starling, Larry Strassner, Terri Throckmorton, and Jim Tillman. If you have an address on any of these guys, please let me know.
Denny Coll