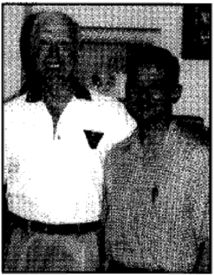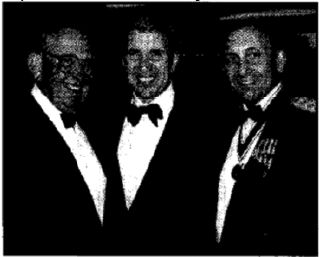 Greetings once again from Chicago! Hope all is well at your end of the Long Gray Line! The first photo says it all! We are only the third class in USMA history to have the serving Supe and Chief be from our ranks. To commemorate this event, about 200+ assembled in DC in mid-June, first at the black-tie Army Ball and then, on Saturday morning, at Ft. Myer, overlooking our nation's capital. The ball was great--very upbeat with more than 2,000 in attendance, with representatives from just about every Army unit worldwide. The three studmuffins in black tie are Harry Dermody, Joe DeFrancisco, and MG Dick Coleman (USAR). Laura DeFrancisco, Joe & Lynne's daughter, and her Army protocol staff, planned and ran the ball, as they did last year. They won a prestigious public relations award for same the night before this ball.
Saturday morning found us under a heavy cloudburst with one of our DC leaders, John Pickler, showing up in his Ranger yellow foul-weather gear. Karen drove in their car! Although you rarely see him in action at these class events, I can assure you that they always are first class events because of John's behind-the-scenes actions. Bob Harter and several other DC residents admirably completed the legwork of planning and organizing the picnic at the Chief's home. Our thanks to John, Bob and all the others for a job really well done!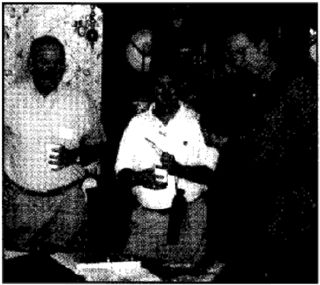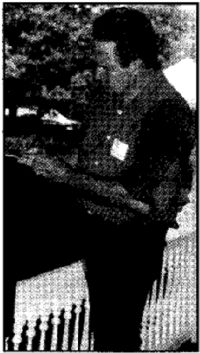 Speaking of Quarters 1, what a neat place for our leader and his lovely lady to reside. Patty cheerfully gave us all individual tours of the public sections of this very large house. She & Ric had a booklet published on the history of the residence. There is an old cadet fireplace in the living room of the mansion, said fireplace having been removed from room 741 in Central Area just after our graduation. Someone at the picnic claimed to have lived in that room, but I did not get the name. Patty is shown in the dining room (dinner for 26 anyone?) showing Bob Axley, J.P. Greene and others with some of the interesting historical artifacts she has uncovered. Out on the porch, a somewhat damp Roger Frydrychowski is making notes for his next court case in Richmond. Our new class banner, newly minted by Joe Sanchez, proudly hangs on the front porch as Axley, Greene, Lee Hewitt, and several others look on. Also out on the front porch, the Ray Schaltenbrands join Alex Alexander before loading the buses for our visit to the Tomb of the Unknowns.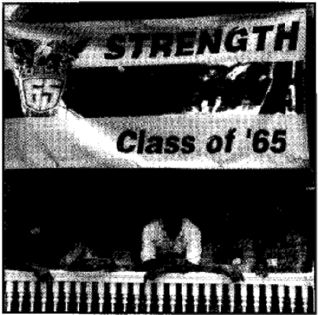 Once the rains stopped, the Chief lead us all over to Arlington where our class president, Fred Laughlin was joined by Jim Peters in laying the Class of '65 wreath at the tomb. In one of those "small world" categories, the director of the cemetery, Jack Metzler (whose father held the same job before him) told us how the Army had been able to identify the remains, using new DNA techniques, of the Viet Nam-era serviceman after he had been interred for several years. The remains were those of an Air Force Academy grad who our own Walt Oehrlein had coached on the tennis team at USAF. Laughlin indicated that the newest version of our Class History was being mailed in early July from West Point along with his class letter. If not received, let me know. We honored our just retired 55th Supe & his lady at the picnic lunch, just before they boarded a plane for ten days in Tahiti. Upon their return, Dan will run the Jim Kimsey Foundation in DC, providing funding to bring technology into inner-city schools. All in all, I think everyone had a great time.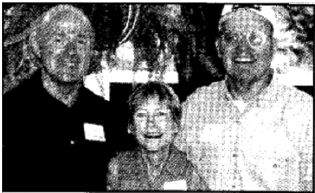 I received a copy of Robert Bowie Johnson's open letter to that Mount Holyoke professor who claimed he was a Viet Nam vet. Bob, as you may know, is a former antiwar activist who took great issue with the professor's mea culpas. Interesting reading.
If you missed the "Regis and Kelly" show in June and also again in July, you missed our own entrant into the "most eligible bachelor in the USA" contest. His official bio reads: "age 60, actor, musician, producer, and production company owner. Owns a ranch in Montana, a house in the Hamptons, a penthouse in Manhattan and was a Green Beret captain in RVN." I'll let you know next time if Chuckie Pfeifer won!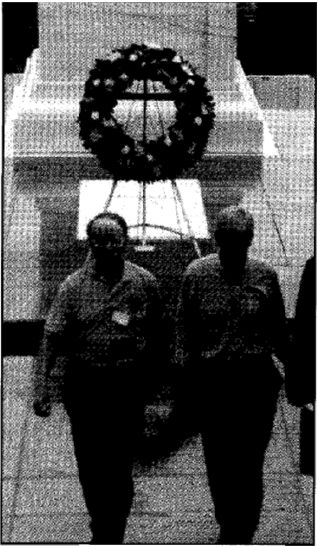 Some sad news to pass along. Steve Ammon lost his wife Jan in late June after a lengthy battle with cancer. The class sent flowers and was represented at the services.
For those of you who were unable to make the memorial service in Wisconsin for Wayne Scholl, I offer the following personal recollection. On a bright and gloriously sunny day, nine classmates and several spouses assembled at a local church, in concert with Wayne's widow Susie, his son Brian, daughter Jenny and husband, as well as his granddaughter. About 100 friends of the family joined us. In addition, Wayne's mom, sister, brother, and several other family members from both Wayne & Susie's families attended. After appropriate ministerial remarks and prayers by the pastor, the reverend read a very touching and frank eulogy written by Susie. This was followed by loving verbal reminiscences from Brian and his sister. Strength and Drive, the beautiful red roses from which dominated the altar, then followed with the touching reading by several classmates of posted memorials from Wayne's many friends and admirers. Our readers included Jack Cooley, Tad Ono, Ken Yoshitani, and Stan Genega. Personal eulogies were then read by Denny Coll with the final wrap-up by Wayne & Susie's best man, Jay Stewart. Jay & Carol arrived the day before to coordinate the details of the service with Susie and her family. Others in attendance were Chuck McCloskey and John Longhauser. Bob Wolff presented to Susie the distinguished Fleury (Silver) Award for Wayne's service as a military engineer.
After the memorial service, the group retired to the basement community room of the church for refreshments. The family had assembled a wonderful collection of photo albums and Wayne's military decorations for all to view and remember the good times that we all shared with our classmate. At the appropriate time, the signal was given and we all processed by car up to the scenic bluff park overlooking the beautiful Lake Michigan town of Port Washington, WI. There, an honor guard and the chaplain from Ft. McCoy rendered final, full military honors to our fallen comrade in arms as we all stood at attention. John Longhauser, in dress greens, presented the flag "...on behalf of a grateful nation..." to Susie and her family.
Our class eulogy site is now operational on the WP.ORG site. The published memorial articles also are available at our class website. Strength and Drive!