Greetings once again from Chicago! Hope all is well at your end of the Long Gray Line! By the time you read this, two class "happenings" will have occurred and one needs your help. The first was the Class "spoof" article on the former Supe and his lady that appeared in the May issue. Dan called the morning after he read it and "loved" it. If you missed it, e-mail me. Thanks to all that helped! The second event was the brunch at the Chief's house at Ft. Meyer in mid-June to honor Dan & Susan for their long service to our country and alma mater. Details on that event will appear in the next issue. A revised Class History was produced for this event. If you did not attend and receive one, your mailed copy should be received by early July.
And finally, for those of us who sat through past year's Army-Navy game and watched in humble silence as the squids not only beat us on the field, but also, destroyed us with their "pithy" video clips, '65 is no longer going to sit by and take it! Our fearless leader Fred Laughlin has formed the SFS ("Screens of Friendly Strife"), a group of highly talented A/V and finance folks who will work closely with the cadet team and USMA to get a superior product produced for the big December game. Want to help? Have any ideas? Call or e-mail Fred by September.
We received some really sad news of Wayne Scholl's tragic death last February in the tidal waters of Deception Pass north of Seattle. As of May, his body had still not been recovered and may well never be. Susie sold the house in Redmond and has moved to California to be near her daughter and grandchild. A fitting memorial service with full military honors was held in their hometown of Port Washington, north of Milwaukee, on a bluff overlooking Wayne's beloved Lake Michigan. The class was represented by Jay & Carol Stewart, Tad Ono, John Longhauser, Kim Olmstead, your scribe, and others who we will recap in the next issue. The class really rallied around Susie in her time of need. The family would like to extend their special, heartfelt thanks to Bruce Gailey (our man on the scene), John Pickler (who organized the senior levels of DA) and several other DA participants for a job extremely well done. Don't forget to stop and smell the roses, folks. Life can be very short.
Anyone notice which ring Coach K '69 had on his left hand when he held up the National Trophy after the championship game? Just asking. My apologies to the Gnaus and deLaars for messing up their names in a previous issue. The photo was of Dave & Marcella Gnau with son Matt. Marcella, as you may recall, is Bob deLaar's sister. For those of you who claim Bob Bedell no longer existed, see the attached class photo at FD in Dallas with the Supe. Joining Bob & Sheri and Dan & Susan are Frank & Dorna Prokop, Ray & Kathy Woodruff, and Joy & Mike Stanko. John Higley works for the Navy in San Diego.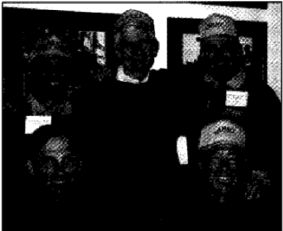 According to Leighton Atteberry, Smokey Echols (Jim's widow) is excited about their daughter Michelle's wedding in May. Smokey had a serious operation in March, so say a few prayers for her. For those of you (us) waging the war of the waist, you probably should have been a '65 gymnast. Look at the photo of these five guys (Wolff, Koropey, Longhouser, Slutzk, and Ono) at a WP gymnastics reunion in March. Remember my comments a few issues ago about '65 and the Irish parliament? John Concannon finished his internship there just as the Irish cancelled St. Patty's Day and Guinness went on strike. He & Linda have had a great run at it. Ron Floto is no longer in Hong Kong or has moved, judging by the return mail I have received. Ron, another job? Another continent?

The First Annual '65 Golf boondoggle was a big success, according to several of the attendees. Bob Radcliff (Mr. "New Knees" along with Mike Watson) is organizing the second in Williamsburg, VA, for this fall and then the third will probably be back at Hilton Head next February. As you can see in the two photos, about 20+ attended this event, including our president, Ammon, Darrah, Dermody, Clair Gill, Harter, Hawkins, Lance Hewitt, Howell, Hurley, Knauf, Kulbacki, Leach, Malpass, McCloskey, Shaver, Tomaswick, John Vann, and Barrie Zais.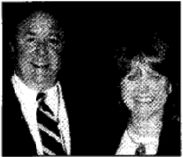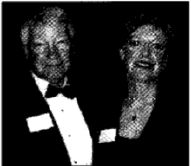 Ray Shaltenbrand sent some photos of the annual dinner get-together of the Atlanta crowd. Unfortunately, several of the photos were too dark to reprint. Joining Ray & Eleanor are Lew & Barbara Green, John & DeDe Malpass, and the newest Atlanta arrivals, Dan & Nancy Benton. A good time was had by all.
Still no word on where Dan & Susan will end up after June. Very closely guarded secret. Lots of rumors but nothing definite. Hopefully, I'll have something for the next issue. Stay well, take time to smell the roses. Let me hear from you, especially with photos like those above!
Denny Coll