Greetings once again from Chicago! Hope all is well at your end of the Long Gray Line! Within a fortnight or two, the 55th Superintendent will "exit stage left" and turn over the superintendency to the next generation. As a class, we thought it was appropriate to review the lives of this leader and his lovely lady. This trip down memory lane will take us from a small town in Ohio, through a loving family steeped in military tradition, to Dan's first major construction job (a quaint "two-holer" for a visiting VIP) with an intermediate discussion of the Titanic and finally to "...the fields of friendly strife" on the Hudson, where lessons learned in Beast were translated into leadership training more than a quarter of a century later. Hang on, it should be a fun ride!

Daniel William Christman was born in May 1943 to Anne & Ivan in the little town of Youngstown located an hour or so from Cleveland. Mr. Christman was an Air Force supply officer and so the family spent much of Dan's early life at the air base at Mogodore. They finally moved to Hudson, OH, when Dan was about eight. The early reflective photo of the young Supe with his dad's Air Force cap was a harbinger of things to come.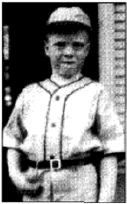 Dan's first love was baseball, especially his beloved Cleveland Indians, with Bob Feller and Bob Lemon. He played baseball in high school and particularly liked to pitch, because "that was where the action was." Dan gravitated to uniforms, as can be seen in the photo at age 16 of the young Explorer Scout, and to starched ones at that, serving as an altar boy at his church each Sunday. With two fireworks manufacturers in Hudson, the 4th of July was a big deal in this small town. During this annual holiday, Dan became somewhat of a legend in the local soapbox derby, culminating in his return as an Army lieutenant general to be the Grand Marshall at the All American Soap Box Derby. He hadn't lost the racing touch taught to him by his father and managed to win the celebrity race and trophy.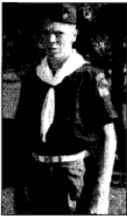 Ivan was a history buff, so many of the family vacations included battlefield visits, one of which was West Point, sparking Dan's interest at an early age. Dan received a competitive appointment to West Point and traveled there with his parents for that infamous R Day in early July 1961, along with 846 other bright young men. The family stayed at the Hotel Thayer the previous night and Dan, wanting to get the proverbial "jump" on his new classmates, decided to go for a run around the post to tune up for the next day. Unfortunately, he failed to see a chain stretched across the parking lot and fell flat on his face, some 12 hours before he reported to the man in the red sash! Humility would mark his coming military career. Falling short of goals would not! In such an inglorious fashion, the military history and anecdotes of the 55th Supe had begun. Dan weathered Beast Barracks well with his squadmates in 2d New Cadet Company, including Dan Steinwald, Dave Vann, and a highly recruited football player named Bob "Pearshape" Barnaba. Unfortunately, Pearshape only made it through the first semester. His first detail squad leader (2d squad, 1st platoon), to whom he and the other New Cadets owed "all that they were and all they ever would be," was Jim Green '63.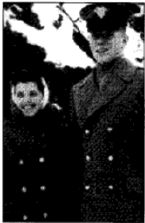 Two "Beast" leaders would set examples for New Cadet Christman, which would later influence Superintendent Christman. Dan very much admired and wanted to be just like his Beast company CO, Chuck Dominy '62--"a thorough professional!" A squad leader from another squad taught him how NOT to lead, with sophomoric antics such as pouring a milkshake over the Ohioan's shaved head at the change of Beast detail. The Supe has worked long and hard to eliminate antics such as this one in the cadet leadership training, while retaining the tough and demanding nature of Beast Barracks. Dan's intuitive assessments of leadership were right on target, even at this early juncture. Dominy (for whom the feeling of respect was mutual) went on to earn his third star and retired as the Director of the Army Staff. The squad leader, although graduating high in his class, resigned some 17 years later, two ranks below flag. Dan successfully navigated that first year, eventually enjoying a visit from his parents during Christmas. You may recall that we were one of the last classes to "enjoy" Christmas at our "rockbound (and cold, snowy, and windy) highland home." Our future leader led an active life as a cadet, both on and off the field. He served on the class committees all three years as well as the Catholic Acolyte and Cardinal Newman clubs, the Math Forum, Debate Council, Ring and Crest Committee, and the Rocket Club. Plebe and Yearling years found him in D-2, followed by L-2 as a cow. That summer was AOT in Europe before being assigned to the Brigade Staff (E-2) and the amazing "CPT Lash" as a Firstie. He was also on the varsity track team his last three years. Dan spent his last academic year as the brigade adjutant, rooming with various brigade sergeants major such as Doug Gibson, Fred Ammerman, and the "infamous" Steve Ammon. CPT Lash holds a memorable spot in the Supe's scrapbook, having assigned the S-1 to more punishment hours in his room than the combined total of walking plus confinement hours in Dan's first three years.
He topped off his cadet achievements with that most notable USMA distinction--graduating NUMBER ONE in the General Order of Merit in the class. But through all of the celebrations of this and his other cadet achievements, Dan never lost sight of his humble Ohio roots. He was one of the first non-family members to make a get-well call to the guy who came in #2 (Jim Scheiner), in the hospital where he was recovering from brain surgery. Dan also volunteered to write the memorial article for the guy that graduated at the other end of the '65 segment of the Long Gray Line, Phil Harper, after his death in 1991.
Little is known, or at least available to this scribe, about his female acquaintances during his time at West Point, although rumor has it that his graduation date was a young lady named Carol Rondeau, a Syracuse coed. We do know that Susan entered his life after West Point in a rather unusual way. Dan was visiting his kid sister, Kathleen, at the KAT sorority at Syracuse University when he was greeted at the door by the "hot" sorority president, one Susan Browning, of Englewood, NJ. Dan was smitten, according to bystanders. Unfortunately, Susan was not. Apparently, there was another fellow in her life. End of story until several years later, when Dan asked Kathleen what ever became of that "hot" sorority sister of hers (translation--was Susan married?). Kathleen reported that Susan was unattached and lived and worked in New York City. Dan was at Princeton. The rest, as they say, was history.
Like a heat-seeking missile, Dan sought her out. Their first date was a home game at WP in October 1967. They became engaged on Governor's Island that January, even though Dan dropped the ring on the floor during the (well-rehearsed) proposal ritual. Six months later, they were married at the Browning summer home in Sturbridge Village, MA. No classmates attended, because most were either in or on their way to RVN. As Susan notes, "nothing like a war hanging over your heads to speed the decision process along."
Susan would learn quickly to become a good military wife, spending Dan's first year in RVN teaching school in Hawaii. She dutifully following Dan through his many and varied early assignments, able to enjoy the fruits of their joint labors only later in their military life. Although they shared both the good and the bad times together, Dan's impishness is often remembered during some of the better times. During one dinner celebration in the Mess Hall for the class reunion while he was the Supe, a classmate observed Dan caressing his wife's derriere, after which Dan leaned over to this classmate and whispered: "Ya know, I've always wanted to do that in the Mess Hall." Not to be outdone, this time at a WPS dinner somewhere, Susan listened calmly as the dinner chairman observed that Dan Christman was a fine Superintendent and that in fact, his first thoughts in the morning where about West Point as were his final thoughts in the evening before turning in. Having some problem with the total veracity of that statement, especially the latter clause, and after an appropriate pause, Susan managed a stage whisper to the effect "Well, not every night!"
In the fall of 1965, Dan reported to Ranger School at Ft. Benning (The Home of the Infantry), where he was to show the class why he chose Engineers. On patrol one day, after being selected to replace the initial classmate/patrol leader who had managed to get the patrol hopelessly lost, Dan fared no better in the map reading department. After wandering aimlessly through the woods, the Ranger sergeant, who had not finished high school, launched into a loud tirade aimed at the patrol and its new leader. He inquired of the young LT Christman in a most emphatic manner: "How in God's name did you ever manage to find your way through West Point? And by the way, lieutenant, just where did you graduate in your class anyway?" A "beet red" shavetail O-1 meekly offered that he had graduated numero uno, which stopped the Ranger sergeant dead in his tracks!
Following Ranger School, Dan's active duty career began in the can, so to speak. While stationed in Korea with the 2d ID engineer battalion, he was notified that the CG personally selected Dan for a most important mission. Dan was thrilled until he found out that his assignment was to build a two-holer for the wife of the visiting VP, Hubert Humphrey. Not to be deterred, build a latrine he did, a fine one he thought, until said CG came by for an early inspection. Dan was asked if he had ever met Mrs. Humphrey? He answered in the negative and immediately was instructed to cut the two holer down to size so that Mrs. Humphrey's (a height-challenged woman) feet would not dangle "two feet off the ground." LT Christman rebuilt the latrine and apparently everything came out okay.
Dan's Army-wide penchant for "boodle" (food and other edible goodies) of any kind also started in Korea, when some of his food stash ran perilously short of the upcoming IG inspection requirements. Fortunately, classmate Sandy Hallenbeck came to his rescue and swapped C rations for some of Dan's C-4 (explosives). They still talk in the Pentagon of Dan's amazing ability to find and abscond with other people's boodle, regardless of how well it has been hidden.
Dan's rise within the ranks was steady and spectacular, as were some of his assignments. He received his second and third academic degrees from Princeton to be followed by a law degree from George Washington. He was an Engineer company commander in the 101st, then an assistant "P" in the "Sosh" department at WP, early selection for CGSC, followed by a stint on Henry Kissinger's National Security Council, and then over to the Nuclear Division in the Army G-3. A former brigade first captain, who was stationed at WP with Dan in the Social Sciences Department, recalls the department's "annual scoffs," a long standing tradition of skits, monologues, and parodies designed to "highlight human frailties and eccentricities, to inculcate humility (especially for those in need), and to harangue the departmental leadership and thereby protect the rights of the downtrodden masses" (i.e. the junior instructors). As those of you who attended the 20th and witnessed that great skit at the Bear Mountain Lodge narrated by Dan and Jim Golden can attest, Dan had a particular skill at these "scoffs." What we did not know, until pointed out by said '64 first captain, LTG Dick Chilcoat, was that Dan has long been considered not only "the preeminent scoffer in department history" but also, "the most eminently scoffable person in its history."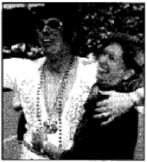 Unknown to even the Navy brass, Dan is, according to a classmate, "a closet Titaniac." It seems Dan received a book on the great ship, as a child, and subsequently read everything he could find on the subject. Who'd have though? The stories get better. During his DC days, Dan became an ardent Redskins fan, surprising even the Redskin cheerleaders one day at the Pentagon when he showed up in full one-star Army regalia with a rather large, paper mache' pig nose to show solidarity with his beloved "Hogettes." This was not, fortunately, to be the last of Dan's cross-dressing/scoffing days!
As the years flew by, higher rank and responsibility came along. After battalion command of the 54th Engineers in Germany, Dan had various assignments including being a student at the National War College, district engineer in Savannah, CG of the Engineer Center at Ft. Leonard Wood, then off to Brussels as the U.S. member of NATO's Military Committee, and finally as XO to the JCS Chairman, where his third stars were pinned on by Generals Colin Powell and Shelikasvalli. His reputation as a great "scoffer' however was never far removed.
While stationed at Wildflecken, Germany, in command of the 54th and after he and his officers had made the mandatory annual (three-hour) trip to wine and dine their German "partnership" battalion, one of his young officers became sick as a dog on the return ride. After losing his Army issued glasses somewhere in the bus, on which had been planted the fob from the German unit, said young lieutenant had managed to deposit dinner and drinks on his CO who was sitting directly in front of him. Fast forward a few months to the battalion holiday dinner dance. The movie The Great Santini was playing the German military bases. In that movie, there was a memorable scene in which Robert Duvall's character hides a bottle of wine in his Marine Mess Dress, goes out and dances with the admiral's wife. Pretending to be sick, the great Santini pours the wine all over the startled lady's dress.
Out of the Wildflecken Officer's Club men's room comes the CO, complete with German Army fob on his borrowed Army issue glasses. His exec yells "Look, the great Santini!" (N.B. the offending lieutenant's nickname sounds something like "Santini"). LTC Dan makes a beeline for the lieutenant's wife, and in an (assumedly) inebriated state, begins to dance with the startled young lady. On cue, a hidden bottle, filled with Campbell's best Chunky Chicken Soup, replicates the bus incident, only this time on the dance floor. In unison, the remaining junior officers (obviously part of a well-rehearsed cohort) rush, with spoons at the port, to the puddle on the floor, screaming "at last, a hot meal." I would share the name of the young lieutenant with you but it might be embarrassing because he now is stationed at USMA. Everyone had a great laugh, especially the O-6 post commander and the local bundesmeister, who had not been let in on the prank!
The "Big Kahuna," (one of many names attributed to our fearless leader over the years) also prided himself in thoroughly knowing his subject material. During his tour in Savannah, he hosted a VIP visit by the octogenarian Strom Thurman, who was there to inspect the Russell B. Long Dam. Dan had done his homework and there was nothing about the new dam about which he was not an expert. The distinguished gentleman from South Carolina asked only one question: "Colonel, is this a doight dam?" Dan, uncharacteristically, was flummoxed! He didn't know the answer. Only later was he to learn the southern pronunciation of terra firma.
When Dan & Susan arrived at Quarters 100, they hit the ground running, each with their coordinated agendas. Susan wanted to make the venerable old house a way station for friends of the Academy and classmates alike. Nancy Hecker was bringing a busload of people up from northern Virginia and called Susan. Upon their arrival, they were greeted on the front porch by the Supe's wife and given the grand tour. When classmate's sons or daughters were graduating, the parents were invited as guests of the Christmans, sometimes with hilarious results. The Simpsons and Salamones were Quarter 100 guests for the graduation of their sons, but after partying late one night, they returned to find the occupants had already retired for the night. All doors had been secured. Not wanting to risk getting shot by the MPs, Simpson finally was able to coerce a telephone operator to call the quarters directly and to awaken the Supe. They all had a good laugh afterward. All were issued individual keys the next morning.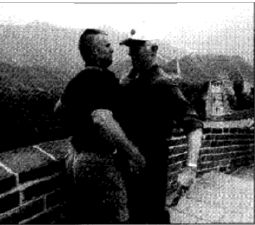 Dan radically changed the vocabulary and greeting protocol at the Academy. HUA, HUAW or HooAh (as Dan spells it), became the greeting of choice. (N.B. Does it stand for "Heard, Understood and Acknowledged?" or "Hurry Up and Wait?"). Chest butting, except for females, was derigueur, especially in such non-descript places as the Great Wall of China. And remember the cross-dressing episodes at the Pentagon? Tell me what you think, based on this photo of an Elvis sighting taken at an Army football game.
We all have had a few (actually quite a few) laughs at this funny guy we call the Supe, but hidden behind all of this "scoffer" stuff is a man who has immeasurably changed the face of West Point. I knew it within months of Dan's arrival after I was stopped by the then head baseball coach, a crusty old former Army staff sergeant whose dad happened to be one of the greatest pitchers that Philadelphia ever had. The coach observed in awe at what the new Supe had already accomplished. Others point to what may well be three of Dan's lasting legacies, the rebuilding of USMA's infrastructure, the attendant shift in USMA private financing sources, as well as the restructuring of the leadership attitude toward how subordinates are treated (remember the milkshake incident).
Think about it, on Dan's watch, he is rebuilding that antiquated cadet athletic center now known as the Arvin Center, at a cost of about $80 million; there is, or will shortly be, new facilities, previously non-existent, for tennis, crew, rifle, football, track, golf as well as a now inhabitable, and first class, hotel; new or renovated housing facilities for the staff and faculty, etc. In all, about $700 million has been committed over the next 10 years. Dan was the first Superintendent to formally ask the alumni for major funds to cover the gap caused by the reduction in governmental funds, a call that was strongly suggested to Dan by the Class Exec. Committee. It was met with overwhelming success by the AOG's $150 million Bicentennial Campaign. When asked, our humble leader plays this aspect of his superintendency down as "too temporary." He prefers to focus on his successful efforts to change the way West Point teaches its leaders to treat their subordinates. While harder to quantify, this legacy may well set the tone for our future Army "leaders of character" as they lead our nation into the 21st Century.
Dan & Susan, we of "Strength and Drive" are very proud of your achievements and contributions to our class, our alma mater, our Army, and our country. We bid you both farewell and Godspeed as you enter this next phase of your lives!
Denny Coll (with a lot of help from the Christman's friends and family)