Greetings once again from Chicago! Hope all is well at your end of the Long Gray Line! Some sad news to report-Bill Griffin, the retired CEO of Roto Rooter who was semi-retired in Ajijic, Mexico, passed away in early December after a serious car accident in Cincinnati. With only one classmate in the immediate area, Jay & Carol Stewart organized the class' representation and flowers at the funeral, all of which were greatly appreciated by the family. Our prayers go out to Bill's widow Donna and his two sons by first wife Jeannie. Fred Smith joined Zig Roebuck, the Howie Reeds, and Stewarts at the service. Bill used to be my neighbor here in the Windy City--he was a good man! Our sincere thanks to Jay & Carol on a great job under a lot of pressure and time constraints.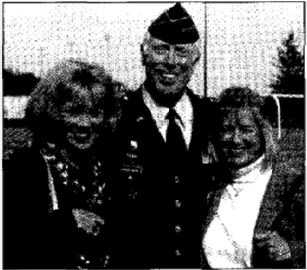 Placing the class history on our new class homepage west-point.org/class/usma/usma1965 had some good results and pointed out some glaring oversights by its author. Regrets to all of you Puerto Rican classmates who I listed as "foreign" cadets. Frank Reller suggested that we try to have everyone's name mentioned, not just the superstars, in the history, which is a good goal and one I will try to achieve. T.J. Kelly liked the history and volunteered to write a section on all you prepsters. T.J. also reported that he moved to Nashua, NH, with a new company, Dynamic Research Corp., where he is VP and GM. I also decided that it would be neat to have a history section on "neat" cars, so if you want to join Wollen's or T.J .'s 'vettes or Kuhn's pink Impala, send a photo preferably with your mug alongside. And finally on the class history, Bob Doughty mailed an early December letter and questionnaire to all of you guys who taught or served at USMA, to compile information for a section on your accomplishments. The more input we get, the better the end result.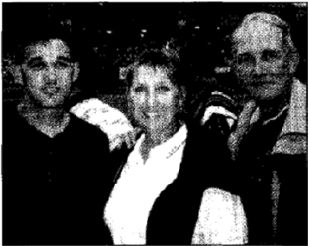 Did you know that S&D had a connection to the recent Florida recount fiasco? Our own Jerry Madden served on the Texas House of Rep's Committee on Elections. He is recognized as an expert on the Texas law that was often cited in Florida as indicating GWB and Texas law "preferred" hand recounts. Says Jerry: "They (the Democrats) are not telling the truth . . . it (the Texas law) did NOT prefer hand recounts and reduced the hand recounting in Texas, not increased it.'' The nearby photo shows the Supe with Rosie Kuhn and Carolyn Bucha at a recent football game. Carolyn is a graphic designer in her spare time. Dave Gnau's daughter-in-law sent the photo of Dave, his son, Matt, & Karen (both '96) at a Detroit Tiger's game before the junior Gnaus departed for duty in Korea last August.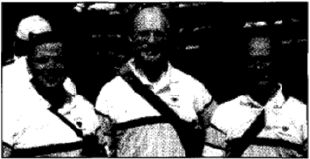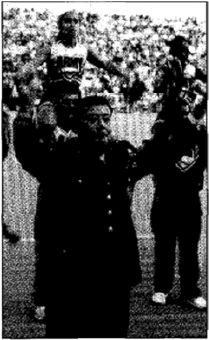 How's this for a great way to get back into the swing of things with the class and USMA? Rick Sullivan sent the photo of himself, Don Rowe, and Nick Merriam at last year's "Grad March back." Although he reads ASSEMBLY and watches the web postings, Rick hasn't had much contact with WP or the class since he left the Army in 1969. He noted that much of the cadet BS that he hated had been eliminated in the cadets he observed during the marchback and attributed much of that change to our Supe. Welcome back, Rick! Speaking of back at WP, our own Grover, NC, dentist Bo Forrest's highly-recruited son, Russell, (football and baseball) agreed to join USMA '05 when we met him on the balcony of Cullum Hall at the USAFA game--nice young man! And as we were getting our butts kicked at that same game, the Chief was down on the field of friendly strife exhorting the troops to fight on!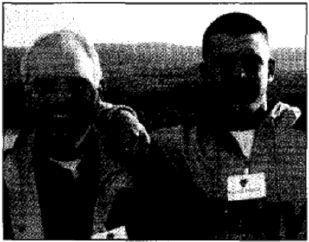 Also heard that weekend- "the new crew team facility is a done deal!" This next one will take a bit of patience and careful attention but it is another neat example of '65 in action. According to Dave Bodde's wife, Priscilla, Dick Bodde (whose father, by the way, is a scribe "always looking for material for his class column," according to Priscilla), Dave was taking their youngest, Katharine, to the airport to return to Boston College where she plays soccer. Katharine mentioned that her assistant coach was named "Manghi.'' Eagle-eared Bodde observed "an unusual name." Fast forward to the October BC Parents' Weekend soccer game and who does Bodde spot but none other than Gene & Bernie Manghi watching their daughter, Beth, coach the team. In the photo are the Boddes (Mark, Doug, Priscilla, Katherine, and Dave) with the Manghis (Beth, Gene & Bernie). Small world, but wait, there's more. Priscilla's dad is our former Math "P" BG John Somers B. Dick, who looked up Dave's grades and inquired as to whether he still had his slide rule before giving permission for Priscilla's hand. I told you that you would have to think carefully as you read this vignette.

And finally; I mentioned in a previous article that Nate Knicker and Ron Floto would work on Billy Mitchell's memorial article. I mentioned it twice, which was unbelievable, because I had already received a copy of the published MA written by Bob Thompson. My apologies to all concerned.
Update on Christman's Departure. The next "Class Notes" will contain our tome to Dan & Susan that will be added to our Class History. The class' final salute to Dan & Susan will be in DC at the Chief's quarters at Ft. Myer on 16 June. This will follow the black tie Army birthday celebration the night before to which we all are invited and at which the Christman's will be recognized. They will also be honored by the Corps in mid-May and then by the West Point community after the June graduation ceremonies. While the class is more than welcome at these activities, the Christman's primary focus will be on the audiences mentioned above And finally, the Christmans will "exit stage left" immediately after the change of command ceremony on 8 June so the new Supe can enjoy his day. Stay tuned! Pass the word.