Greetings once again from Chicago! Hope all is well at your end of the Long Gray Line! As many of you know, Dan & Susan will retire after 36 years of illustrious service to their country. I am told that the tentative retirement date has been scheduled for 8 June, so keep that date open. Fred and the class leadership are planning a fit and proper send-off for our leader. Details to follow. My next column will be devoted entirely to the 55th Supe and his lady, so please send me any and all stories, snippets, vignettes, old photos, or whatever for inclusion. My deadline for the May/June ASSEMBLY is 15 Feb 2001, so I need the stuff by then. Please mail me any photos and be sure to use a stick-em or something other than ink on the back of the photo. I will return everything if you so indicate.
Fred and "The Old Man" indicate that the preliminary fund-raising is going well for the Arvin Gym entrance, but we are still short of our $1 million goal. Many of us are just doubling up with the same amount at the 35th gift, so please do what you can and get your pledge in to Dermody ASAP. Only about a third of the class has participated in past fundraising. This is a very special project for Dan, given his relationship with our fallen First Captain, so let's all step up to the plate to the extent we can!
As of the Air Force game last November, I can report that the '65 portion of the Memorial Walk is coming along just fine. It should be ready to go by the time we assemble on the Plain again in June. And please, for those of you who decided to sit out the 35th and/or Ric's class soiree for the Army's 225th in DC, and then called or e-mailed to see how it went, try to attend in June. We have, as a class, a rare opportunity to have both the Supe and the Chief as classmates and once it is over, it is over, as Casey used to say!
As grads, we pay a lot of attention to the passing of our classmates, but sometimes we overlook the significance that our ladies play in making us what we are. Linda Sheridan made the point in a most prescient manner in reporting on the sudden and unexpected passing of Mert Munson's wife, Gerry. Mert was away on a trip and returned to find Gerry the victim of a massive coronary. Linda had spoken to Gerry the previous night and was excited to hear her best friend of 40 years relate the fun details of their fantastic vacation to Switzerland, their upcoming trip to Italy, and most importantly, the upcoming wedding of their only child Greg (USAFA 1989) to his fiance' Jody! Sixteen of Linda & Gerry's classmates (Ladycliff 1964) as well as the Bells, Tomaswicks, Curls, Knaufs, and the Sheridans, were joined by Dermody, Doughty, and Mary Kay Salomone at the service. MK's daughter-in-law Susan made it all the more poignant as the soloist at the West Point services. And although Sanchez was out of the country, our treasurer made sure that the class' red roses were available for class attendees at the interment. "As usual," Linda said, "it was a class touch." She also added, "I will love her (Gerry) until the day I die!"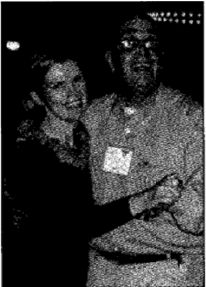 Speaking of Sanchez, can you tell by the photo that Joe not only could never march in time, his dancing skills leave a bit to be desired. Fortunately, Nancy has a lot of patience. In my last column, I mentioned that retired LTG Dan Benton was in Powder Springs, NE, but I now am told by Joe DeFrancisco that Dan is in Atlanta. Which is it, Dan? If you want a great buy on the history of WP, buy a copy of the new Bicentennial desk calendar. It is amazing and will be a great keepsake for future generations. Pat Kenny, best remembered for being AWOL at the 35th, is spearheading the inaugural '65 Golf Outing at Hilton Head 22-25 February 2001. Contact Pat for details. Hopefully, Pat also will be there!
Are we prolific writers, or what? Our newest author, Robert Bowie Johnson is out with the humorous Getting Back Through the Telephone Jack-the Civilized and Droll Way to Handle Annoying Callers. Check it out at Bob's website [...GettingBack.com]. Bob Wolff ran for a great cause (Children's Hospital) in the 25 October Marine Corps Marathon. Cathy & I were there watching our daughter-in-law Carolina '92 run and finish while her hubby Brian took a pass with tonsillitis. It was a great day for us bicyclists but a bit too hot for the runners. Bob, was that you I saw in the supine position at the proverbial "wall" at 18? Just asking. Our own Harley Moore, a nationally-known expert on urban and airport people movers, was elected as Chairman of the Board of Lea Elliott, Inc., an international transportation consulting firm. Jerry Eichelberger is making great progress on our class homepage at AOG. Check it out.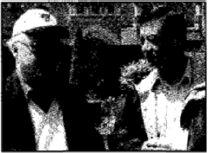 Do you think that the Chief is asking Ross Wollen for one of those Havana cigars that he keeps in the rear humidor of his Chevy SUV? Speaking of Ross, he sponsored a Bicentennial Symposium that focused on Thomas Jefferson and while doing the prep work, he discovered that West Point's most valuable piece of art, the Thomas Sully life portrait of Jefferson, was in temporary storage and that releases would be needed from God and the CSA to display it at the symposium. Our cigar-smoking, RV-renting, peripatetic historian was not to be denied. The portrait made it to the Union League Club in time for the symposium and the WPSNY Founders Day.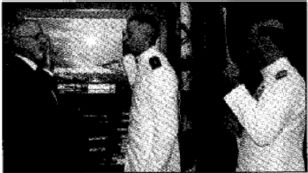 The next photo shows a proud Lewis Green swearing in newly-commissioned Ensign Jeffrey Craig Green last August. The ensign's new commanding officer, USN CPT Zimmerman, looks to be holding up the oath for Lew to read. My new CASA position has some interesting aspects. I spent a day at sea on the USS Truman, our newest nuclear carrier, watching a big NATO exercise, as the guest of the Second Fleet three star, who reports to SACLANT, who, to my amazement, is now a four star Army type!
More next time. Need those stories and photos on the Supe by mid-February. Mark your calendars for June! Strength and Drive!