Greetings once again from Chicago. First, I would like to ask for some assistance. As you know, we have a pretty good start on our Class History, which was last updated for the 35th (it can be found in the front of the Class Roster that you should have all received by now--if not, e-mail me and I will send you a copy). I am looking for ideas for additional topics to add. Several came up at the Reunion and we are pursuing those now. For example, Bob Doughty has agreed to do a piece on what our academicians have done at USMA. I am working with the USMA historian and will do the same with the U.S. Army historian to compile a piece on Dan and Rick's tenure. I need some help on the following topics: 1) Our prep schoolers and how/what they did during and after WP; 2) Our senior/general officers and their significant contributions; 3) Our politicians/public servants and their significant contributions; Our Reserve/NG officers, etc. These "pieces" do not have to be, and really should not be, long, perhaps a page or two single-spaced. It will take a little time and research, but we will all benefit from it. Also, let me know if you have any ideas for topics. Thanks!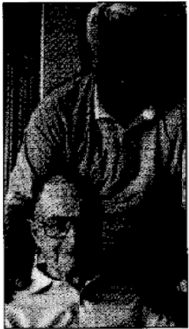 One additional topic could be our published authors. In addition to Jack Cooley's book mentioned in a previous article, I just finished Tim Timmerman's fine tome entitled Winning the Information Game, a quick read that will give you seven steps to get ahead of the information overload avalanche. Copies available at the "starving author rate" of $13.50 from Tim at 704 849-6902 in Charlotte, NC. Received a nice note from Ron Walter in Arizona, where he reports that he has fallen in love (again) with his new boss, who also happens to be his wife Janice, who is the president of their new "woman-owned HUBZone status" business. Their oldest daughter Jeanine & her husband are in Kosovo, where he is a door gunner and she helps out at Camp Bondsteel. Their other daughter Shannon is in college and wants to pursue a career on Broadway. Also heard from John Malpass who broke his ankle trying to avoid his killer sprinkler while watering the yard! They had dinner at Dan Benton's new home in Powder Springs, NE, with Steve & Bev Morrisey.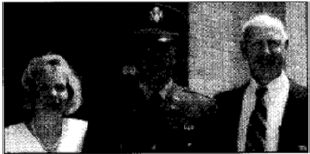 You have all heard me talk of my good friend Ferd Kramer ex- '22. Well, nearby is a photo of me and Ferd was taken at his 99th birthday party--not bad for a guy who was a cadet when MacArthur was the Supe!
Bob Doughty suggests we visit one of his websites at www.dean.usma.edu/history/normandy/normandy_home.htm to see what the cadets do outside of the classroom. Ed Foehl donated the funds for this trip for some cadets to Normandy. Ed Simpson's daughter, Beth Simpson Yen, sent an update and the photo of Ed & Lee with son Brett '00 at graduation last May. The Simpsons still live in Alexandria, VA, where Ed works for SAIC. Ed had quintuple bypass surgery in late June and is doing fine now. They (and the Salomones) stayed at Qtrs. 100 for the graduation weekend. Thanks for the input Beth. As I told you, if I left it up to classmates like your dad, this would be a very short article.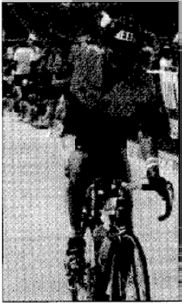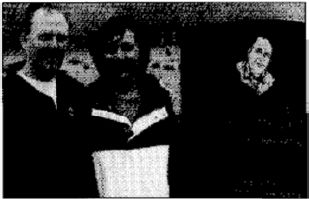 Our own Lance Armstrong, Jim Paley, shown here with a yellow shirt from Team Army, reports that he & Marianne were the first to be married after graduation in the Cadet Chapel, (at 1500 hours)! Jim also proudly reports that they are still married--to each other. Ralph Asplund sent the photo of Katie and Bob Thompson standing next to their dad's memorial that was unveiled at what would have been Mike's 40th high school reunion in Two Harbors, MN. Great hockey player, great dad, great classmate, Mike, we all miss you, buddy! In case you were wondering if any of us still had the "right stuff," check out the about-to-be Airborne paratrooper #C146's old man (that would be John Pickler on the left--I know that because he has the oversized pull ring for his reserve chute just in case). John and Jeff '01 made their jumps in June and managed to "keep their feet and knees together."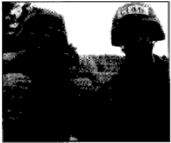 In the "Did you know or do you care" category--Cathy & I were on our way into a meeting at a nearby hotel when a guy walked across the parking lot and asked if my license plate stood for the Class of '65. I answered affirmatively and he introduced himself as Dick Tragemann's brother. Small world! The guy who won Survivor #1 was supposedly a cadet for a while with a class in the early 1980s (could not verify that fact, however). Our CSA has started a most interesting dialogue with the Marines (his good friend is the Commandant) in terms of working together on mission essential issues like equipment, commo, etc. Now wouldn't that be a first if they could pull it off and save the taxpayers a ton of money! Your scribe has just been appointed by the SA as the Civilian Aide (CASA) for Northern IL (under 1st Army). The 1st Army CASAs are supposedly going to Bosnia in the near future. Stay tuned.
We are finally making some progress on the preparation and publication of our long overdue Memorial Articles (MAs), thanks to several of you stepping up to the plate. But the list continues to grow. We were saddened by the news of Pete Peterson's passing in July after a battle with stomach cancer. Burial was at West Point. Attending the services were Tomaswick, Sanchez, Boohar, Kurtz, Sheridan, Salomone, and several others. Helping out on other MAs are: Leighton Atteberry on Jim Echol's MA, Nate Knicker and Ron Floto will work on Billy Mitchell's, Jerry Merges on Bob Lee's, while Bob Scully and Greg Letterman are working on Rusty Pullen's. Please help on the others if you can!
Strength and Drive!
----Denny