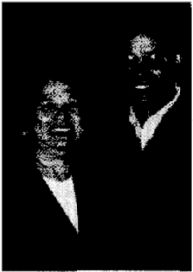 Greetings once again from Chicago! Hope all is well at your end of the Long Gray Line! Please note my new business number above.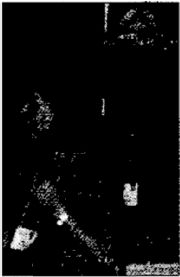 More thoughts and observations from the Reunion. Who traveled the furthest for the 35th? It took Ed & Susanna Abesamis 17 hours to fly from The Philippines to join us Thursday night, where they were greeted by the Class sign over the fireplace at the Thayer. As I mentioned last time, we had some splendiferous dancers out on the floor that last night. McEliece was not one of them, although Julie seemed to be winking "What fun" at the world as she normally does. Even Susan Christman and our reunion CinC John Howell took a spin around leading the congo line. Finally, our own John C. Thompson (with cute little plastic hat) warmed up for his 30 June retirement with some "rad" moves.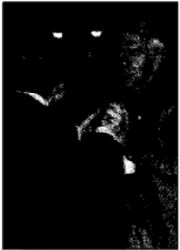 Several other interesting tidbits emerged from that great weekend. I had forgotten the one about our new president, Fred Laughlin sneaking into the ranks, fully attired, during Plebe Recognition in Central Area to "recognize" his son in 1992. He did get some "quill" for it, something about conduct unbecoming. . . Check out the Plebe photo of M-1 in an old yearbook? We should call it the "company the stars fell on." Eleven--count 'em. Ric, Joe DeF (3), Dan Benton (3), Wes Taylor (1). Who'd have thought? Speaking of the M companies, the next photo shows the M-2 gang led by Shaw, Fred Smith, Alger, Stephenson, Scully, and several others who you might recognize from your post office.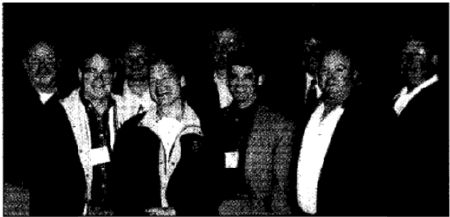 Many of you asked if any class had previously had both the Supe and Chief at the same time. It has happened twice before, according to the USMA Historian, Dr. Steve Grove with the classes of 1892 and April 1917. So now you know. Thanks, Steve!
We had three classmates from the same Pennsylvania high school (Jay Stewart, Tom Cindric and Tom Abraham shown with their wives) which was probably another first for USMA. I forgot to include the names of others who helped Howell at the Reunion, specifically the Salamones (MK did all the jewelry, part of which were the lovely favors received by each of us that last night, both engraved, with a money clip for the guys and a pendant for the ladies. Mary Kay even remembered to have dance cards available). The Gills (financial, check in, etc.), Randy Guenther (memorabilia), Harters, Dick Kramer as well as many others, I am sure. Thanks to you all from a grateful class!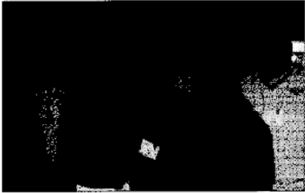 I had wanted to add photos and information about our "mini-reunion" orchestrated by the Shinsekis in DC in mid-June, but I will put that off to the next issue because of a lack of remaining photo space. We have received news of other happenings from classmates near and far. Joanna & Emory Pylant are in Japan but if you want to write them, you have to do so c/o P.O.B. 4557, Houston, TX 77210, from which their mail will be forwarded. Joe Barkley reported that he is now the CFO of global IT ops for American International group in NYC and that his son and wife now are at the Presidio working for FEMA in disaster mitigation (sounds like an interesting job). Greg Letterman was delighted with the 35th, especially because it gave him a chance to show his wife his alma mater. Tim Thames is a published poet and promised to send me a new poem he penned about the 35th. I'll publish it as soon as it is received. Our own Joe Anderson was the guest speaker at the annual Henry O. Flipper Dinner earlier this year that celebrates the legacy of the first black USMA graduate. Good old PDJ Kenny, obviously trying to smooze the old scribe because he would not be at the Reunion, reports from his "beach front shack" in North Carolina, where he spent four months, that only one of the three hurricanes that hit did any damage. After returning to Columbus, GA, where he and Bob Radcliffe have come up with the idea of a three-day Class Golf Outing at either Pinehurst or Hilton Head beginning in October or November 2000. If interested, e-mail Pat at [pdjkenny@aol.com].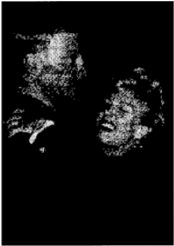 Did any of you see the June op ed piece in the Washington Post co-authored by Ric and his good friend, the Marine Corps commandant? Great piece aimed at our national leaders as they enter the upcoming election debates. Let's hope it will have some effect. Apropos of this article, Ric is trying to have everyone inside and outside of the Army rethink its composition in terms of the need to deploy "more mobile brigades within 48 hours." Big, big change but one that definitely needs some serious thought and analysis.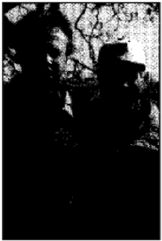 There were so many good friends who made the reunion the focal point of their spring plans, some of whom we haven't seen for a long time. Johnny Johnson came up from Winnsboro, SC, and joined his old buddie Walt Oehrlein in from the Detroit area at the check presentation ceremony in front of the library. As I mentioned last time, we sent copies of our 35th History to a number of friends of the class and have received very nice replies from Roger Staubach, "Hot Body" Fraser, BG Tarbox, and Roy Thurman.
Unfortunately, with all of this good news, we must report some other happenings. Shortly after the reunion, Don Phillpotts passed away in Orem, UT. We have asked several classmates in that area to contact his family, but so far, we have heard nothing back. If any of you knew Don or his family, please help out by contacting me so that we can establish contact with them. There is a little known area in the AOG Herbert Alumni Center building where you can remember any of our fallen classmates. In the Memory Room (second floor at top of steps), you will find shelves of leather-bound books that comprise the West Point Memory Book, a great idea established by the Class of '27 to permanently honor those deceased classmates in whose memory contributions to the AOG have been made. Several of you have made contributions but most are dated quite a few years ago when our class rank was in the captain/major era. Many classes make an automatic donation as each classmate passes on. No dollar amounts are indicated in the books.
This article will be intentionally short so that I can get the maximum number of reunion photos in it. But to reiterate what I said in the last article, the reunion was really all about friendships. The DJ had it correct when he played Dionne Warwick's That's What Friends Are For as the last song of the evening!
Strength and Drive! Denny