Greetings once again from Chicago. If you missed the Reunion, you missed one heck of a weekend. This weekend was to be about friends, long-standing relationships, and just good old-fashioned fun! Harry Dermody, having been "assigned" the golf outing by his former good friend Ray Hawkins, managed to pull it off. He had 58 on the links and the chill and overcast did not stop them. Eleanor Vann (John's wife) even had a hole-in-one on the first hole! Harter, with a little help from Lewis, Chuck Shaw, and Parcells won the day. That night, we had a low-key dinner at the Thayer, where we had all checked in and received our '65 jackets (see the photo of Stichweh, Tim Vogel, Tomaswick, and Selkis), updated Class Roster, and other Reunion stuff and were able to buy '65 golf shirts, jewelry, etc. Our class aides, two of whom were from '95, did a great job and were recognized by a standing ovation at the Saturday night dinner (see also the associated photos that your scribe sent to the '95 scribe). After dinner, we were joined by the vacationing Chief as we watched Dave Kuhn's video that someone entitled ''An Ode to Stich."
Friday saw us up bright and early for the class business meeting, where we had reports from the class officers, Dermody, as well as the Supe, Chief, Com, and new football coach. During my report, I mentioned our need to get the missing memorial articles written and as hoped, the class stepped up to the challenge. Tom Barron is coordinating the MA for Kala Kukea; Nate Kniker will coordinate Billy Mitchell's, and Ron Floto said he would assist Nate; Merges and Clay will handle Bob Lee's; Bob Scully will complete Rusty Pullen's and will be assisted by Greg Letterman; Pete McArthur's will be handled by Ed Knauf; Jim Harmon and Ken Yoshitani have started on Manny Maimone's; and Art Hester will step up and do Rick Wetherill's. That leaves only Bob Berdan, Jim Echols, Jim Gardner, Ladd Metzner, Mike Momcilovich, Guy Riley, Mike Thompson, and Jim Woodard without assigned MA authors or coordinators. If you want to help on any, call me. Our target date is to get them all to ASSEMBLY by 15 Dec. Hal Jenkins volunteered to handle the class homepage. We found answers to several perplexing historical questions, such as: 1) Who (in the class) invented the WP tradition of 500th Night? None other than Jon K Thompson, who also "absconded" with the Class Fund at graduation and returned with it (increased about five-fold) at the 20th; and 2) we discovered that our Reserve general officer is BG Dick Coleman way down in Mississippi, who now is in a two-star billet and will thus more than likely be our last green-suiter to retire. The Supe's report was a plateful. Dan asked that the class consider stepping up to "finish off" the entrance to the renovated Arvin Gym, a decision that he needs by fall. This main entrance will be about 4-5 stories tall and will be the main passage for those walking from the level of the Plain to the Cadet Chapel level. The Executive and Gift Committees met later that day and started the discussion and evaluation process for this and Phase III of the main gift. The Chief's report was greeted with a standing ovation from his classmates. No slides, no notes, just told us how our Army was doing and that he needed all of our help and prayers. The Com (from "This Bud's for You, '72") up-dated us on the cadets and what they are up to. And, if I heard him right, the new football coach has his mind set on winning, and winning now.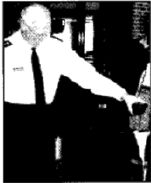 We also dedicated the new "Strength and Drive" eight-man crew shell after the business meeting, an effort led by John Pickler. The Friday afternoon Retreat Parade was indeed special. Our outgoing class president, Joe Anderson, took the parade with the Supe while the Chief, Secretary of the Army Staff, and our remaining general officers mingled in with the rest of us to the right of our class guideon. Just before the parade, Joe presented Dan with our class gift of $1,030,186 for the Memorial Walk in front of the library.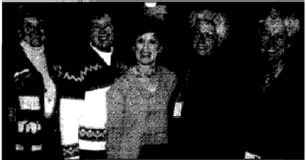 The evening's festivities started at 1930 hours at Bear Mountain Inn. Some observations from the dance floor: if Arthur Murray calls, several of you should KEEP your day jobs. You know who I mean, "Macarena man!" But boy, do we have some great dancers. The Yoshitanis, Onos, Laughlins, Kovachs. Charlie Shaw, McEleices, Jim Harmons, and Gills to name a few. How do you think three guys that look like Jack Cooley, Jon Thompson, and Dick Kramer ever fathered the stunning foursome of Christina Cooley, Kenna Thompson, and Susie and Stacey Kramer? Beats the heck out of me! And did any of you meet my new best buddy, Ryan (Susie Kramer's young son)? He was the notable little fellow who pilfered the first piece of class cake after dinner! Our old Navy file, Tim Vogel was there but struggling with some health problems (see previous photo). Cynthia Johnson and Carol Maimone were there to remind us what great friends Tom and Manny were. Also present were five former American Airline "stews" who would eventually marry '65 cadets, even though they did not know each other at the time they were all together in the American class. These ladies-Maralee Laughlin, Lynne DeFrancisco, Lynne Helberg, Roberta McCreary, and Nancy Ryan are still as lovely today as they were then!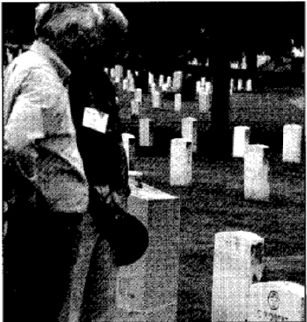 Saturday morning started with what many thought was the highlight of the reunion. John Pickler (ably assisted by Dan, Chuck Moseley, and Jim Scheiner) had representatives place a stone on the table in front of the Cadet Chapel altar for each of our deceased classmates. As they placed the stone, the drum rolled and those who were close to the deceased rose and remained standing in silent tribute. At the end, the drums and trumpeter echoed "Taps." The power and solemnity of the moment was evidenced by the two Maimone teenagers in the row directly in front of us, standing and paying their respects as Manny's name was read and as Carol placed his stone with the others. Afterward, many visited the cemetery to pay their respects (see photo of Roger Wolf at Bob Arvin's gravesite).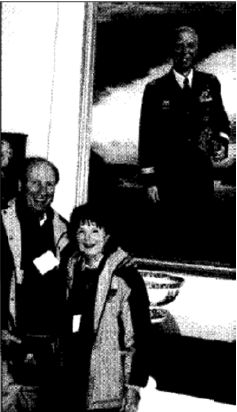 After the ceremony, we went to Quarters 100 where Don & Sharon Parrish viewed the first public showing of the painted countenance of the 55th Supe with the mighty Hudson behind him. What can I say? It was amazing how the artist handled the tonsorial aspect of our great leader. But hey, it will be hung with the others way up in the Mess Hall, so we'll keep it our little secret!
There were some hilarious moments that arose during the weekend. Cathy & I decided to check out the river encampment of Rangers Wollen and Dryzga before setting off for our Sunday hike. We heard (unconfirmed) rumors that their rented RV was without power and that they froze their Ranger patches off Friday night. The truth was even more amazing! There they were, beer in hand, standing next to one RV that was being powered by another rented RV. Seems Ranger Ross didn't know that you had to "plug in" to a power source. Cathy observed that all he needed was an (1/2-mile) extension cord that would stretch across the Hudson to Garrison on the far shore. Later that night, we spent our final hours together at the Mess Hall. Joe summed it up for all of us when he thanked John Howell for a great job. Joe also thanked the many who helped John, like the Salamones, the Gills, Randy Guenther as well as many others.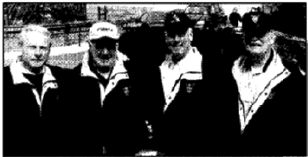 Two aspects of this weekend stand out. We all were thrilled that Ric & Patti were going to join us for the weekend. I wandered in on Patti's conversation with my Cathy about Patti's role in the Army. Before we all get worked up about the great work the Chief is doing, spend some time with this lady-talk to her about education on our posts, about the "turbulence" caused by frequent and repeated family moves, about childcare and dependent life-and I guarantee you will come away saying "wow, this woman has her act together, knows exactly who she is, where she is going, and what needs to be done." The second defining aspect of the weekend was the time spent just talking and laughing with eight very good friends from the class. What a treat to realize that I had known and loved these guys and their ladies for over a third of a century and that I was still excited to be with them and share all those precious memories.
This weekend really was all about friends, long-standing relationships, and just good old- fashioned fun! So I say to you one and all, to Dan and Ric, Susan and Patti, to Jack & Annette, Jim & Julie, Michelle & Bob, Joe & Lynne, and everyone else who visited our "rockbound highland home" that beautiful weekend in April--thanks, thanks, thanks for the memories and for making this a Reunion that none of us will forget for a long time!
Denny & Cathy