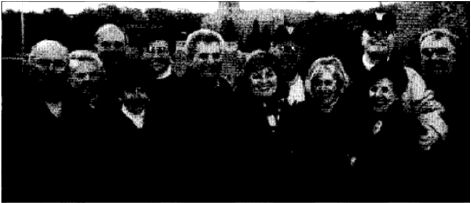 Greetings once again from Chicago! Hope all is well at your end of the Long Gray Line! Please note the new address above. Because of publishing schedules, this article will appear after the Reunion but will not include the Reunion information, which will be in the next article. Also, because the reunion update letters did not get mailed out in early February but rather went out in March, to include the questionnaires needed to update our Class Roster, the rosters may not be ready for the Reunion. As soon as they are printed, we will get them to everyone. Extra copies will be available at $10 each, while the supplies last.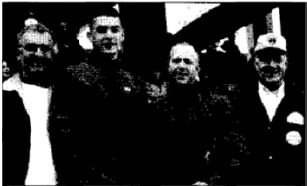 Because of the straight narrative/no photos "stroll down memory lane" in my last article, I have a lot of catching up, so here goes. From one of our most frequent contributors, we have a photo from an Army home game showing, in the first row, Bob & Jeannette Scully, Tom & Ina Abraham, Mary Harder, Carol Tomaswick. Standing behind are Kathy & Walt Kubacki, Mary Kay Solomone, Bob Harder, Jim Tomaswick, and John Salomone. The other photo shows the two Class of '00 sons-Steve Salomone and Brett Simpson-standing next to two older fellows from Strength and Drive. Thanks Mary Kay! Dick Williams reports that he and several other Florida classmates held a mini-reunion last year, coordinated by Dick, John Bell, Dave Hurley, Frank Arnall, and Don Parrish. In attendance were: Mike & Carol Barker, the Bells, Harry Haines, Hurley, John & Carol Knowles, Joe McChristian, the Parrishes, Ron & Cherly Riley, Jon & Karla Scobie, Dick & Pam Smoak, Tom & Joanna Wiley, and the Williamses. Now there, folks, are some names out of the far distant past. Hey guys, does Florida still have e-mail and post offices? Let me hear from you.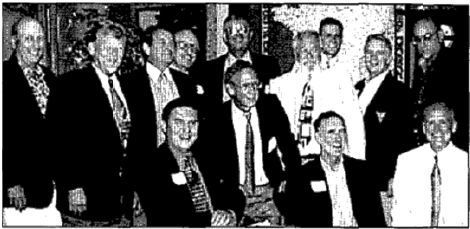 Jack Cooley, of "white trou are transparent when it rains" fame, is doing very well with his first published novel, a well-written novel about an ambitious female first captain entitled Queen of Battle (reviewed in the January 2000 ASSEMBLY). Copies are available at Barnes & Noble and Amazon.com. Try it, you'll like it. Speaking of old roommates and crazy ones at that, Bob Axley and his two sons (mid-20s) did a three-day, 100-mile cross-country bike ride in Utah last fall. Why? We're still working on that one! Preston Hughes sent an update on his family and the Southern Mississippi game last year. Although we lost the game, Preston was extremely proud as he watched Dan and the other USMA leaders brief everyone on our alma mater. As Preston said, some of us far removed from WP don't get to hear/see this often. Preston retired in 1992 after spending some 20 years in Turkey as a FAO (now that's probably an interesting story) and decided to return to his roots to be near his mom. He does a lot of public service work and ran (unsuccessfully) for the state senate. All three children are grown with two daughters teaching in Mississippi and a son who flies helicopters for the Navy. He sees COL Heilbronner '45 who was a 1st Regt. TAC when we were at WP.
Jack Barwis is in the headhunting business, having joined DAL Partners in Stamford, CT, late last year. If you change your e-mail or mailing address, please do not send it to me to update the various lists. Easiest way is to sign onto the AOG '65 site and change it that way. The Old Man, Harry Dermody, was nominated as our class trustee to the AOG. Jack & Annette Lowe, having fixed Deutsche Bank's Y2K problems, now are in England on another EDS assignment in Lytham, St. Annes, UK. Art Mark reports he & Terri are down to four at home and that he (still) likes teaching physics and math. Always knew that there was something wrong with that guy! Kent Brown writes in his Christmas letter that they still do a lot of sailing, following some of the old Lewis and Clark routes. He has established a record of sorts, by getting a sailboat mast down in record time-three seconds, and at record cost-$3,000 for a new one to replace the broken-in-two old one.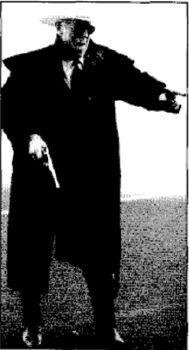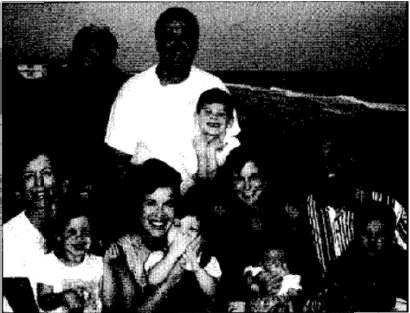 The only guy that I know on AOL with a moniker like "longgray@ aol.com" reports that the Moseleys, especially the five grand-children, are all doing fine, as the photo shows, living in the mountains around Knoxville. In the "who is that masked man" category, our peripatetic Supe had them all rocking and rolling at the New Mexico State game with his six gun drawn at center field. Dan and 'vette owner Ross Pullen then got "nabbed" outside Quarters 100 by the MPs in old-timer uniforms after the game. Vette Magazine may do a story on the "Class of '65 Corvette." Did any of you see Ray Woodruff's funny article entitled "Crossing the Rhine" in the Nov/Dec ASSEMBLY? Great stuff. E-mail me if you want a copy. Lots of news and photos from Army-Navy to present, but they will have to wait, because I am running out of space. Received a great photo of Susie Scholl with newest grandchild Emma Margaret and daughter Jenny, but unfortunately, without old Wayne in the photo, we can't get it printed. Three lovely ladies however. And Wayne, I think Susie is right, go ahead and move down nearer your grandchildren, you old fuddy-duddy!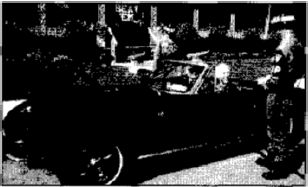 And finally, if you liked the "stroll down memory lane" in the last issue, look in the front of the new Class Roster when it comes out. The unabridged version is there. If you have any input, like Woodruff's article, please send it to me.
Denny Coll, Scribe