Greetings once again from Chicago! Hope all is well at your end of the Long Gray Line! First of all, please note the new mailing address above. The telephone number and email remain the same. The REALLY good news from the Hudson Valley is that Dan and Susan have informed Ric that they will stay for another year (until June 2001). Great news for Strength and Drive, great news for our Alma Mater!
The next best news is that John Howell et al have been working like busy little beavers preparing for our 35th at West Point (27-30 April). You will be able to get the latest information at the Class reunion website "www.aog.edu" then to Classes then to 1965. Quite a few have been calling/e-mailing the old scribe or the Westpoint.org web master about the details. Hopefully, this webpage will alleviate the need for all of that. Latest report is that the reunion is on the CSA's schedule, but obviously, world events may influence his and Patty's attendance. As of the date of this article, late October, rooms for those of you traveling from afar (more than 100 miles from WP) have been reserved at the newly renovated Thayer Hotel on a first come, first served basis plus two other local motels. You local folks will either have to operate from home, use the above three places if there are available rooms, or go to Plan C. Check in will be on 27 April at the Thayer Hotel with golf at the WP course during the day for those interested. There will be a Thursday evening buffet/mixer. Friday will start off with the Class Business meeting, briefings by the Supe, Com, Dean, etc. followed by class activities. The Class will dine that night at Bear Mountain Inn. Saturday will start with a memorial service followed by a tailgate at Quarters 100 during the afternoon, interspersed with cruises on the Supe's yacht on the nearby tidal estuary. The Saturday evening dinner/dance will be at the Mess Hall. Sunday will be departure day. Howell hopes to get out a detailed mailing to all in late 1999 and then again in February, so take the above with a grain of salt. John's letters will have the final details.
In the February mailing, you will receive a detailed questionnaire (the "Q") asking you to update your class roster information, so that we can have the new rosters available at the reunion (non-attendees will have the roster mailed to them). Extra copies will be available for purchase as will the separate 15 page Class History. Also on the Q will be a place to mark your interest in helping with the 14 missing memorial articles (formerly called obits). Our class goal is to get all of these written and to ASSEMBLY magazine by June 2000! To accomplish this, your scribe is currently researching and preparing a 1-2 page draft MA for each of these deceased classmates. By marking the appropriate names on your Q, you would agree to receive a copy of the appropriate draft(s) with instructions to add, amend, etc. as best you can, and then return them to me. If you want to take the draft and run with it, that would be more than acceptable, as long as you agree to get it done by June. Guys, these missing MAs have bothered many of us for many years. Several of them date back to the RVN days. Please help if you can! The missing MAs are: Berdan, Echols, Gardner (ex '65 MOH winner), Kukea, Lee, MacArthur, Maimone, Metzner, Mitchell, Momcilovich, Pullen, Riley, Wetherill and Woodard.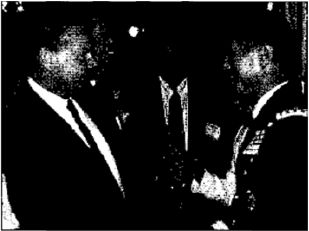 One final editorial note. Last August, our president and I wrote each classmate who was NOT a subscriber to ASSEMBLY asking them to take a one year subscription on a trial basis. We even had the AOG send these folks a free copy of the ASSEMBLY issue which featured our reception for the Shinsekis. These non-subscribers represent 40% of our number (as well as 55% of those without email addresses). I am sad to report that the response was very disappointing. Obviously, most of the non-subscribers found either the $25 annual fee not worth the effort or just could not be bothered.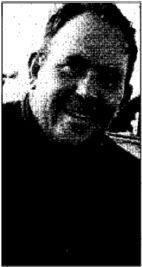 A note from Ralph Asplund (with photo (1) of Ric last June) and a photo of the late Mike Thompson (2) indicates that thanks to your generosity, the Thompson Memorial marker was dedicated on the north shore of Minnesota last fall. Bill Fields spent his 20 in the USAF primarily in R & D, where he received his MS in aero-engineering from U of Arzonia and also attended the French Test Pilot school. After three years with United Technologies in San Diego, he joined Grumman in 1988 where he has headed up corporate technology licensing for the last 4 years. He and Rita have three daughters, two grandchildren and live in Huntington Beach, CA, where they see Dave Kuhn and John Seymour.
Art Hester emailed me with an interesting question and an update. He wanted to know if I could send him the e-mail addresses of the entire class to facilitate intra-class communication. Jim, here is an easier way. Simply go to the AOG homepage as shown above and look for whomever you want to contact in our class, or for that matter, to the other classes to contact any grad with an e-mail address. Your message will be routed through the AOG server without providing you the recipient's e-mail address, but when he responds directly to you, you two can then e-mail direct. Neat and simple. The AOG is updated when changes are sent to them. My list is only updated monthly. Thanks also for pointing out my oversight in the Class History. We will correct it in 2000. Art and Jim Conley have formed ChB Technologies, Inc., in Detroit with about 60 employees which acquired two labs and another company that calibrate test, measurement and detection equipment for the auto industry. Art closed by saying that he was "absolutely amazed" and delighted, as were we all, by the fantastic turn-out for Ric and Patty last June.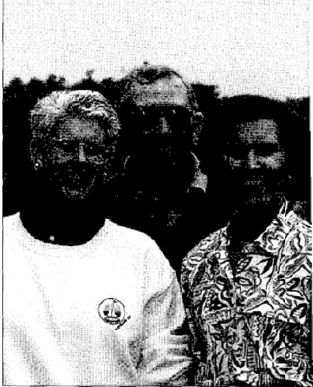 Rumors continue to abound that Dermody never made it through the Yearling "Recondo pits" at Lake Popolopen. This photo (3) of Harry, Kay and Mrs. Scribe overlooking the Dermody waterfront home on the east shore of MD, should dispel these rumors. By the way, if The Old Man EVER offers to send you directions to his house, call Onstar or someone. He actually has two such maps-one to get you lost and the other to get you unlost. For sure he failed daylight navigation during Buckner. Don Nowland retired from Raytheon and is now a VP-Strategic Alliance with a neat start-up called Cayiente.com in San Diego, although Don will work out of his Marble Head, MA, abode. Cayiente attempts to take advantage of the gas and electrical company break-ups due to deregulation and develop modern IMS systems for them. John Pickler wins the "most addresses on one e-mail" award with 158 addressees and five cc's (yes, I counted them) announcing that he was going to DC to be Ric's Army Staff Director. Congrats John!
Steve Leach is probably our only tree farmer! He tends 500 acres of pines just outside Richmond. He and Anne live in a custom log home on a river, and do lots of hunting, fishing and tree tending. Steve was with Square D before retirement and thinks a '65 deer hunt would be a lot of fun on his farm. For you oldtimers, he was one of five who went into the USMC (with Zadel, Butterfield, Murphy and Steele). Steve, ref. ASSEMBLY, see above.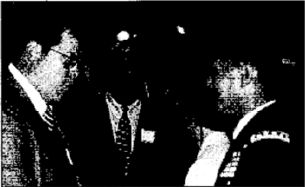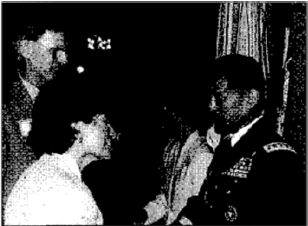 It is great to hear from so many of you who had such a great time at Ric's swearing in ceremony. What a pleasant surprise that we had so many of our class turn out to applaud our classmate, the new CSA. Some more pictures are attached, namely of Pete Linn and Bill Birdseye. See you at the 35th and PLEASE subscribe to ASSEMBLY and send the AOG your e-mail address.
Strength and Drive!
Denny Coll
Scribe