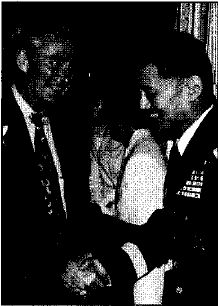 Greetings once again from Chicago! Hope all is well at your end of the Long Gray Line! First of all, please note the new mailing address above. The telephone number and email remain the same. Secondly, free issues of the last ASSEMBLY were mailed out (courtesy of AOG Publications) to the 240 or so of our number who were not subscribers, preceded by a letter from our president Joe Anderson and me requesting that they sign up for a one year subscription. Without the regular issues of this magazine, our job of regularly communicating with the class becomes much more cumbersome. So, if you know of any non-subscribers, please encourage them to sign up.
The follow-up to our class function for Ric and Patty Shinseki has been really amazing. Quite a few folks "who had not been involved in a class function since graduation" wrote to say that they had a great time and were sorry that they had not participated sooner. Our 34th CSA was even surprised at the large turnout and great response. Way to go, '65! One small problem that we did have at the class luncheon was the follow-up identification of a handful of attendees. We think that we have identified everyone for whom we had individual photos, and have sent those photos to the appropriate individual. But we do have one unidentified soul, shown here shaking hands with a laughing Ric Shinseki, who we have not been able to identify. We thought it might be Steve Burrell, who wrote us from Paris that it was not his shining countenance. Any ideas? If you attended the reception, you should have received in August, either a photo of you and/or a photo of Ric and Dan. The latter was sent to everyone, regardless of whether we had an individual photo.
| | |
| --- | --- |
| 1965--Clair Gill wedding. | 1965--Doughty, Anderson, and cadets. |
Great photo of the Clair Gills at daughter Heidi's marriage to Danny McCabe at Holy Trinity Chapel in January. The newlyweds live in Miami where he works for the University there. Never ceases to amaze me how Clair II (see last guy on right in the photo) resembles the original! Clair has retired from the Army after serving admirably in one of the toughest non-command jobs, that is, the Army's budget director. Bob Doughty sent a nice photo of him and our president with some (History of Military Art) cadets, who were part of about 1000 cadets to whom Joe spoke about Vietnam and his "Anderson Platoon" video. Bob recalled that when he was a grad student at UCLA, Joe gave a similar presentation and was well received. Apparently, Joe's presentation this time was even better and was extremely well received by the cadets, many of whom followed him down to the Firsty Club for a few brewskis! Doughty also reported that he and Diane have moved into a new home on a few acres in Ft. Montgomery, just down the road from the Main Gate. They overlook a mountain called "The Thorne", which your scribe has hiked many times. (Scribe's Note: Nearby, on both sides of the Popolopen Gorge--the bridge just north of Bear Mountain Circle--day trippers will find two other great and very easy hiking trail favorites named after the trails used in 1777 and 1779 by the British and Colonials to attack/defend the original chain at Ft. Montgomery--just thought you would like to know!). The Doughty's try to see their rocker son Mike (28) and his group "Soul Coughing" perform when they are not on the Letterman show or doing a GAP commercial. Seeing the Professor, USMA History Dept. at one of these concerts would be worth the price of admission for this old Beachboy fan!
| | |
| --- | --- |
| 1965--Nenninger, Rich Donahu, and Salome. | 1965--Ft. Lewis FD--Foehl, Sherrells, and Browns. |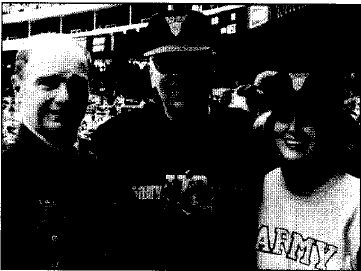 In the "It's nice that someone reads this stuff" category, Ron Kolzing noted that he "did not show up" on that first Wednesday morning in July, 1961 with the rest of us. It seems that Ron was given a slot in '65 after a vacancy was discovered. He was notified by his Congressman just before noon on Thursday and told that he had until the next day, Friday, 8 July, to get his civilian butt to WP and report to the man in the red sash! Report he did and thus began the long and arduous climb from last man to report to West Point that July, to point man for our "goat," the late Phil Harper four years later. True story, folks--I have a local newspaper article to prove it. Once again, "Strength and Drive" comes through in the clutch!
A few other nice photos to pass along. Founder's Day at Ft. Lewis shows Ed Foehl, Bill & Susan Sherrell, Duncan & Carolyn Brown, Rick and Sheri Bunn and Julio DeSantis. From two old football game weekends, one photo shows Glenn Nenninger, Rich Donahue and John Salomone. The other photo shows our treasure, Joe Sanchez & Nancy with LTG Ohle.

And finally, in the "who would have thought it" category, the Supe presented a (belated) Silver Star to Chuck Pfeifer at WP in April, while Denny Lewis, Don Parcells, Rollie Stichweh and Bob Doughty looked on. No details on the long delay nor the citation.
Well folks, that about does it for now. Joe Sanchez reminds us all that the Army-Navy party will be the biggest yet--to celebrate the 100th anniversary of the game. Denny Lewis has been tasked to get all of our football players to the game. And John Howell is busily preparing for our 35th in April, part of which will be held at Quarters 100. If you thought the Shinseki festivities were great, "you ain't seen nothing yet" says John. Be there! And don't forget to keep those cards, letters and photos coming, especially Christmas newsletters!