Greetings once again from Chicago! What a grand and glorious day it was for Strength and Drive, that Tuesday, the 22nd day of June, as over 210 of our number gathered on a sunny morning at Summerall Field at Ft. Meyer, VA to watch the historic Old Guard and "Pershing's Own" do honor to one of our own, the 34th Chief of Staff of the United States Army, Ric Shinseki and his lovely lady Patty! The class, assembled en mass and stood proudly as Ric took the Pass in Review from the troops and accepted the mantle of leadership as the Army, and our Nation, enter these troubled waters of the new century. We came from near and far, folks we see often at class events and folks we haven't seen for a long, long time. We actually had more attend this ceremony than attended many of our reunions!
We were led by our out-going pres Joe Anderson, as well as several of our active duty and recently retired general officers such as Joe & Lynne DeFrancisco, John Pickler, Dan & Susan Christman, Clair & Sherry Gill, Ralph & Ingrid Locurcio, Orlin Mullen and Wes Tayor, as well as class officers Joe Sanchez, Tom Barron and Ross Wollen and your scribe and his lady. And how about the delight on the faces of some of these guys as they met and greeted other long lost buddies: Bill Browder, Steve Burrell,Bob Clover, Bill Connolly, Dave DeMoulpied, Fred Eichorn, Roger Frydrychowski, Roy Garms, JP Greene, Randy Guenther, Jim Hardin, John Harrington, Frank Hennessee, Pete Howard, Keyes Hudson, Hal Jenkins, Nate Kantor, Jerry Kelly, Doug Kline, Bill Lehman, Ralph Locurcio, Gene Manghi, Art Mark, Chuck McCloskey, Hank Mickells, Chuck Nichols, Don Nowland, Rich Osgood, Gene Parker, Don Parrish, Jim Olivo, Ray Shaltenbrand, Denny Shantz, Paul Schultz, Ken Slutsky, Fred and Herb Smith, Henry Sterbenz, Jim Talbot, Ron Walter to name a few.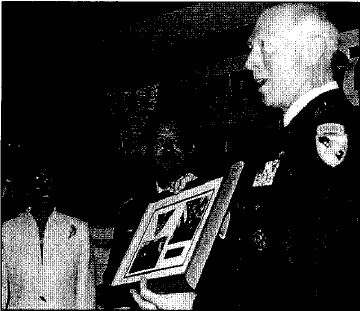 The official welcoming ceremony was absolutely beautiful and first class, befitting a new leader. SA Caldera opined that Ric was the right person at the right time to lead the Army into the 21st century. He is, the secretary observed, a man "of extraordinary courage and wisdom...wounded twice, the second time seriously enough to have been medically discharged...and a leader who knows what 'trained and ready' looks like from a muddy boot perspective..." The SecDef also praised Ric's courage and his service in the current hotspots of the world. Ric graciously and humbly accepted the verbal accolades and then greeted his 55 attending family members with a smiling "aloha," while also acknowledging his first two NCO's, who were in attendance, the Class ("Strength and Drive old friends, strength and drive!"). Others in attendance included the JCS Chairman, the other service chiefs, many congresspeople and senators, representatives of all the DC-based military attaches, etc. Probably 1,000 attended. Ric then set the tone and the direction for his tenure by telling the assembled soldiers and soldiers everywhere, that "we are the Army, not the New Army, the Army. Period! We will be persuasive in peace, decisive in war and preeminent in any conflict!"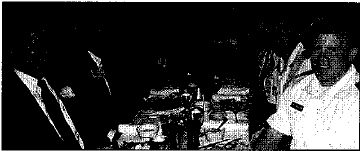 We then walked across the street to the O Club where Joe DeFrancisco managed to get all 210 of us (about 140 classmates) into a room which probably had a 150 person fire code load. Ric completed his official Army reception line duties upstairs first, and then he and Patty entered the class reception to a thunderous applause from a very appreciative class. The class, adhering to the silly $25 maximum gift rule, was still able to come up with a neatly framed two-picture montage of Ric in the hand-to-hand "pits" at Buckner juxtapositioned next to his official CSA photo, and a small plaque with the class' best wishes. It was presented by the Supe. Ric and then Patty, said a few words. By the way, we sometimes forget how important the leader's lady can and must be in these high profile jobs. Patty is clearly a source of great strength and compassion to Ric and he relies on her judgment a great deal.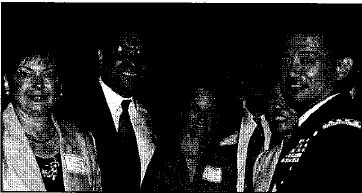 A receiving line was about the only way to insure that everyone would have the opportunity to meet and greet the new Chief. The class, thanks to Joe DeF, Bob Harter and Tom Fergusson, was able to welcome and salute our new leader in a fashion befitting his position, and in a fashion which, according to Ric's own words, was totally unexpected by the Shinsekis. I thought it might be worthwhile at this point to briefly review Ric's duty assignments. They will stand him in good stead over these next four years. After graduation, Ric followed a brief field artillery stint in RVN (where he was wounded) with a second tour as a troop commander in the 2/5th Cavalry, where he was again wounded in battle for the second time. He then received a master's in English and returned to West Point on the English faculty from 1976-78. CGGS followed after which he was a squadron adjutant and XO in the 3rd ACR. Ric spent two years in the early 1980s in DCSOPS at the Pentagon, after which he received the regimental command of the 3/7th Cav in Germany. He then attended the AWC followed by another tour at DCSOPS and then a bde command in Germany, G-3 of VII Corps, ADC-M of the 1st Inf and then CG of the 1st Cavalry at Ft. Hood in 1994-95. Ric became the DCSOPS followed by his fourth star and command of USAREUR and Seventh Army, spending most of his time in Sarajevo, before becoming the Vice in November of 1998.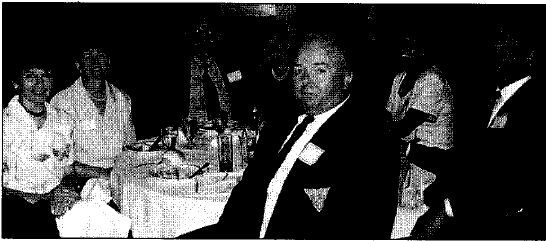 Our hats were off that Tuesday and still are, to Ric & Patty for a job well done! It was your scribe's opinion that we have forged a new and powerful bond with one of our own, who has spent much of his time away from the class in the service of his country. That is good! It is good for us, good for Ric & Patty and good for the United States Army.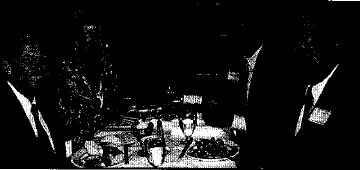 I will have to defer some photos and other letters on others until the next issue. But there has been lots of news since our last newsletter--some good and some sad. John Pickler reports that the four person crew shell named "Strength & Drive" has lost most of its "rigidity" and thus is ineffective in crew races. John will take the lead trying to raise about $15,000 for a new, state-of-the-art shell which his son and the other crew members can use. The old shell, purchased by the class in the early 1990s, will be used by the plebe rowers. By the way, rumor has it that John will be getting a new three-star billet, probably in DC. Ralph Asplund has done a nice job in setting up the Mike Thompson Memorial Fund for Mike's family at Two Harbors High School, c/o Bob Nyberg, 405 4th Ave., Two Harbors, MN 55616. Dig in guys and let's get those checks flowing. Mike's family wishes to thank the class and all classmates who attended the services, sent flowers or memorial gifts, called, etc. It was really thoughtful AND very much appreciated, says Asplund. By the way, Bart Barry gave the eulogy--a fine one at that, I am told.

The Harter's are leading a group thinking of having a Millennium Party 27 Dec 99-5 Jan 00 in Charleston. Call Bob if interested. Jim & Julie McEleice report that second grandchild Sophia Grace Pettit was born 23 Mar here in Chicago. Everyone doing swell, especially mom who had to spend the last few months of the pregnancy in bed, assisted by grandma & grandpa flying in from California as often as possible. Gene & Margaret Parker report from Brown Summit, NC, where Gene has "moved up the body" as he describes it. Seems that he is the ops mgr for the P&G deodorants such as Sure, Secret and Old Spice, a job that followed a similar job doing Pampers, Rely and Always. They are into serious retirement planning, thanks to the stock market. They have three grandchildren courtesy of their two older kids, one of whom lives in Rocky Mount, NC, and the other in Williamsburg, VA. Their youngest, Paul (a Down Syndrome child), just turned 21 and is leading a productive life, graduated from high school and has a fulltime job in between working out with his dad. Gene roomed with our new CSA and attended the DC festivities.
And finally, on a very sad note, those of you who attended the Notre Dame game last fall probably remember that beautiful, vibrant young lady sitting in the first row of the upper end zone bleachers next to her parents Zig & Linda Roebuck. Unfortunately, our good Lord took Lindsay from us in June after a tragic car accident that cut short her life at age 30. She was clearly the shining light of her parents life. Our prayers and thoughts are with you and your family, old roomie!
Denny Coll, Scribe