Greetings once again from Chicago! Unless you have been out of the country for some time, you are probably aware that in late April, the White House nominated our own Ric Shinseki to be the 34th CSA, an honor which Ric richly deserves. Subject to Senate confirmation at the time of this writing, Ric will be sworn in in mid-June immediately following Denny Reimer's retirement festivities. With Ric's recent assignment as CG, USAEUR and his experiences in Sarajevo, he should be well prepared to assist the Chairman and SAC/NATO with the war in Yugoslavia. The Class is trying to organize a Sunday afternoon soiree before the June 22nd change of command. Call or email me for details if you don't get the word by email or regular mail postcard first. Someone asked when the last time that a Class occupied both the CSA and the Supe chair. Not sure, so we will try to research that interesting query. Good luck and CONGRATULATIONS, Ric & Patty. We are VERY proud of your achievements. Just remember that Strength and Drive will always be there for you!
John Howell has made great strides in planning for our 35th Reunion to be held at West Point (and Quarters 100) next 27-30 April. Mark your calendars now. The renovated Hotel Thayer will be our HQS with a priority given to classmates coming from further than 100 miles. This latter suggestion was made by several NYC types (Wollen and Barron) on the Exec. Committee and makes a lot of sense. Overflow from the Thayer will stay in local Highland Falls hotels or their own, nearby private residences, etc. We also looked at "doing something different" like a dinner/dance at Barth Hall (at Camp Buckner for those of you experiencing early Altzeimers) for example. But Barth is not is such great shape and will be unable to accommodate us. There is a rising ground swell of requests and pleas for the Supe et al to reprise their famous "Attention to Orders" skit given at Bear Mountain at a previous reunion! Step Tyner may even reprise his version of the dirty boogie!
Speaking of the Executive Committee, many of you don't get to see the hard work that these guys do year after year, so maybe this is as good a time as any to offer our cudoes. Our Pres, Joe Anderson, will be stepping down in 2000 after five years. Not only does he get to deal with all of the Class issues raised by classmates, widows, trust funds, etc., he also gets to deal with the AOG and USMA on all Class related issues. Big commitment of time, talent AND treasure. Joe does it all while running his multi-million dollar business. And our Pres even sings! (Me thinks we heard him "volunteered" to also reprise his traditional and soul-searching solo at next year's reunion memorial service). Joe Sanchez, our Treasurer, handles all the money that The Old Man does not control. That means that even between numerous European business trips, Joe keeps our many books straight, pays the bills and still has time to serve on the AOG Board. And of course, he makes sure (along with that group of thugs he hangs with) that there is a cozy, always user friendly "watering hole" available during Army/Navy weekends.
One guy who you do not hear a lot about, mainly because of his mastering of the ancient art of defilade, is Ross Wollen. But trust me, Ross gets involved in many ways. He hosted the WPSNY Founder's Day dinner for Ric, with welcoming remarks by Dan. Ross has spent a lot of time and energy in taking his somewhat unusual (at least it initially seemed that way to some of us) ideas to tie in the Class Memorial Walk to our Class' history. He hung in there and is gradually gaining everyone's acceptance. Like Ross, Tom Barron's proximity to WP yields great benefits for '65 and for USMA. My favorite impression of Tom is heading up the Art Committee for the Bicentennial. We all know that Tosh has ALL of the aesthetic talent in that family, but we still need to give Tom a big THANX because he has been helping '65 and his Alma Mater for a very long time, in many quiet and unassuming ways.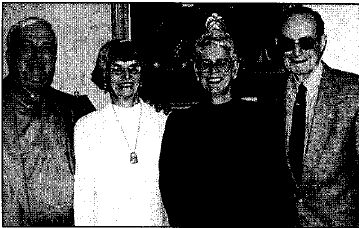 Cathy & I had brunch in April with our very dear friends, Ferd Kramer (ex '22) and his lovely wife Julia. What a delight to share a beautiful Sunday afternoon with two people so full of love and life. Ferd was a cadet when Douglas MacArthur was the Supe and has helped our local WPS and Army support folks on numerous occasions as we continue to try to "show the flag" in the Chicago area after the departure of most of our main military units. Ferd had to give up his beloved (and skillful) game of tennis late last year due to a back problem. So Strength and Drive, when the old body starts to ache and creak, just remember our friend Ferd playing doubles just two years shy of the century mark!
You probably thought that I had forgotten to mention the Old Man, Harry Dermody (did you ever wonder why his given name is Henry and everyone calls him Harry?) when I talked about our Class Exec. Committee. Well I didn't-I just needed to do some juxtapositioning. Harry has done a masterful job at raising our cool million Class Gift. And he has done it in such a way that he is still one of the most popular guys in the Class. Although my friend Ferd swears that he recalled having Dermody as a classmate, I find that hard to believe, but not totally out of the question. I seem to recall that Harry couldn't ride a horse if his life depended on it! Many others have helped the Class from time to time with reunions, etc., but these are our workhorses, so let's all tip our hats to them for a job well done!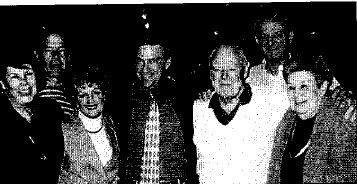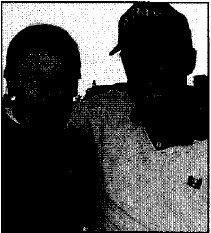 I received a great update form my neighbor Bob Bradley just after the last deadline. The first picture shows Bob visiting with Jim & Julie McEleice at the San Diego Yacht Club with Bob's sister and husband as well as Bob's parents Frank & Mae. In the "insults regarding combat arms branches" category, the final score was Infantry 7, Armor (actually I believe Bob meant to say Cavalry) 11. (Bob, Jimmy Mac and I served together in the Blackhorse Cav in RVN, so I had to take some editorial privilege). Frank Bradley (Alabama '37, Honorary USMA '40) retired as an Infantry COL and helped to re-write the "I am the Infantry" poem while at Benning. The other pix shows Bob and Merritt Bumpass at Marco Island over the holidays, where the golf score was Army 3, USAF JAG 0. While shagging his balls on three "very difficult" courses, Bump regaled the foursome with his RVN war stories (he was also a USAF JAG officer). One of the greensuited foursome suggested that "fleeing to Canada" might have been more honorable. Just kidding Bump. After all, I am counting on you to take care of my daughter-in-law Carolina (USMA '92, Georgetown Law '00), who is working for your law firm's DC office as a second year intern this summer! Great update, Bob. Thanx!

Perhaps the slowest pulling lineman that was ever recruited to Army (and I can say that because I held the same speed distinction at the QB position), my old friend Mike Leibowitz emailed me (he loves email and may even re-subscribe to Assembly because of it!). Mike & Judy spent an evening with Pete &Heidi Lounsbury and have reestablished contact with their old friends the Lipsits. Mike and oldest son Jordan have a property and casualty insurance agency while son Jay is a struggling actor who can be found at "jayleibowitz.com" Not sure where Mike et al are located. Last known was Spotswood, NJ. Thanks for the update Mike and how about a family picture and address update. The group picture is a rarity. It shows all (or at least all of the known) Art & Terri Marks family at Lucille's wedding. Art pinned on son Edwards "blood wings" at Benning last year.

I'll close with one last picture of the Aug 1998 wedding of the Nenninger's son. It shows Glenn & Joanmary, as well Diana Loftin and daughter Jennifer, Mitch & Joanne Bonnett and Pam & Ed Winstead. Looks like everyone had a great time. That's all , folks. Keep those letters and pictures coming. And when you email or write me, take a few extra minutes to give me a complete update on family, address, etc. AND ALSO, PLS SEND A PICTURE OR TWO!!