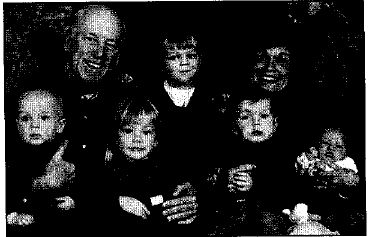 Greetings once again from Chicago! Snow and cold are back! Spring is not! Ugh! Jack &Vicki Blau will return from their missionary work for a brief respite and still need supplies, mainly Windows 98 compatible academic software for grades K-6. Call me for the address. I love these "I am not missing" letters, such as the one received from Tim Thames who reports he is alive and well in "Silicone Valley South" a.k.a. Huntsville, AL, along with Roebuck, Drinkwater, Mohlere and Forest Brown (ex-65 now '66). Timmy, you are now officially "found" and a Class Roster is on the way!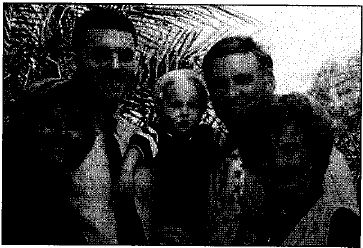 Attention all of you ladies, Barbara Mosser (David '67) is doing research on a Vietnam-era support group called "Waiting Wives." If interested, contact her at "gobarb2@aol.com." John Kaye is looking for relatives of Spotty DeWitt, with whom he served in RVN before Spot's death. There is now a chapter of the 4th Infantry Division called the Spotswood deWitt Chapter (6/29 Artillery). Contact Kaye at "mfs@pacificrim.net" if you can help. The first photo shows a relaxed and retired Rollie & Carole Stichweh with their five grandchildren. Okay now, anyone have more than five? (I am now at three). Don't be bashful guys, or if you are, ladies, please let your scribe know. Speaking of retirement, the retired Joe DeFrancisco is now the VP/Army Systems for Lockheed Martin in their Electronics Sector. Joe and Lynne will still reside in DC area. Ray Pollard has now joined Burdeshaw Associates as a part time consultant to the Army after his retirement from Aberdeen. Dave & Rosie Kuhn also enjoying retirement, mostly watching son David who is an Animating Supervisor at Disney working on the soon to be released "Mosueworks" and daughter Rosebud, who is completing a fantastic four years at Princeton where she starred on the volleyball team!
| | |
| --- | --- |
| 1965--Denny & Marie Lewis with Salomones. | 1965--Curl, Harter, Kulbacki, and Bennetts. |
Cathy & I had a great time with Jim & Julie McEliece during their holiday visit here to visit/take care of grandson Jake while his mom (Annabet) was in the hospital awaiting birth of #2 and his dad was busy traveling on the job. Jim and Julie were here for most of the month, because Annabet was required to spend the last 3-4 months in the hospital. Interesting photo sent in by George Ruggles, who now works for Oregon Cutting Systems in Portland. The photo, taken at his son Jonathan's wedding, shows three generations of academy grads, namely the grandfather of the groom in the middle (Bill Hodges USNA '40) flanked by George on the left and brother of the bride (Tim Sundvall USAFA '91).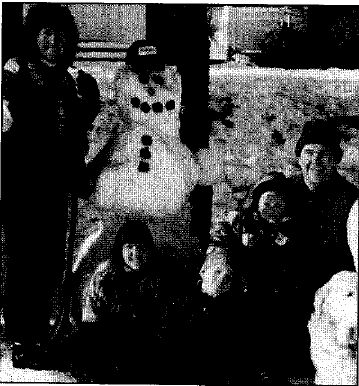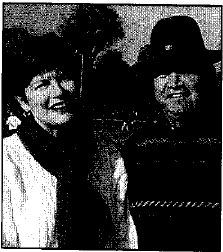 I received a bunch of family Christmas newsletters, which is always a good and simple way to keep your scribe apprised of what is happening. Kent & Sherry Brown report from Boise that they purchased a "place" at Lake Cascade in Donnelly, ID. Actually, the "place" is an old cabin sans facilities. A modern operational two-holer is next spring's project. They also attempted to traverse the Nez Perce Trail again, only to be turned back by a forest fire. So much for retirement! John & Mary Kay Salomone are still spending a lot of time at our Alma Mater as they watch son Steve '00 (Starman no less!) mature and learn yet another foreign language. John, Sr., has changed practices and now works as a dentist in both Newport and North Dartmouth. They also announced that they will celebrate their first grandchild early in 1999. Mary Kay reported that Tom Abraham had the USMA cheerleaders help him propose to Ina (she accepted) during the A-N game. Congrats Tom, but Ina, you probably want to contact your dear old scribe before tying the knot! There are things you should know! MK also sent photos from various WP tailgate parties. Denny & Marie Lewis with the Salomones, Gil & Virginia Curl, Curl, Bob Harder, Walt Kulbacki and Larry & Jean Bennett. A few other Christmas letters have photos, so they will be in the next article.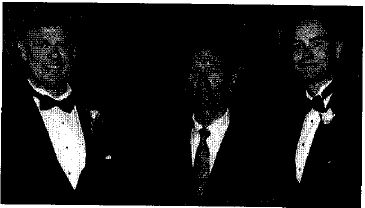 Some very sad news to report this time around. Mike Thompson, our hockey captain and all around great guy, perished in a fire in January at his place on Cape Cod. The photo shows Mike and his family in happier times. A Trust Fund has been established for the three children with an initial donation of $1,000 from the Class Fund. Ralph Asplund and Bart Barry took the lead in assuring class participation at the wake and funeral. Be generous if you can. There is a need!
Your Scribe is shepherding a detailed study for the AOG which will attempt to update our programs to assist classes in writing memorial articles (a.k.a. obits). More will be forthcoming, but one aspect that makes some sense to consider for '65 is to organize by cadet company as an informal organization to assist the class president with things such as memorial articles. More later! Strength and drive!
Denny Coll, Scribe