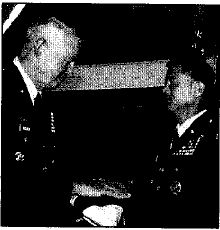 Greetings once again from Chicago! Best wishes to all for a very happy, healthy and prosperous New Year. Lots to report this time, so here goes. First of all, as hinted in a previous edition, it is now official. Our own Ric Shinseki is the new VCA. Ric was sworn in by the Chief (#1) last Nov in front of Patti and several classmates, including the DeFrancisco's, Bob Frank, Bob Harter, Steve Harmon, Leo Kennedy, Mike Applin, John Concannon, Orlin Mullen, Gene Farmelo, Tony Gamboa, Jim Harvey, John Harrington and Bill Hecker. Congrats to our new Vice Chief!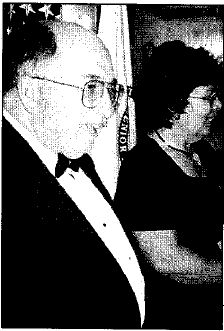 Several of our senior leaders, on both the Army and civilian sides, are hanging up their spikes. One photo shows Jim & Karen Ferguson, Wes Taylor, Beverly & Steve Morrissey with Dan & Nancy Benton at the latter's three star retirement ceremony at Fort Sill in October. The Benton's, after 33 years of distinguished service, mainly in Europe, will retire to Atlanta. Also retiring with classmates in attendance, Ray &Peggy Pollard were saluted for their 33 years of combined Army and senior civilian service at Aberdeen last December. In attendance were their children, Ray's parents, his sister Connie (with husband Mike Griffith '64) as well as the Longhousers, Dermodys, Dave and Patti Jones (who are moving here to Chicago), Hennessees, Orlin Mullen and the Swenssons. Ray presented his lovely bride with a beautiful surprise diamond necklace-- nice touch for the old feller! Swensson also reported that John Malpass (without DeeDee, who remained in Atlanta) stopped by on a business trip for a short visit. John works for Becker Multimedia, and has not only a Ph.D., according to Swensson, but also four masters'. Amazing!

We had a great turn-out at the Notre Dame game in South Bend last October. My old roomie, Zig Roebuck, sat in front of us, along with wife Linda and daughter Lindsay, and were accompanied by John & KayeEllen Connor and their daughter Christine. Also there were Bernie & Ellen Ziegler and a friend. Also seen were the Yoshitanis, Ellenbogens, Plotkins, Layers, Ross Wollen and son, Salamomes, Nenningers and, believe it or not, Rich Donahue (see next issue for more photos). Unfortunately, the wind picked up just as the Notre Dame kicker lined up for the longest field goal of his career. We came very close to beating the Irish that gorgeous Saturday afternoon.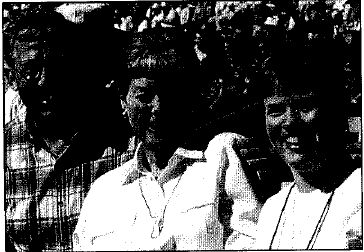 You will remember that in a previous article or two, I mentioned that we had a list of about 35 "missing" classmates. Well, thanks to several of you, we located three and then, out of the blue, Jim Harmon, who is in the people locating business, finds all but three of the others. Thanks to all who helped and especially to The Harmon Group. Speaking of people, I'd like to share with you two "people" stories and how great an impact a few kind words can have. The first has to do with our Supe recognizing our own "Class Mom" Audrey Jannarone (Jack's mom), for her 44 years of perfect attendance at Army home football games. Dan did so at the last home football game tailgate luncheon. We received a very touching note, with all the details, from Audrey, complete with clippings from the Pointer View. As Clint would say, Dan really made her day! In her remarks after receiving an Army football jersey, Audrey had but one wish that Army would throw a halfback pass. Fast forward to Navy--her wish came true.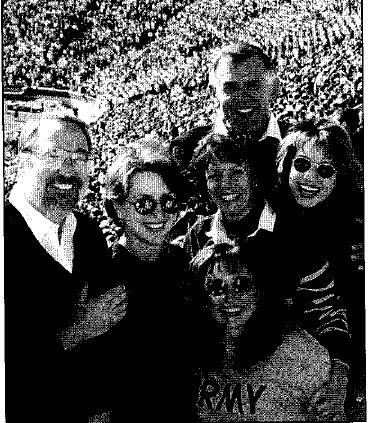 The other people story was in the form of another touching letter received from Carol Maimone, who wanted to thank the entire class for their many expressions of love and caring while Manny was so sick. She was particularly touched by Rick Leary's words, which captured Manny's essence so well. Carol's only regret was that Manny could not be on the field, although she was quite certain that he was there in spirit, representing the class at the Bicentennial kick-off parade. Carol, I know that I speak for the class in saying that Manny had a profound effect on our lives also! Please stay in touch and know that we all still consider you as a member of "Strength and Drive."
The planning for the Bicentennial memorial/class gift continues strong, under the leadership of John Longhouser and Harry Dermody. Get those pledges in or risk having the Old Man move in with you! You can also inspect the latest plans by visiting Terry Ryan's site at "http://www.engineering.gmu.edu". Speaking of Ryan, he and Nancy had a big Texas barbecue in September at their new home. I am looking for photos, so if anyone has any, please send them along. George Bell reported that Jim Scheiner was recovering well from brain tumor surgery in November in Harrisburg. Pat Kenny reported that he is still alive and well, and is trying to keep up with Alice in our old airborne hometown in Georgia. Wayne Scholl took the big leap from gainful employment to consulting and is doing well so far. Some of you did not receive the new 1998 Class Roster and have either called or mailed in for a copy. I still have some remaining. If you need a second copy, please send a $15 check. The son of a VN war KIA, who was killed in the same ambush that took our Tony Borrego's life on Hwy 14 north of Kontum in 1967, is seeking Tony's surviving family members. Please call me or Gary Sizemore at 813 398-5929 if you can help.
And finally, the general consensus seems to be that we will celebrate our 35th in 2000, probably in the spring, before Dan and Susan retire. John Howell coordinating it all. Stay tuned, but mark your calendars.
Well folks, because of the number of photos above, I have to end the article now. More photos next time of Notre Dame and Navy games, plus some others. Please keep those cards and letters and photos coming. They make my life easier and the article much better!