Greetings once again from Chicago! Hope all is well at your end. Lots happening and lots to report, so here goes. First of all, our Alma Mater is undergoing a (much needed) major overhaul which will take several years to complete. As you may know, the Academy's budget, along with most other DoD line items, has been cut about 10-15% starting last year and continuing for the next 3-4 years. This may not sound like much, but the 100% line (before cuts) was, at best, an amount sufficient to maintain only the status quo with little money for deferred maintenance, quality of life projects, etc. Through the hard work of our Supe and his staff as well as the Director of the Army Budget, it looks good that many of these cuts will be restored. For example, the major renovation of Arvin Gym, to begin in 1999, will finally provide the cadets with a first class facility for swimming, intramurals, etc. Good work, Dan and Clair Gill!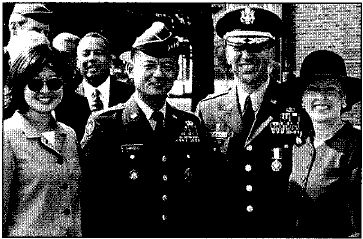 In September, my old Beast roomie finally hung up his spurs (actually his cannons) after 33 years of stellar service to his Country. Joe and Lynne DeFrancisco were honored by a 1st Infantry Division ("Old Guard") full dress review at Ft. Meyer, complete with two "Revolutionary Army" units as well as "Pershing's Own" Army band. The current Vice Chief held the parade, as about 22 of our class looked on with pride and admiration. One of the photos shows the DeFranciscos with a surprise visitor from Bosnia, our own GEN Rick Shinseki (shown with his daughter Lori, Joe and Lynne). Rick is currently the CG, USAREUR but will take over as the new Vice in Nov, with rumors rampant that this may not be his last active duty job! Stay tuned. Also attending the parade and reception were: Adam, Alger, Ammon, Applin, Coll, Concannon, Fergusson, Frank, Gill, Guenther, Hallenbeck, Harman, Harter, Helberg, Jerry Kelly, Kulbacki, Linn, Simpson, Sperry, Shinseki, John Vann and Halvorson. A very proud DeFrancisco family including Joe's parents Mario and Betty (neither of whom has lost even a step), brothers Joe and Mark, son Eric and his wife Kristin and children, as well as daughter Laura were there in force. Truly a proud and exciting moment for the family DeFrancisco and for Strength and Drive!

Later that evening, about 11 of us joined the DeFranciscos at the Old Ebbit Grill near the White House for more fun over dinner and cocktails. That group included the Koz's, Harters, Hallenbeck as well as your scribe and Cathy and the '92 contingent who made all the arrangements, Brian and Carolina Coll. Great stories flowed as did the wine. To quote Johnny Carson, "I never knew that" Mary Harter was a.k.a. "Mary of Marymount" in her younger college days. Also "did not know that" Koz and Joe D. went to Holy Cross for a year before WP. I did, however, remember when I first met Lynne--Camp Buckner and she was wearing a superb two-piece polka dot swim suit--no bikinis back then. Unfortunately, your scribe's normally trustworthy camera (or perhaps his dimming eyesight) failed him that night! Joe and Lynne are now ensconced in Crystal City (near the Pentagon) while Joe does the job hunting routine.
Jack and Vicki Blau have taken a leave of absence to do missionary work in Cameroon, West Africa for a year through May 1999. They need old computers and educational software. E-mail me or Bob Scully for the Blaus' particulars. John Swensson sent along an update on another "missing" classmate (three located, 32 to go--see 1998 Class Roster). Bob and Jean Stowell live in Ord, NB, where Bob is a lawyer and they own a Ben Franklin store. Bob, as you may recall, won a DSC in RVN during a LRRP mission for the 173 Abn. Bob, if you are out there, let us hear from you.
| | |
| --- | --- |
| 1965--Scully, Dermody, Harmon, Salomone, and Hawkins at Clinton Field tailgate. | 1965--McGurk, Thompson, and Gill at football game. |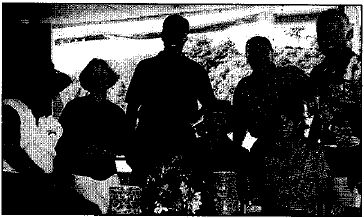 The planning for the Class gift part of the Thayer Walk is progressing nicely, under the tutelage of John Longhouser. Ross Wollen has some neat ideas about tying in our part of the Walk with the vista a visitor would see looking out over the Plain, e.g. Eisenhower's statue and his return back to WP for our graduation and his 50th, the former location of the tennis courts and LT. Arthur Ash, etc. Call John or Ross if you have any ideas. Speaking of Ross, the photo shows he and friend Myrita Pindar cruising off WP with the Supe & his lady as well as Jim and Jean Harmon and Reg Dryszga.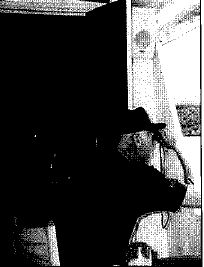 Mary Kay Salomone, when not orchestrating the hybridation of a WP Bicentennial rose, sent along the photos of a tailgate party at Clinton Field showing (four young studs and one old man", namely Bob Scully, Harry Dermody, Jim Harmon, John Salomone and Denny Hawkins. A later close-up shows Rocco McGurk, John Thompson and Clair Gill, who were also at the tailgate. Some folks age gracefully, while former Rabble Rousers ..., well, anyway, Rocco, we still love you a lot! Did you ever wonder what a Supe does in his spare time? Well, your peripatetic scribe did and attempted to find out. The above photo shows said Supe checking out Flirty for cadet dress code violations from Ross' yacht while the other picture shows a perfect, in-air chest-butt with the "A Man!" Just thought you'd like to know.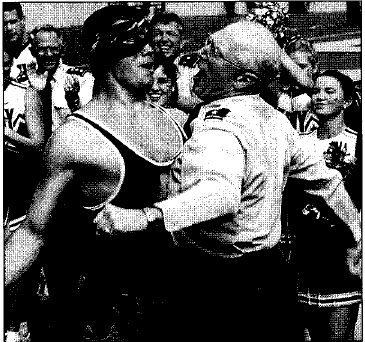 Strength and Drive continues to play major roles in WP activities. Rollie Stichweh, although retiring from Towers Perin, has been appointed to the Search Committee for a new athletic director to replace Al Vanderbush. Speaking of the retiring AD, in addition to being a great football player in his own right, he was one very effective and classy administrator, guiding us through the maze into our first league affiliation. On behalf of all of his friends in the class, we wish Al and his lovely lady the best as they go forward.
That's it folks. Still working on the list of missing classmates as well as the long overdue memorial articles. Please help if you can. And get your Class Gift donations into The Old Man Dermody before he has a stroke or something on us. Beat Notre Dame, sir! Strength and Drive!