Greetings once again from Chicago! Hope all is well at your end. During a recent visit to Atlanta for my second grandson's "coming out" party, I was hopeful that John & Karen Pickler could join our family for the luncheon celebration. Their youngest son Jeff, however, had some free time at WP and so they were visiting him. Jeff, it turns out, is a member of the Army Crew Team and reports that our "Strength and Drive" four man/woman shell is "looking good!" Jeff is also #1 in his class in PE according to his proud father. Harley Moore is now working in San Francisco on Market Street with Lea & Elliott, Inc. Speaking of the West Coast, that speed demon offensive lineman from the plebe squad, now turned plastic surgeon in Napa, Dave La Rochelle reports that he has six children (ages 8 to 28) and enjoys the California lifestyle. He has not returned to USMA since graduation but has managed to see a few West Coast Army games.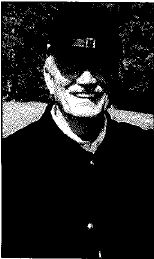 Intel photo and report from a battlefield reenactment at the Battle of Pleasant Hill in Louisiana shows the "world's oldest living private" in battle gear by canon, our own PVT Ray Woodruff in March. The Union lost the battle again but fortunately, Ray escaped injury. Ray also reports that his wife Kathy continues to well as a cancer survivor and they are all very thankful for that blessing. The photo from Fort Lewis Founder's Day shows (top) COL Bill & Susan Sherrell and COL Duncan & Carolyn Brown and LTC Rick & Donna Bunn.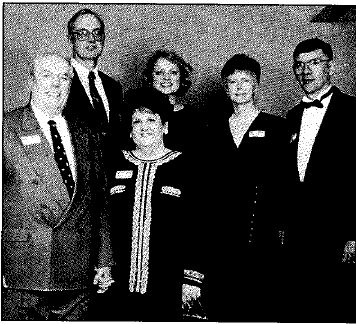 Joe Sanchez and his Choirboys have their usual Army-Navy game planning process under way. They have 40 rooms reserved @$89 for 4-5 Dec at the Radisson Hotel Philadelphia near the airport. Victory party and buffet after game, coffee and bagels before the game. Hospitality suite opens Friday night. Poker game by invite only, unless you show lots of "green!" Cost will be about $50. Detailks in September mailing.
Dave & Darlene Hopkins live in Chesapeake, VA near their son Mark (ex'94) & his wife in Pennsylvania. The younger Hopkins' first son Jeremiah had to have life-saving surgery shortly after birth, but he is doing well now and the entire family is very thankful for all of the prayers and good wishes. Dave resigned his job with Westinghouse nuclear safety in 1996 and did his MBA thing and is looking for a new position--especially if the new company would have an interest, as does Dave, in helping to rebuild inner cities. Contact Dave at "davehop@visi.net"
Karen & Jim Ferguson celebrated their 30th last fall, with the last 14 years being in the Lawton, OK area, where they see Rick Sinnreich from time to time. They have volunteered to help any '65 offspring assigned to (or just passing nearby) Ft. Sill. They keep in touch with the Pollards at Aberdeen, Timmerman's with USAA in San Antonio, Lowry West near Hot Springs, AR, the Picklers and Mogans in Nashville, O'Donnells in Pittsburgh and Ron Walter in Sierra Vista, AZ.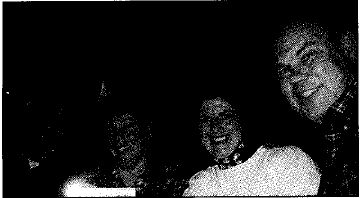 Jim & Janet Dyer report lots of activities with their children. Son David married long-time sweetheart Shelby Magee and now lives in Virginia, while daughter Lauren designed a house which her husband Bob actually built (now that's impressive in this day and age!). Daughter Kristin is in her second year at Virginia Tech and loves it. Jim is doing some consulting and plays as much golf as possible. Skip O'Donnell sent the photo of he & Marilyn with Preston & Sandy Motes in Salt Lake City last January. Preston is retired, living off his wife's (??) job at American Express. Motes old boy, I need to call and get the details. I have been trying to do that since last fall but to no avail! Skip reports hearing from Frank & Kathy Meier, who are moving to Las Vegas (also the ultimate retirement spot for the O'Donnell's in a few years). Bill & Susan Tredennick are still in Kansas and enjoyed Bill's 30th reunion with his RVN artillery battalion at Ft. Sill. Gil & Ginny Curl's son David just returned from Haiti and will spend some time at Ft. Rucker. Gill is doing some consulting work for Analysis International Corp. in Danbury, CT while Ginny continues to make those great doll dresses for her two granddaughters.
Skip also reports that Jack & Doty Keith (now there's a fellow we haven't heard from in one very LONG time!) are in Pennsylvania where Jack works for the Pennsylvania Dept. of Veteran's Affairs while also helping the local senator select candidates for the service academies. The Keith's college tuition days are nearing an end with Jessica graduating from Virginia Tech and Tim from Auburn. Skip decided to run for the local school board and, unfortunately, won! His school board travels have brought him into contact with Tom Borkowski's mother as well as an athletic director who coached a great local wrestler by the name of Tom Abraham. Small world, but GREAT letter Skip. Pat Kenny is back in Columbus, GA, with a water purification consulting firm, which, because of his great engineering skills, are sending another engineer from Atlanta to oversee the technical parts of Pat's work. Tell your off-spring to drink the water at Airborne School with great care, my friends! Pat also reports that moving again is really a "pain in the butt" a comment I have heard Alice make about PDJ many times over the years! John Swensson is going to RVN with Campus Abroad. Look out WWIII.
Jerry & Peg Merges writes from Delray Beach, FL that three of their four children are married. Son Jerry and wife own a business in Ohio, other son Doug lives with his wife in Idaho, daughter Laurie is a PhD student at Kent and youngest daughter Samantha is married and lives in Avon Lake, OH. Jerry owns his own investment firm and plays lots of softball. What, no swimming? Chuck McClintock writes from his vineyard in Spring Grove, PA, that things are going well for him and his family. His daughter Jamie just received a full scholarship to pursue her graduate degree at Notre Dame. Clair Gill sent some photos earlier this year of a party on the Supe's yacht in 1973. Unfortunately, the photos will not reprint well. He did manage to see Manny and to pay his respects.
Speaking of that, I have received several notes and expressions of condolence for our departed comrade Manny Maimone, but the one from his Plebe year roomie Rich Leary says it the best--Rich saw Manny about two years ago and departed the meeting with one of Manny's cigars. While savoring the thoughts of that fine cigar after attending Manny's memorial service at WP, Rich's thoughts were similar to most of ours who knew Manny. "Manny was truly one of the really nicest people I have ever known...My memories will not be of the signs of ALS I saw that day two years ago... My memories will be focused on those days so long ago when we shared a few moments of our first year at West Point. Those moments make me smile and that is what Manny did for all of us." Amen!