Greetings once again from Chicago! Some sad news to report. We were all hoping that Manny Maimone would be able to represent our Class on the Plain this August at the beginning of the USMA Bicentennial, but the good Lord needed Manny for His parade. Manny passed away in early April after a long and valiant battle with Lou Gehrig's disease. Our Supe and his lady joined Carol, their son Chris (a JAG CPT at Ft. Campbell), Chris' wife and three children, daughter Sara (from Milwaukee) and her husband and two other grand-children, daughter Lauren (from New York) and son Greg (UVA junior) at the WP cemetery graveside services. Manny's father also was there as were a good cross-section of Manny's many friends in the class--namely high school classmates (with Manny) Jim & Jeanne Harmon and Ross Wollen, John Salomone, Bob Scully and John Howell. Carol Maimone hosted a reception afterwards at the refurbished O Club. Judging by all of the email which I saw going to Manny, I think I can speak for the Class in saying we have lost a true friend, a brave warrior and an all-around nice guy, who was always thinking of others more than himself! Manny, this scribe will miss you a lot.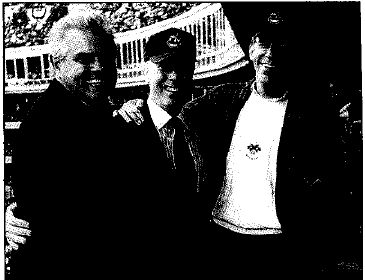 One of the great things about having the Supe be one of us is that you have a good shot at getting him for Founder's Day. Sonny Ray and I did just that. Sonny hosted the Christmans in Nashville at a Friday night soiree. Shortly after that weekend, Sonny was literally "in the eye of the storm." Seems that the tornado which hit downtown Nashville took aim on the old courthouse building, where Sonny is the Clerk of the Court. Remembering his Beast 101, when the advance warning arrived, Sonny ordered everyone into the basement. However, the computer honcho had to "power down" the system, which took some time. Sonny, ever the brave commander, stood by his man as the tornado hit the building and blew out all the windows. There was paper everywhere, says our man on the scene!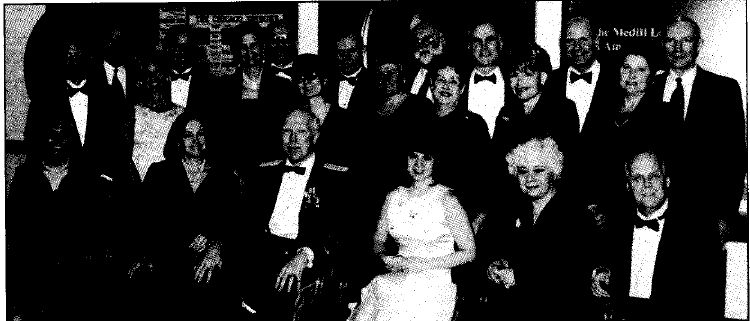 Cathy and I hosted Dan and Susan the next day here in Chicago for a black tie dinner for 200 at the Cantigny 1st Infantry Museum. Ken & Izumi Yoshitani organized the class cocktail party beforehand which was attended by the Bob Bradleys, Jack & Maria Colley, Tom & Anna Croak, Steve & Cathy Ellenbogen, Tom & Marilyn Kovach, Joe & Ann Koz, Ron & Pauline Layer and daughter, Paul & Nancy Singelyn, Ron & Judy Williams and the Yoshitanis. After the class soiree, the Christmans hosted about 15 prospective members of the Class of '02 and their parents. Interesting to watch how Dan and Susan handle this type of event. They both gave short opening remarks, albeit from different perspectives. Then, one went to one side of the room and the other to the opposite side, so that every prospective cadet and parent was able to talk to either or both of the Christmans. Very effective and very much appreciated by the parents! We were assisted that night by two potential members of '04--Cathy's goddaughter Anne Coatar and her friend Lauren Bern.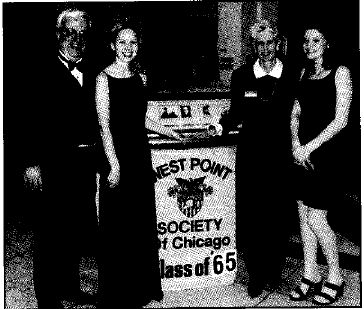 Ken Yoshitani provided a very interesting and different intro for Dan at the dinner. After Dan's remarks and the "Alma Mater," I was starting the thank you's when a graduate collapsed and lost consciousness for awhile. The paramedics were summoned and fortunately, he was okay. The next morning at a brunch, we were told that this guy's first observation after coming around was of a general officer with lots of stars standing over him saying "my speech wasn't that bad, was it?" If you haven't had the Christmans to your society, get on the list and make it a '65 thing! They will not disappoint!
We have updated the Class Roster and hope to have it in the mail to you by the time you read this article, along with a Class update from our president, and an update from Dermody on fundraising for the class project. Harry and his regional guys have done a great job but we are only about 75% of the way toward our goal. For the 50% of you out there who have not dug into your pockets, please give it some thought. If the remaining 250 some classmates pledged $1,000, payable over 2 years, Harry would be out of a job and could go back to chasing Kay around the house. Also, if you have NOT received your free copy of the 1998 Roster or if you want to order more copies @$10, please send $10 to Alumni Services at P.O. Box 350, Kenilworth, IL 60043-0350 or call 847 256-4422 and they will take care of it. You will also see within the roster that we have updated the class history with more vignettes, thanks to a lot of input from the class. There are also recent photos of our remaining GO's in the Roster.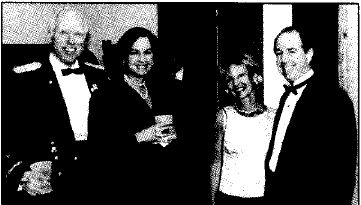 Bill Tredennick updated us on his last 30 years. Bill retired in 1988 after 23 years at Ft. Leavenworth where he is employed developing war game computer simulations for corps and division commanders. Bill and Susan's daughter Treloar graduated from Colorado College in 1994 and then from George Washington U with an MA in anthropology. She works in Colorado Springs for a museum. Son Owen received his degree from Webb Institute of Naval Architecture and is working in that field now in Houston. Bill plays a lot of racquetball while Susan teaches during the day and adds to her doll and dollhouse building collection on the weekends.
Les Hagie decided to write twice in 30 years (one day after the other) reporting that he retired after 20 years of being a Soviet Foreign Area Specialist. He went back to law school and has been practicing law in Roanoke since 1988, specializing in Federal Employers' Liability Act cases defending railroads against worker comp suits. Daughter Traci (22) graduated from James Madison with a psychology degree and is now a counselor in a camp for girls (Les says it is like Ranger Camp only this one provides wayward girls a camp or jail alternative). Son Kevin (20) is a junior at JMU. More of these updates next time, but now let's wrap up previously received updates.
Former president Dave Kuhn & Rosie sent a photo of the family (unfortunately, too far distant to reprint). Son David is doing great things in the world of animation with a credit for the Hades character in Hercules and now on to animation supervisor for Mickey Mouse cartoons! Daughter Rosebud (still as cute as her mother) is doing great things at Princeton, especially on the Ivy League championship volleyball team. She hopes to study in Italia this summer.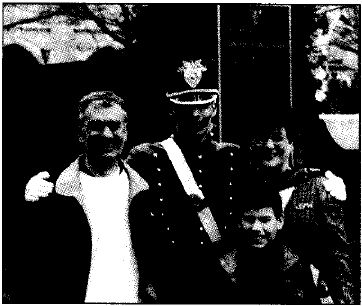 Another great photo of the family Salomone at WP--at least the younger half. Yearling Steve is wearing stars and off to the Turkish Military Academy this summer while his younger brother is in 6th grade and probably doesn't know how famous HE is in the Class lore! Older son John is a company CO in Korea with his family. Daughter Susan & her husband are at Notre Dame while he gets an MBA. John reports that Mary Kay is recovering quite well from her fall last year and looks to be back to her normal self.
Jim & Julie McEleice wrote from their new home In San Diego with a photo of new grandson Jacob James Petit, born to daughter Annabet and hubby Tom here in Chicago. The next photo shows an old Cleveland Indian fan (and our current Supe) joining Denny Lewis and Merritt Bumpass at Opening Day in Merritt's law firm's loge, although I am not sure about his suggested caption "three really good looking guys!"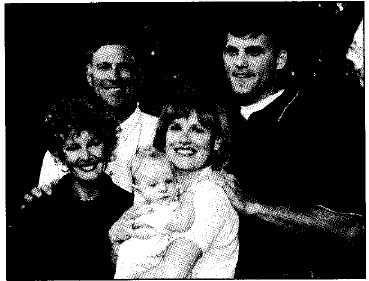 Anne & Steve Harman wrote from Springfield, VA that they may be coming this way for their son's wedding this summer. Good and sad news from their way. Anne's father and Steve's mother passed away in 1997. Daughter Kate and her husband had a baby on Thanksgiving Day. Steve is still with a subsidiary of Northrop Grumman while Anne is still with Nations Bank. Son Steven is an award winning photo journalist for my local newspaper. His wife-to-be's high school swimming teams have done quite well in state competition. Daughter Mary, Navy SEAL husband Todd and granddaughter Hannah are in Virginia Beach. Hey Todd, what happened to the SEAL's in this year's ECO Challenge? Just asking. The other Harman offspring also keep busy. Jim just completed a trip around the world before returning to a job as a government cartographer; Joe is a sergeant in this man's Army at the NSA in Maryland, John graduated from St. Mary's College in Leavenworth, KS and is now a graphic artist and Barbara is a frosh at Marymount U in northern Virginia. She has a nice friend, says mom, who is a Marine on the presidential detail. Steve, what gives with the apparent infiltration of all the Navy-types?
Well folks, that's about it for now. Running out of space. Thanks for all the updates, especially the photos, the good words on my scribe work over the years, and the prayers and good thoughts on my wife's health (which continues to be great)! See you at Homecoming or the Notre Dame game this fall.