Greetings once again from Chicago! You should have all received, back in February, an update questionnaire request for our revised '65 Roster. Sorry, I forgot to attach a cover letter. The information has been collated and the Roster should have been mailed to you by this time. If you have not received your copy, please call Alumni Services at 847 256-4422 and follow the prompts for '65. The Class will be well represented at the Notre Dame football game in South Bend in late October. I am helping to coordinate the game festivities (big Pep Rally and Sat. post-game buffet), with a lot of help from the WPS of Indianapolis (Mike Huston-"Legends" Hall of Fame Dinner and Supe's private cocktail party) and WPS of Detroit (Mitch Bonnett-Glee Club concert). You can call either AOG (ads should be in this or the next addition of ASSEMBLY plus were mailed out with football ticket requests) or the 847 number above for details and reservations.
The first event of the bicentennial celebration will be held on the Plain in August with every Class being represented by a living grad, all of whom will be in the reviewing line and will be greeted by members of the Class of '02 (the bicentennial Class), who will have just returned from Lake Frederick. Our President has appointed Manny Maimone to represent us, so Manny, hang in there buddy! We're ALL counting on you making us proud! Clair & Sherry Gill visited Manny and Carol in January and suggested that Carol should be considered for sainthood--very difficult task. Let's all keep him in our prayers. Certain G-2 reports from California indicated a 23 February Newsweek photo of the infamous Monica Lewinski seated two chairs away from our own Deputy CG-Forces Commander John Morris Pickler.
In February, some folks from a non-AOG sponsored listserver service called WestPoint-ORG obtained the class e-mail list (161 in number) without the consent of the class and emailed everyone on the list that "This was just a test!" What followed was in one word "amazing!" Between that Thursday and the next Monday, the email wires were burning. Your scribe initially took the position that a listserver would probably be of little benefit to '65, since there was very little e-mail traffic over the wires. The WP-ORG guys came unglued that I would not/could not see the wisdom of their cyber ways. My concerns, had they taken the time to do their homework, actually had nothing to do with their personal accusations. We charged on, surveyed the class, and found there was some interest in a listserver, so we did it. About 23 of the class took the time to share their feelings on this subject, of whom 13 were in favor, 7 against, and another 3 were okay with it with some controls. Actually, we didn't have many choices, since WP-ORG already had the list. So, if you want to talk to any of these other160 classmates, dial up our new friends at "west.point.org" and have fun. You can always opt off the list, they promise.
But one of the more interesting aspects of this 5 day, cyberspace fiasco was that your scribe established the rule that unless classmates provided a personal update, their vote would not be counted (had to have a little fun in all of this). Wow, did we hear from some long-lost souls. Here goes! Chuck Heinrichs has been in Cleveland for the last 12 years, where he is still enjoying the thrill of paying for two of his three kids who are at Ohio State. Pat Kenny reports from Georgia that Alice should be deciding whether they will either: move back to Columbus where Pat will find a new job, or he stays at Mercer U in Macon and they build/live in Hilton Head. Pat played some golf in Hilton Head with Bob Radcliffe in late February. Alice, I'd vote for Hilton Head! Johnny Wells has been in St. Louis for the last 5 years, where he had a Sunday brunch with the Ron Williams family just after he arrived (Ron's cousin married Johnny's rommie Jim Talbot).
Henry Mickells works for GTE Government Systems as a PM, working on the project to install and operate telephone systems for all federal prisoners. He & wife Trina, who is a realtor in northern Virginia, are looking forward to retiring again in the Tucson area in five years. Orlin & Sandy Mullen are "quietly situated" on Kent Island on Maryland's eastern shore. Dermodys and Gamboas are nearby. Orlin works for GEN (Ret) Don Keith at Cypress Intl near the Pentagon. He enjoys the work. John Vann continues to run his own consulting business while Eleanor is now a full-time senior consultant with Coopers & Lybrand. A "lurking ex-'65er" and Life Associate member says hello to everyone. "Scrappy" was in F-1 but forgot to add his name (Vern Matthews?). He can be reached at "FNJN41A@prodigy.com."
Dave & Ilse Gabel are still in Northport, NY on the north shore of Long Island where Dave is the Executive Tech Editor of a high tech magazine called VARBusiness Magazine. Their oldest son Michael '90 is married and a company CO at Ft. Drum, where they reside with the Gabel's first grandson. Their youngest son goes to UConn where he is pursuing a Ph.D in plant biology. More on other long lost souls next time. In the regular mail, a few more Christmas letters arrived. Joe & Diane Barkley are in New York although they live in Newtown. Joe is with Swiss RE as an associate director while Diane has taken up golf. They took a long trip out west last summer and really enjoyed seeing the great sights. Joe sees Ralph Locurcio on the train into NY, where Ralph is working for a construction management company which is building Amtrak's high speed rail maintenance facility. Loco lives in Yardley, PA says Joe. Art Mark sent a family photo but unfortunately, it would not reprint well (too distant and too dark). He reports that seven of their ten children are still at home, They anticipate a wedding this summer for daughter Lucille and a new hip joint replacement for Art.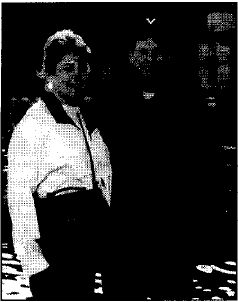 Howie & Betsy Reed are enjoying life, especially the birth last December of first grandchild Samantha Lynn Reed. In the meantime, they have checked out The Magic Kingdom (more expensive than 1978) and Toys-R-Us (now Howie has a real kiddie reason to go there!). They are still in Lima, OH. The only photo this time is of Jack & Annette Lowe who are still in Deutschland solving the "year 2000" problem for Deutschbank. Dan Benton wrote for their address so that he could look them up. Harry & Kay Dermody went to the Rutgers game last Fall with Ray & Linda Hawkins where they ran into the Harter's who "suggested" a friendly golf game. As you might guess, Hawkins and The Old Man had their pockets cleaned by Mary & Bob Harter. Right on, Mary! Diane & Bob Doughty are still at WP where she continues as a school psychologist in Highland Falls while working on her Ph.D. They celebrated their 30th anniversary in Paris!
Roy & Renate Garms wrote from Houston where he just retired from Exxon but continues as a highly sought after consultant. Next assignment will probably be in China. They were the couple in the December ASSEMBLY picture unidentified with the Christmans.
A few closing remarks on cyberspace. First, please make sure your full name is somewhere in the email message. I'm still trying to figure out who "Jon" is at "joneliot...". Secondly, while it was clear that the class previously never used e-mail extensively, the volume of news above indicates to this scribe that we should be doing so. While you could always contact classmates thru the AOG, that procedure was found to be very cumbersome by some and thus, not used. I will try to address that problem with the AOG folks. I am also very concerned about how WP-ORG got the Class list and will try to address that issue later also.
And a big thank-you to all who have kept my wife Cathy in your prayers. She is doing well--the prognosis looks great!