Greetings once again from Chicago! We hope that your holidays were happy and healthy and that your New Year is off to a great start! First, a few new things from the AOG. We can now instantaneously e-mail everyone in the Class (who has an email address on file at AOG) for updates, death notifications, etc. If your email address had not been registered or has changed, don't send it to me, but instead, log on to the AOG homepage and sign in there. If you have a need for this mass email, let me know first, unless it is a death notification, in which case go directly to the AOG. The system works very well, thanks to a very capable AOG staff (led by Tom Mulyca) so let's use it! By the time you read this, you will probably have received a name and address update request from Alumni Services (located here in Wilmette, IL and not associated with the AOG; 847-256-4422 or fax 5601). Please complete the form and mail it back so that we can update and mail out the new 1998 Class of '65 Roster. The AOG is using a new third party service to locate missing classmates, but if you hear of someone who has NOT received the mailer, have them call the above number ASAP!
Everyone should have received an update on our Class Gift from "The Old Man" in December. Things are going well with the project but Dermody still needs your continuing help. Our hats are off to Fred Laughlin for getting the project off and running. He has passed the ball to John Longhauser to complete the Project. Speaking of "The Old Man," Kay Dermody reports in their Christmas letter that they became grandparents twice in 1997 and are enjoying their role as doting grandpa and grandma. Their daughter Joanna was diagnosed with a serious heart problem following the birth of little Natalie.
As some of you may know, my new bride Cathy was diagnosed with colon cancer last November and started her chemo program just before Christmas. She feels good, looks good and has a great attitude. And finally, in addition to Cathy and Joanna, let's keep Jim Woodard in our prayers. His widow Joyce reported that Jimmy passed away the day before Christmas with his family. Our thanks to John Howell and Bob Harter for organizing a Class group to attend the memorial service. Jim was interred at Arlington with full military honors. Joyce can be emailed at "joycewood@juno.com". Billy Mitchell passed away in October after a year-long battle with cancer. His wife and daughter were with him at the end. The Class attended the wake with a lot of help and coordination from Bob and Jeanne Thompson.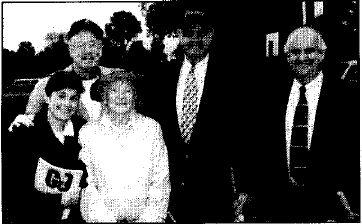 The photo of Rollie & Carol Stichweh with Rollie's mom and Denny Lewis was taken at WP in September after a football game. Both mom and Carol look a lot better than the old foggies in the rear, if you ask this scribe!
The Newsletter from the Kenny's was interesting, to say the least. Pat made the mistake of asking Alice what she wanted for Christmas, to wit she replied a trip back to their then, still unsold homestead in Virginia for the holidays. So, like the dutiful hubby he is, Pat loaded the U-Haul and away they went. The house did sell! This past Christmas, they were in Maine with the children and young grandchildren. Single son Mike is studying Zen Buddhism after returning from Japan, and Pat is trying to see some humor in it all. So, if your 1998 Christmas card says "Remember us in your chants" you'll know why. Youngest son Patrick is a junior --Ramblin Wreck-- at GA Tech and never wants to leave the state of Georgia! One suggestion to change his mind--send him to Ranger School!

Kent & Sherry Brown sent the nice photo from last September showing Longhauser, Frank Skidmore, Bob Wolff, Mike Viana, Kent and Dave Hopkins at the Viani's. Hopkins is in the job market and can be reached thru the AOG. The Brown's are still doing a lot of sailing and Sherry even decided to tag along on an overnight camping expedition ala Lewis & Clark in the Bitterroots in the Idaho wilderness.
In the "nice place to have your daughter married" category, Wayne & Susie Scholl take first place. The picture of the beaming parents with bride (their daughter Jenny) and groom, overlooks Turtle Bay in Oahu. They were also joined by Tad and Hiro Ono (who followed the Scholl's to the altar at WP in June 1965), Jay Stewart and a total of 65 guests from the mainland.
| | |
| --- | --- |
| 1965--Scholl wedding. | 1965--Scholl weding. |
I had the AOG send out a request for Christmas Newsletters. My email so "perked up" Monty Kennedy that he emailed me from Staunton, VA stating that the news of his demise in 1994, as apparently reported in the Register of Graduates, was a bit premature. He is looking for opportunities in purchasing, materials management or related fields. Contact him at "brutus14@cfw.com" if you have any ideas. Henry Mickells emailed me with some sad news that his daughter Robin died peacefully in her sleep last November after a 22 year battle with cystic fibrosis. John Alger reported that he, Bob Harter and Randy Gunther continue to work at Kaman Sciences in Alexandria, VA, as the company is being sold to ITT Industries. He sees Joe McChristian from time to time as he passes thru DC on his way to Europe where he has business interests.
The last photo shows a smiling Jack Jannarone with his mom Audrey (aka Anna Mae to some of us) and Jack's son Bobby (10). Audrey is setting a record as each and every Army football season passes by. This last one marked her 41st season of attending EVERY home game. Now, I think that is kind of special. Actually, I have always thought Anna Mae is some kind of special.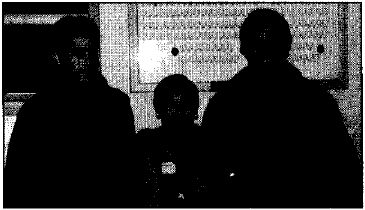 Incidentally, she was just inducted into her alma mater's Sports Hall of Fame! Jack also must be keeping himself in shape---he scored the only goal for the old guys in this last alumni lacrosse game. Jon King's fiancee is opening a new business in the Dallas/Ft. Worth area. Jon, as soon as the new roster comes out, there will be a sorting by Zip code in it. And finally, we hear from a reliable source that Terry & Nancy Ryan just became grandparents. Same source--John Swensson--reports that John Longhauser enjoys his new job with Burdeshaw as VP for Vehicle Systems and lives in Potomac, MD, and that Dave Jones is now a program manager for Grumman in Annapolis. We also hear from Ed Dye who lives in Townsend, TN that he would like to continue to be involved with the Class.
Well folks, that's about it for now. Sorry about all the bad news, but as my lovely Cathy reminds me so often nowadays, "prayers do work, Denny." So, let's all keep those in our Class as well as our loved ones, who are ill or who have just passed on, in our thoughts and prayers. And while you are at it, why not write or email Manny Maimone, Joyce Woodard or any of the others mentioned above or in previous articles. Unexpected missives and prayers really are welcome. Trust me on that one! Have a great 1998!