Greetings once again from Chicago! Please note the new area code above-708 no longer works. Frank Prokop is still in Dallas working for Vinson Process Controls ("If it flows thru a pipe, we control it!"). Frank has been there for 22+ years and will probably retire in about 5, in order to pursue his first love, building and flying airplanes. Frank probably liked to jump out of perfectly functioning USAF planes at 1250 feet also!?! Herb Smith e-mailed that he had found several "lost" classmates, namely Johnny (aka Walter J.) Wells in St. Louis and Bill Connelly who is working on the Panama Canal as the deputy FM. We will try to get more details.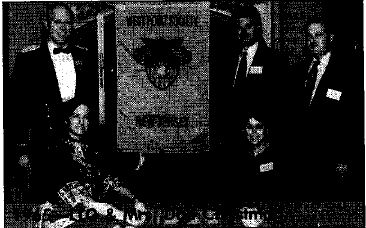 Received a nice pix of Joe and Lynne DeFrancisco at the Honolulu Founder's Day which they attended with Dave and Linda Bangert. Chris Kinard may have just moved to Hawaii also. The good Lord and North Korea willing, Joe and Lynne will be traveling this way in late August 1997 for the scribe's nuptials. Another photo show the Supe and his lady at the New Jersey Founder's Day where Dan gave his now famous lesson on how to do the Macarena! Dan and Susan will be coming to Chicago next March to help us celebrate the 70th anniversary of the WPS Chicago at the beautiful 1st Infantry Division at Cantigny. I received other photos from Founder's Day at Ft. Lewis from the dinner organizer, but unfortunately the picture was taken from too far away and I could not identify our classmates. When you take photos, try to make them as close up as possible.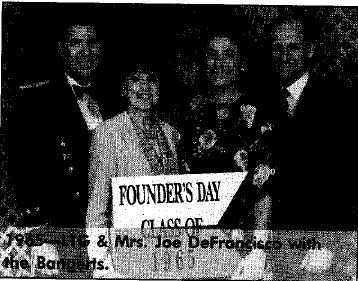 And finally, in the "It was the right thing to do" category, the Class, on relatively short notice (try 10 days), assembled at Aberdeen P.G. to make sure that John and Karen Longhouser received a proper and fitting retirement send-off! It was clear to many of us, that John himself did the right thing for the Army, thereby not jeopardizing the courts martial that were coming his away as the GCM convening authority at Aberdeen. The way in which the media and DoD authorities handled John's situation is, of course, another story. As the local Aberdeen newspaper proclaimed, if John and Karen were OK with what happened five years ago, why shouldn't the rest of us do likewise?
But on that sunny June 30th morning overlooking the beautiful Chesapeake Bay, over 50 of John's classmates and some of their ladies stood tall and proud beside their friend as our own Ray Pollard, the civilian deputy commander of TECOM, retired John after 32 years of active and exemplary service to his Country. As can be seen from the pictures, classmates came from near and far, to include: Fred Simpson, John Howell, Tom Abraham, Fred Smith, John and Mary Kay Salomone, former TECOM CIS Dave Jones with Pat, Don Rowe, Barry Zais, Jim Tomaswick, Harry Dermody (arriving a bit late due to the number of steps up to the second floor conference room) and Bob Scully.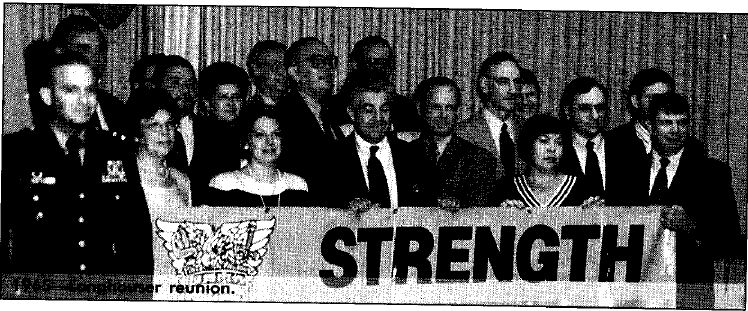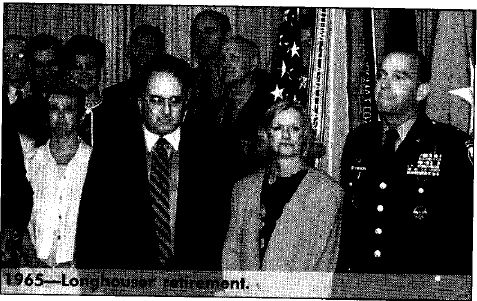 Also behind John and Karen were: Walt Kulbacki, Herb Smith, Chuck Boohar, Joe Sanchez, Bill Birdseye, Mark and Linda Sheridan, Bill Hecker, J.P. Green, Sandy Hallenbeck, Frank Skidmore, Mike Vianni, Bob Frank, Randy Guenther, Dave Gabel, Bob and Mary Harter, Sandy Mullen (Orlin was unable to attend until later), Dave and Darlene Hopkins, Ed Knauf, John Alger, the Maimone's, your scribe and Mike Watson. Also in attendance were John's brother, retired Marine Gar Longhouser and his wife, John and Karen's daughter Kim and grandson Alex, as well as the senior TECOM staff.
I must tell you that it was an absolutely first class event for a first class guy and his lady, who as John so poignantly observed in his remarks, "stood by her man!" Ray Pollard, who arranged the activities with much help from his lovely wife Peggy, did us all proud. I don't recall Ray being a comedian in school, but he had us all laughing as he moved through John's many accomplishments, such as the main battle tank which so dominated Desert Storm. John also read letters from the CinC, the Supe and our Class President and then presented John and Karen with several gifts, including the encased U.S flag (from the Class) which flew over the Capital and TECOM. Afterwards, the Class adjourned to the O'Club for a private lunch with the Longhousers at which they were presented with a beautifully framed picture of the Corps on the Plain (courtesy of Mary Kay Salomone) with personal notes and good-byes written on the back by each of us.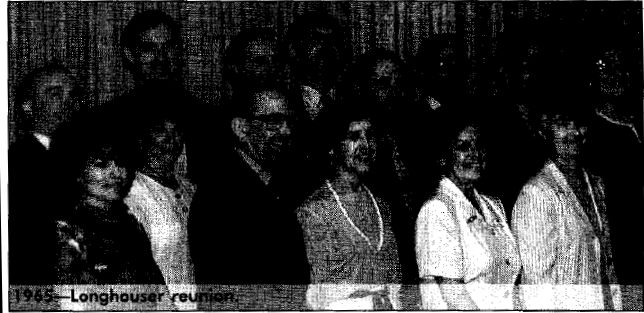 John was clearly struggling with his closing remarks to the class, but to emphasize his point that the support shown this day from the class was more than he could ever repay, John recalled the words of a letter from Sherman to Grant in which Sherman stated that "if he ever got into a tight place" that he knew that Grant "would come (to his aid) if alive!". As I said earlier, it was the right thing for John to do what he did for the Army and his family, and it was definitely the right thing for the class to do what we did that June morning!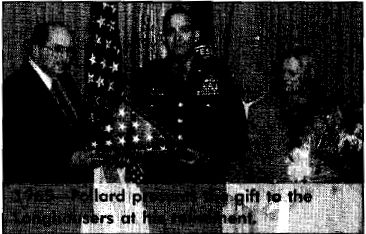 John and Karen will take a few months off and join their daughter and young Alex in the Carolinas ("to make coffee with grandpa") after which they will return to the DC area where John has taken a job with a consulting firm (not working directly for/with DoD, John notes). I also learned that Ray Pollard has just been promoted to SES 5, which is a civilian position roughly equivalent to a MG. Congrats, Ray, and also thanks for putting this all together! In other last-minute news, Rick Shinsheki is awaiting Congressional approval (as of early July) for his 4th star and will be posted to the old USAREUR (not sure what it is called now), but in Sarejevo not Heidleberg! On the NG side, Dick Coleman was promoted last year to BG in the TX NG! And finally, did you know that TWO of our members (although one did not graduate) received the CMH? More on that next time!
Letters and photos would really help, guys! Let me hear from you! How 'bout those Bulls.