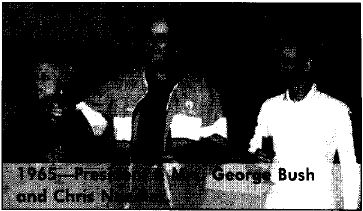 Greetings once again from Chicago! Please note the new area code above-708 no longer works. Imagine my surprise on Easter AM watching "Sunday Morning" as ex-CINC George Bush learns how to make a parachute jump at age 71, some 50 years after he ejected from his crippled WWII fighter! And who do I see lurking in the background but none other than our own Chris Needles. Makes you wonder why a 53-year-old guy is teaching a 71 year old guy how to jump out of a perfectly well functioning airplane? Chris told me that it took about 40 days to set it up and make it all happen. You may remember that Chris worked for George back in the Reagan era when he (Chris) took over Ollie North's old job, office (but no, not his secretary)! At a local WP Society meeting here in April, I chatted with Tony Pyrz' younger brother Mike (First CPT of Class of '80) who told me that Tony now works on a large engineering project in Atlanta, where he and his wife live, even though they still have their home back in Cincinnati. Tony, long time, no hear, old buddy!
Has the Corps gone or what?? New Supe, according to New York Times, now allows throw rugs and small refrigerators. What happened to poncho liners and the stoops??? Really, Dan! Lynne DeFrancisco's mom passed away in late 1996 after a lengthy illness which required Lynne to return to Syracuse several times. They both are enjoying Quarters 9 at Ft. Shafter and Joe apparently does not travel that much. They see the Ono's and Bangerts often in Honolulu. Skip O'Donnell wrote to share his shock at the passing of his old Highland Fall's friend Rick Wetherill. After talking to Rick's widow, Skip has agreed to write Rick's obit and requests input from all of us on Rick's days at USMAPS, etc. Send to me or to Skip. Looks like Skip and Marilyn will retire with Westinghouse in about 4 years still in Pittsburgh (Skip, your photo with the Motes was taken from too far away and would not reprint very well-sorry).
Did you catch the March ASSEMBLY article written by our erstwhile chairman (Fred Laughlin) of the Class Thayer Walk Memorial committee, concerning his 1992 foray into cadet ranks in cadet uniform to 'recognize' his son? Great idea, great execution, amazing that one of our ranks could still fit into any cadet uniform. Query--has the Tac that allowed it been reassigned to Thule, Greenland or what? That's probably why Fred had it published 5 years after the fact! By the way, do you know that we have a radio station named after one of our own? Preston Hughes reports that 1340 AM in his hometown of Kosciusko, MS is called 'WKOZ!' Hughes also reports that Bob Doughty did a great job when he spoke to the WPS of MS earlier this year. More kudos for our Supe, who is up to his eyeballs in alligators, what with all the fuss over the firing of the MP&L 'P,' the new football league affiliation and the AOG fund raising efforts. I guess that is why he makes the big bucks! Hang in their, Dan, we're all behind you.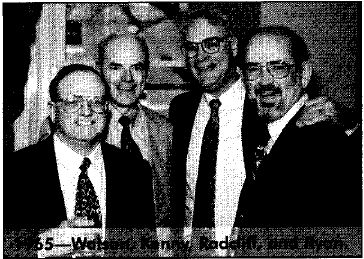 Bob Radcliffe sent a nice picture of he, Mike Watson, good old what's his name, and Terry Ryan at Bob's wedding to Faye Hayes in April at Davidson, NC. Bob reports that there is absolutely no truth to the rumor that Pat Kenny had to use his walker to get to his seat at the church! Bob Wolff just got promoted, again, and now is the Dir, Plans and Integration working for a 3-star for the USAF. Son Allen (25) was here in Chicago as a GM for a restaurant but returned to get his MBA and will be married in 1998. Daughter Dina is a school teacher and also teaches ice skating in Potomac. And finally, Bob's dad celebrated #90 in late 1996 and Bob is hoping the genes got passed on!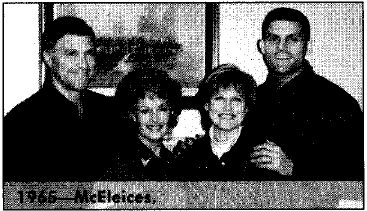 Christmas newsletters are the greatest way, and the easiest, to keep your Scribe happy, especially if accompanied with photos. Chuck and Cathy Moseley sent theirs along with this great oldie pix which shows bottom: Leach, Huffines and Rowe; middle: Shaw, Marshall; and back: Nakoshima '63, Woodruff and Stevenson. "Pull it in, smackhead" or words to that effect, apply. Great picture, Chuck! Jack Lowe is spending lots of time in Deutschland on a special project. He tried to convince me to go to the Independence Bowl in January, but Shreveport didn't do it for me. He reports seeing Mike O'Grady, who is a professional engineer and company owner in Augusta, GA. Jack also saw my old roomie Zig Roebuck, who is still in Huntsville, where he retired and also saw John O'Connor who lives just south of Indianapolis where he works for Cummings Diesel after retiring from the Army after 20. Another newsletter arrived with photo showing the McEliece's and daughter Annie and son-in-law Tom Pettit (the latter are here in Chi-town). Note the Gray Hog painting behind old Jimbo! Is he going soft on us now that he is in LaLa or what?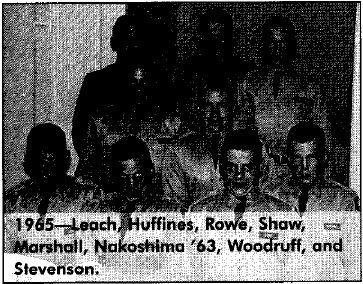 Steve Harman's newsletter arrived heralding lots of "firsts and lasts" such as: first offspring reached 30, first grandchild, first off-spring to get a grad degree, first air assault soldier, first family member to bungee jump from cable car in the Alps (???), first juried art award and first school teacher, all complimented by several "lasts" such as last SAT's, last round of college visits, last year for driver ed and finally, the very last year for their 25 year old Christmas tree. Other than all of that, all is well at the Harman's! More interesting tidbits from newsletters: Tom and June Fergusson indicated that they had seen 3 football games and actually felt "sorry" for the Middies! Tommy, my boy, ye memory is getting a bit daft. Can ye not remember back into the 70's when the tables were turned and no sorrow was forthcoming from the Severn! And finally, Mike Lapolla answered the scribe's newsletter request with a great one from Tulsa, where he is the Dir of the Telemedicine Center at the College of Osteopathic Medicine. Mike, I didn't understand the part about 5000 cookies from Peekskill?
The Scholl's are in Seattle enjoying the beauty of that part of the world. Daughter Jenny (who is as pretty as her Mom, judging by the Christmas newsletter picture) became engaged to a neat computer professional in front of a big family Thanksgiving gathering and is planning an October wedding in Hawaii. Son Brian saw the light and has moved to Seattle, near Wayne and Susie.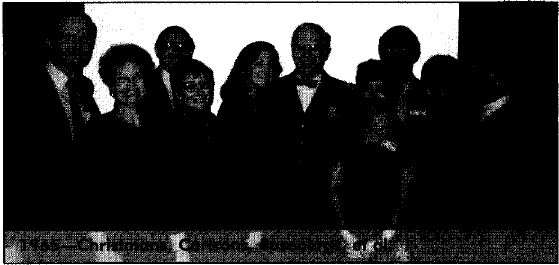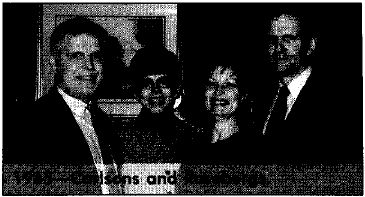 A last minute update came in from Terry Carlson, showing he & Sharon with Carol & John Roseberg at Founder's Day in Columbus, OH. Sharon earned her PhD from OSU in Family Relations and teaches at Otterbein College, while Terry stills runs the Pysch Dept. at the local VA clinic and spends a lot of time with VN vets suffering from post traumatic stress disorder. He recently won a local squash championship and he and Sharon are into their Swedish "roots" via antiques. Their oldest son is a lawyer, #2 (USMA '89) is an O-3 at Ft. Knox, while their youngest works for a medical insurance firm in Columbus. The other picture shows the '65 contingent with the Christmans and Carlson's, to include Bill and Mary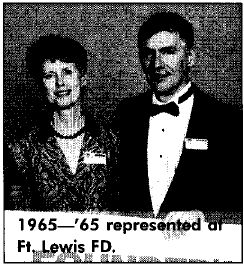 Lyons, who live in the Columbus area where Bill works for Bank One, and also Betsy and Howie Reed, who is still the Assoc. Dir. of OSU at Lima. The Rosebergs came from Rockford, IL where he is an attorney for the sanitation department and is seeking a local judgeship. Terry suggests that we get a copy of a book Honor and Duty by Gus Lee which follows a '68 cadet, to include mentions of our own Bob Arvin as the King of Beast. Super update, Terry!
Well folks, that's it for now. Keep those cards and letters and photos coming. They really make this article come to life! And one final thought. A note from Jack Price '64 reminded me of how soon we can, if we let ourselves, forget about deceased classmates and their families. Tom Johnson's kids are growing up fast, according to Price's neighbors (Tom's parents John and Liz Johnson-5151 Falcon Ridge Rd. Roanaoke, VA 24014). If you knew Tom well, why not drop them a line so that they can share your memories of Tom with his children. Thanx and Let's Fix it at Six!!!