Greetings once again from Chicago! Before we get into the latest news, the "Old Man" wanted me to update you on the status of our Class' fund raising project. We are off to a good start, thanks in large part to Harry Dermody and his guys, but we have only received commitments from about one out of three classmates. That is not good and we need to get the percentage of participation way up. Do you remember about 10 years ago or thereabouts, when we started the "$65 for '65" campaign each June, Well that one started very slowly but eventually caught on. Let's do the same thing here, guys. Our gifts range from $500 to $60,000, to be contributed over a five year period. Even if you can only afford $65 every other month, that is still almost $2,000 over the five year period. It all adds up. Come on '65, it's it's pay back time! Please dig in and call Harry if you have not signed up yet!
E-mail is wonderful, assuming that AOL ever gets its act together. Before the system got clogged, I sent out a request for Christmas newsletters to most with e-mail addresses. The response was unbelievable, so here goes. Ron Riley is in Tampa where he has seen Dick Williams and talked to Tom Powers. Pat Kenny is still working for Mercer College in Macon, GA complete with the long commute from Columbus. He ran into Bob deLarr who is the asst director of facilities at Georgia Southern U. Pat spent some time in DC with Mike and Kathy Applin at their apartment overlooking the Iwo Jima Memorial. Mike is still with Raytheon. Mike Viani and Pat met after a church service in Alexandria, Pat and Alice had traveled there over the holidays to sell their house. Their daughter, Tricia was married at WP last summer to a fellow from '87 (no name given), one of who's groomsmen, after a few brews, told his old Regt Tac that he never had liked him much! Pat's response was not recorded for posterity! Pat also received an e-mail from a fellow who signed it "Lemons" and finally figured out it was his old Beast roomie Dave Lemons who left USMA in 1963!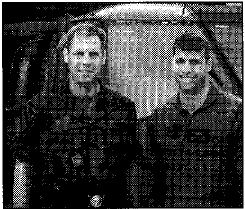 Jon Thompson, the other "Old Man", was looking for a Class e-mail list. There is one which you can get from/onto at the AOG. If you want to get your e-mail address in the system, please send it to me and to AOG. You can do both by going to the AOG site (www.aog.usma.edu) and leaving the info on AOG's sign-in book and by hitting my name under the Class' homepage. If you send it directly to me, I will mail you back a request to also send it to AOG. George Bell is an attorney in Harrisburg, PA. He and Carol welcomed their first grandchild into the world last year! They also have one very active group of off-spring: Son Brian received an MA with honors from Johns Hopkins, and then went off to France to get an MBA, other son Brad went to DC after several years as a reporter in Mexico, daughter Karen is the head of annual giving for her alma mater Cabrini College in Philadelphia. Amazing what these kids are up to now-a-days! The Clair Gills are still at Ft. Leonard Wood where, for the first time in two years, they had everyone back for the holidays. In the picture are father and son, who just returned from helicopter duty in Korea. Does the youngest Clair look like a cross between a young Clair Sr. and/or Don Parcells, or am I losing my eyesight? Daughter Heidi is a senior at Fairfield U and young son Chris is a HS sophomore (without braces, notes his Mom).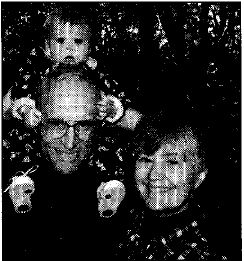 The photo of Bill and Nancy Hecker accompanied a Christmas newsletter obviously done by someone with desktop publishing skills! Bill is still with Teledyne Brown Engineering in their DC office. Bill placed 59th in his age group in the Army 10-Miler, while Nancy biked along, enjoying their 31st year of marriage. First granddaughter Alexandra was born in Germany where son Bill and Richelle live, in between excursions with the Army to Bosnia. Other son John just changed majors at Auburn, where he will graduate in June. I'll bet some of his university mates were happy that a certain football team didn't go for the WIN on third down with some 30 seconds to go! Ugh. Steve Clement has it right-his son Chris does all of the e-mail answering from their business, even though the old man always travels with a laptop connected to the WWW! Jim and Diana Webb's newsletter also came via the e-mail request. They just moved into a new house in Sun City, AZ where Jim is still working for the local school district and doing his JROTC thing while Diana is becoming a serious gardener.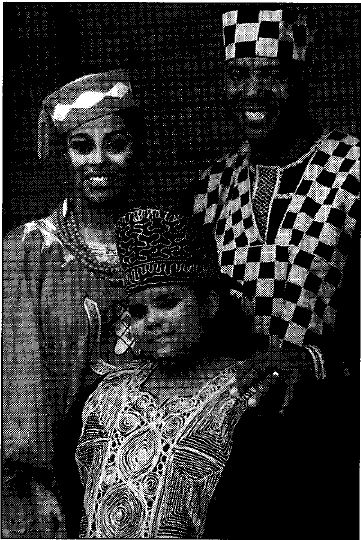 Art Mark reports from Aiken, SC that only six of their ten children are still at home. Wow, some folks have all of the luck! Diane and Bob Doughty are still at WP where Bob is just back from his sabbatical and in his 12th year heading the History Dept. while Diane still works as a school psychologist in Highland Falls while pursuing her PhD at SUNY in Albany. Son Michael is doing well with his band "Soul Coughing" which just released their second CD Irresistible Bliss which is doing well! Greg Knot, rock critic for the Chicago Tribune, thinks Soul Coughing is one of the better groups in the U.S. And, he speaks very highly of "this guy Michael Doughty" who, says Greg, is a very atypical of most rock start, "very well mannered, etc." Greg's biggest dilemma is trying to figure out how his uncle (guess who?) knows this group! Diane, I would really like a photo of the old history P at one of his son's rock concerts! If it shows some of the young folk in the background, so much the better. OK? Mike Shaver must be a faithful watcher of Millenium on TV, because he answered my e-mail request, his first in probably the same time period, with a detailed update. Mike and RoseAnne have spent much of the last two years watching the outstanding fullback (son Ryan-6'3", 235) for the U of Wisconsin-LaCrosse going for the NCAA Div. III championship, again! Other son Ron, wife Jennifer and sons Jack and Matt live in NJ where Ron is the CEO of two small companies. Daughter Stacy is going for her Masters in psychology at the U of W in Madison. Other son Scott is also in Madison where he owns a theater production company. Bob and Barb Anderson wrote from Germantown, TN from where Bob is looking for a position in a Continuing Care Retirement Community nationwide. If you have any leads, call Bob. All is well at the new/actually old home of Jack and Annette Lowe, since they moved back east to Centreville, VA, back to their old home! I think I reported on most of their activities last time but thanks for the newsletter, guys.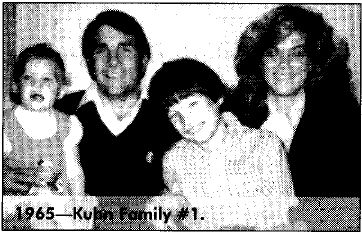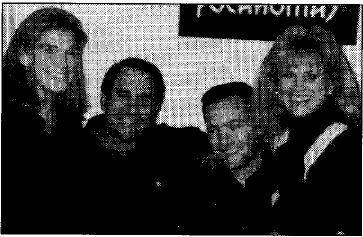 And how about the attached photo of our Class president Joe Anderson and his family in full regalia! His new company, Chivas, just landed a $900 million GM contract with another company. Congrats to a great guy! Speaking of Class presidents, how about this vintage photo of our just retired president, lovely bride and two kids taken a few decades ago. Dave Kuhn's company Pro Shot Golf may be going public here one of these days!
Well folks, I am now officially out of space. The remaining e-mail and Christmas newsletters will appear next time. Thanks for responding to that request. And wouldn't you agree that this article really comes to life when we have so much diverse input! If you haven't sent me your Christmas newsletter with photos, do it now! Thanks!