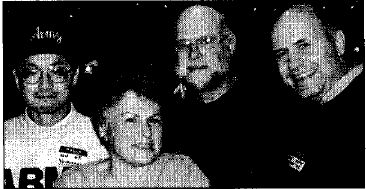 Greetings once again from Chicago! Hope all is well at your end. How about that Army team-super game, right down to the last gun. I have just read Civil War by Feinstein, about his year spent with 1995 Army and Navy football teams, a year inside football's purest rivalry, as he calls it. Great book! Everyone's going to Schreveport for the Independence Bowl, but I had to cancel due to other commitments. If anyone goes and takes pictures, please send them along. Speaking of photos, the attached shows Ken Yoshitani, Anna and Tom Croak and Jack Cooley who joined us at the annual A/N televised game here in Chicago.
Received the change of address from DeFrancisco's from their new digs in Honolulu (96819). In case you ever wondered why the senior ranking general lives at 9 Palm Circle instead of #1, I was told by a previous tenant during my stay there once that the other quarters (Numbers 1 thru 8) didn't survive the December 7th surprise attack-interesting thought!
Heard from John Johnson after he received a copy of photo of his son and the Supe. After 11 years in VA, he and Mary have moved into his old boyhood home in Winnsberg, SC, where they are unpacking boxes and expect to settle down. I presume he has retired from Unisys. Also receiving a photo of his son with the Supe was Jim Halberg, who reports that other son John and wife Kris work in St. Paul for MN Mutual and third son Mark is teaching and coaching wrestling in suburban Richmond, VA. One guy who always says hello when passing thru, even if by voicemail, is John Knowles, who was here in Nov visiting son John and wife Tiffany. Young John works for SX2, a visual communications consultancy. Second son Michael is a frosh at Florida State. John reports that winter arrived at his place in Venice, FL. causing him to wear pants while he played golf. Tough life!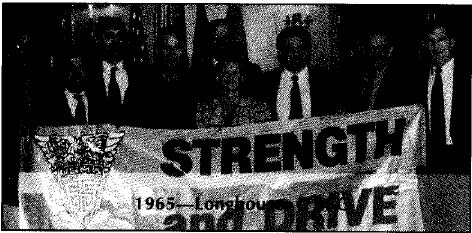 I am receiving new e-mail addresses at the rate of about one a week. This will help keep our records up to date. New ones just received are: Steve Kempf, Mike Shaver, and Duncan Brown. Duncan retired from Huntsville, AL in 1995 and is now living in Silverdale, WA near Puget Sound. He and Carolyn had lunch with Rick and Donna Bunn. Another Brown, Kent and Sherry, were the first to send their Christmas newsletter. The Browns sold their old sailboat and upgraded to a larger one, after almost losing it in a 60 mph gust in which Kent did manage to break a rib. Their kids are doing well. Son Jeff and Liz are at Little Rock AFB where he drives C130's, other son Jeff was in the barracks that were bombed in Dharan last June, but fortunately was unhurt. Ted and Tammy are In Alexandria and Chris is still working for the Boston Beanery in VA.
Joe Barkley sent a photo of he and Diane at the B&B owned and operated by Doug and Jan Gibson in Orland, Maine. (Unfortunately, the photo was too dark and too distant to reproduce). The Barkley's really enjoyed their stay and highly recommend a visit. You can call the Gibson's at 207-469-6393. Joe left Chase after 10 years and is now VP of planning for the US arm of Swiss Re, and apparently loves it! Their oldest son Chris was married two years ago and live in Centreville, VA. Other son Patrick served 3 years in the Army including a tour in Haiti. He is now at home and works for Firestone. When Joe was in VA over the 4th of July, he went out to see a parachute jump and ran into Chris Needles, the pres of the U.S. Parachute Assn. who made the last jump of the day and Carl Gentine, who was a spectator.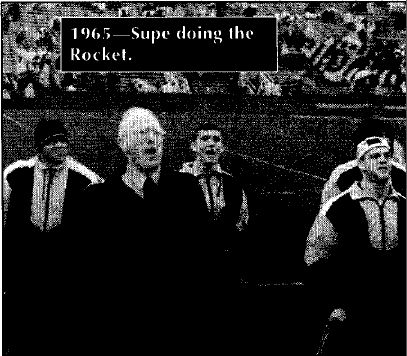 Incidentally, the class sends flowers and representatives (if available) to all funerals of classmates and spouses. So, if the need arises, just call me or one of the other class officers. Mary Ann Wetherill really appreciated the gestures at Rick's funeral, which was attended by Bob Harter, Orlin Mullen, Manny Maimone, Bill Decker, Jim Watson, Harry Dermody, John Howell, Tom Ferguson, Stan Genega, Mike Viani, Colin Halvorson and John Vann. Rick had retired in 1987 and worked for OSD Policy since then. He had two children, Mark a Marine Corps lieutenant and Jody. Rick and Mary Ann met in high school at West Point in 1958, while their fathers (both USMA '40) were stationed there. Rick was, I think, 3rd or 4th generation of The Long Gray Line.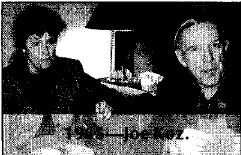 Harter wrote that he and several others attended the C of C at TECOM for retiring Dick Tragemann and incoming John Longhouser. Shown in the photo are: Joe Sanchez, Bob Wolff, Jim Tomaswick, John and Karen, Harter, Tom Abraham, Dermody and Dave Jones. Missing was Ray Pollard, who organized the event. The inspection of troops was done to the "Thumper" and all had a great time.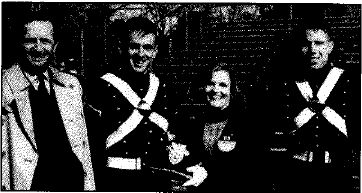 As previously reported, Terry Ryan will do some "net surfing" to try to find our lost classmates. Each following issue, I will report who the lost ones are and ask that you contact me if you have any info. There are about 48 according to the AOG. Here are the first 10: Albright, Alexander, Bergmann, Bohannon, Burgardt, Chapman, Bill Connolly, Donahue, Dorney and Dufour. I thought that I would close on several upbeat points. The first is a photo of a spirited Supe leading a "Rocket" with great aplomb! The second is that there has been no date set as of yet for the Scribe's wedding, which may not occur until late 1997 or 1998. Stay tuned. And finally, some photos that I was unable to get in previously. First, the only guy in our Class to shorten his name by about 75%, the indomitable Koz dining, followed by a very proud Barrie Zais with wife and two sons.