Greetings once again from Chicago!
Hope all is well at your end. Just returned from the fall AOG Trustees meetings and a most gorgeous weekend of football and hiking through the mountains as the leaves were changing-the color was unbelievable-best I have seen in many years. More on that later. Our Supe is off to a great start! At the Ring Banquet in September, Dan's speech was entitled "Rings Bind" and included a very effective and moving tie-in between '97 and '65. He noted that the father of one of the members of '97 (John T Johnson) escorted the remains of our fallen First Captain, Bob Arvin, back from RVN, and that the nephew of another fallen comrade (Mike Berdy) was also in '97. Rings really do bind! Everyone at USMA is excited about Dan's enthusiasm and vision as our Alma Mater enters the 21st Century.
We were able to get some of the class offspring together at half-time of the Tulane blowout. Shown with the Supe is John Johnson III '97, Ed Williams '98, and Glen Helberg '99. The next picture shows the Salamone's with Stephen '00 (in crutches after knee surgery), at Sunday church. Others at USMA but unable to attend (or perhaps scared off by the terrible weather), were the Zais boys (Matt and Mark both '97), Matt Jones '99, and Richard Simpson '00. Also there for the weekend were Jim & Eileen Conley as well as the class executive committee, Joe Anderson, Tom Barron, Joe Sanchez and Harry Dermody. Speaking of the class and its leadership, nice to see that we have several of our rank leading local WPS's-Zig Roebuck (Huntsville, AL), Bruce Hulin (W Palm Beach, FL) and Mitch Bonnett (Michigan). Way to go, guys.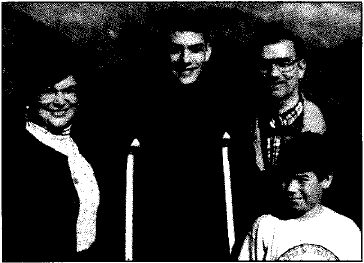 I received more great information and articles on Kala Kukea from Dave Kuhn who has suggested an article in ASSEMBLY, which I am also working on. Stay tuned. Our e-mail capabilities and the homepage at WP are working wonders. (Please note my e-mail address above!) Jim Webb e-mailed me from his job at the Phoenix Union HS district where he is a curriculum director and also supervises the JROTC, a job which he has held since his retirement in 1987. He & Diana just celebrated their 31st and live in the NW Phoenix area. Good to hear from you Jim, and thanks for the compliments. Other e-mail received from Jim Olivo who got out in 1978 and went to work for Hughes while keeping active with the Reserves, from which he re-retired in 1993. Jim has been promoted several times and is now Program Manager for all C41 (communications, I think) systems. He & Pat just celebrated 31 years also and have two children, Brian (26) at home and Kristin (29) who was just married.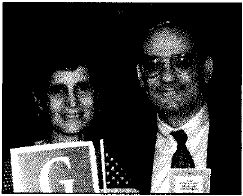 Betsy Reed sent a group picture of the August wedding of daughter Debbie to Matthew Lenaghan, attended by all of the Reed's to include Howie and their son Andy. Unfortunately, the photo was taken from too great a distance to be re-printable. Next photo shows Tom & Marilyn Kovach taken at the Democratic National Convention where life-long GOPer Kovach contemplated wearing a Dole button! Their son Tom Jr. lives in Las Vegas area where he works for IDC, the same company that assists the WP development office with class fund raising, etc. The money keeps rolling in-I get printouts every month or so from AOG with '65 contributors. This last one was for $14,210 with lots of $65, $130, etc. .They add up, guys!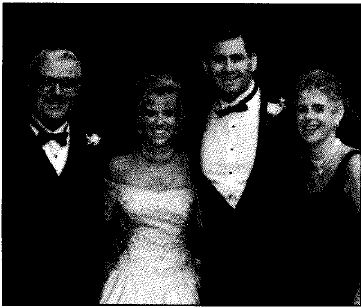 Chuckie sighting #10-Ross Wollen reported seeing Pfeifer outside Quarters 100 with two 20-year-olds in a stretch limo with "Music One" plates. Susan Christman was also seen driving a certain vintage Corvette in the same area. Joe Anderson, Dean Loftin, and Mitch Bonnett attended the C of C for outgoing John Longhauser at the Armored Systems Modernization cmd, where John was lauded by LTG Hite as the best example of a fully rounded Acquisition Officer in the U.S. Army today. Our congrats to John & Karen and best of luck at Aberdeen! I was sent an interesting article (by Marc Ducharme '67 from a magazine found on an airplane) with a picture of the EVP of International Container Services, Inc. in Manila, my old roomie Ed Abesamis, looking very good after all of these years.
And finally, an update on what your Scribe has been up to. In July, daughter Shannon '95 married Paul Horne (William & Mary '93) here in Barrington with a lovely tent reception overlooking the Fox River. Paul & Shannon are now at Ft. Stewart where she is an Ordinance platoon leader and he is a local HS teacher and football coach. Everyone had a great time until Paul's father, USNA '69, and my best friend, Jay Maher (retired USN 0-6), unveiled a "Beat Army" banner directly behind the bridal party. The bridesmaids (mostly '95 and '92) fixed butter knives and successfully engaged the enemy. A good time was had by all.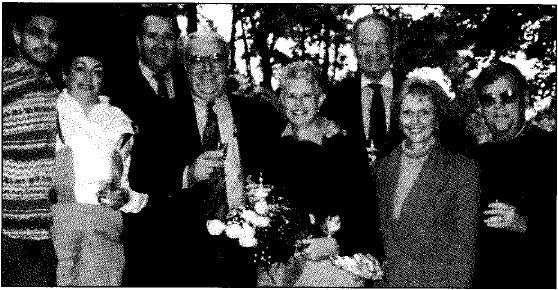 And finally, for those of you who thought your old Scribe had lost a step or two, let it be known that on Homecoming Weekend, in an operation the planning of which far exceeded most "5-paragraph field orders" ever issued (e.g. the lady at one end of the Walk, special friends a champagne at the other end, perfect weather, etc.), on a Walk named Flirtation under a Rock called Kissing, overlooking a River named after Henry Hudson, and on bended knee no less, he did in fact ask Catherine A. Schulze of St. Charles, IL for her hand in marriage (with the requisite miniature Class ring) and she did accept. Strength and Drive is alive and well!
Dennis R. Coll, Scribe