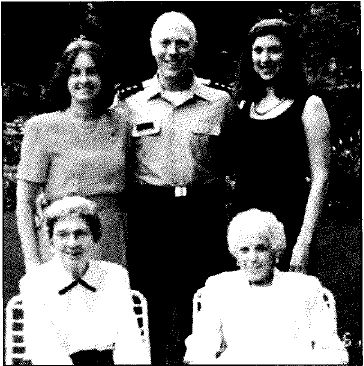 Greetings once again from Chicago! Hope all is well at your end. Not a lot of news to report from this end. Christman's are firmly ensconced at WP and starting to make their mark. Your scribe has heard many laudatory remarks from some of the "old grads" on AOG about Dan and his operating style. The good Lord only knows that he has his plate full! Susan will be busy also, given their killer schedule and quarters that are woefully antiquated. Bob Wolff sent along the attached picture of Dan & Susan with their mothers and daughter.
The demand for a 30th Reunion roster has been less than overwhelming (only 1 requested) so we will forego that chore until the 35th.
Tim O'Hara reports that daughter Colleen (USMA '94 was married at Ft. Sill to a classmates (Rogers). Tim also sees Duncan MacVicar, Denny Brewer and Ralph Adams from time to time. Speaking of marriages, my daughter Shannon (USMA '95) was married to Paul Horne (William and Mary '93, father is USNA '69) in July in Barrington. Nice tent reception overlooking Fox River followed church ceremony. Bridesmaids came from Korea, Ft. Carson, Ft. Bragg and several other Army posts--groomsmen were from the '93 W and M football team; all bachelors. Everyone had a great time! Father of bride and my Navy 0-6 friend snuck one in on the old scribe (see Navy banner pictured '95 article).
1965--'65 Supe's reception.

1965--'65 Supe's reception.

1965--Ledzinski, and Dermody at the '65 Supe's reception.

1965--Joe Anderson and Joe Sanchez at '65 Supe's reception.
Bruce B.G. Clarke wrote from Saudi that he met Dean Loftin who was previously reported AWOL from '65 rolls, but who is now with General Dynamics in their International operation. Bruce is the training manager at the Saudi's "Ft. Knox." About the same time, Bruce's son wrote with update that Bruce Sr. retired in 1995 after 30 years and that GEN Sullivan came to Carlisle to do the honors and pin on a Legion of Merit. Joe Anderson's May 1996 class letter brought everyone up to date on the class gift and fund raising. Harry Dermody needs your support, so please help out to the extent possible. Harry will provide regular updates on the Class homepage at aog.usma.edu so check it out!
Jim Harmon sent along another nice article on Kalea Kukea from Canoe Magazine. John C. Thompson has gone from his two star job as CG PERSCOM to the Chrmn of Inter-American Def. Board. John Swensson reports that we have a new general officer in Dick Coleman who is commanding a USAR brigade somewhere in TN or TX. Dick, if you are out there, let us hear from you. John just came back from RVN where he will be taking his students next year and has written a nice article on Bob Gagne.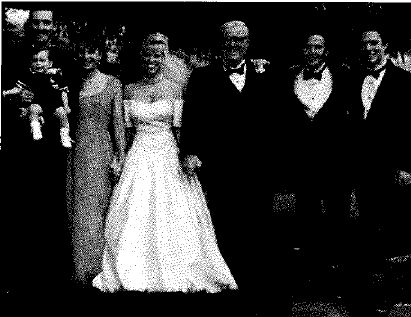 More photos from Reception on the Supe's yacht: the two Joe's portside, Anderson and Sanchez, Jerry Ledzinski and Harry Dermody discuss mid-6 figure conntribution for the man from Carmel, Class officers Joe Anderson, Tom Barron, the Scribe and new Supe, and the gang: Tom Abraham, Reg Dryzga, Ross Wollen, MG John Longhouser, Jim Tomaswick with the Sanchez' peeping in from behind.
Well folks, not much more to report for now. Please send those letters and photos, especially the Christmas newsletters. Your scribe gets lonely with no mail! '65 is moving ahead into the 21st Century-we now have 48 with e-mail addresses. So tune in, turn on or be square as the recently departed bard used to say!
Strength and Drive!