Greetings once again from Chicago! I thought that it would be appropriate to spend some time on our general officers in this column, so here goes. While most of the following will focus on our new Supe and his lady, and how '65 welcomed them to West Point in style, let's look at some other big happenings at the O-9 level.
Rick Shinseki has been appointed as the DCSOPS at DA by Denny Reimer and with it goes his third star and the responsibility for the operational side of the business. Our hats are off to Rick and Patty as they move onward and upward! Joe DeFrancisco also was nominated for his third star and will replace Dave Bramlett (the Comm who at our 1990 reunion compared our physical attributes with the cadets of the Class of '90, only to remind us at the end that the comparison was with the men of '65 versus the women of '90!) as the Deputy CinC Pacific in Honolulu. It should be noted that LTG Bramlett was just promoted to GEN and is now the Forces Comnd CG, so Joe is moving in the right direction, as is Rick! Our congrats also to Lynne and Joe on a job well done. And finally, Dave Benton is getting his third star and will be the C/S of the European Command. Congratulation to Dan and Nancy! Let's hope for four stars for the three of them in the not so distant future! On the two star front, John Longhouser will move from Detroit to Aberdeen to be the CG there and will replace a retiring Dick Tragemann.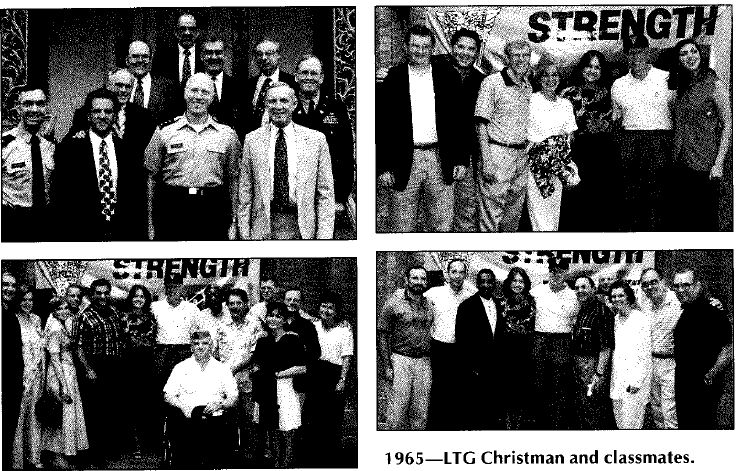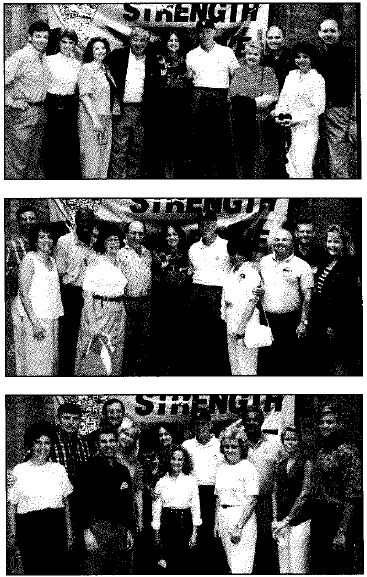 And what a special weekend it was for about 80 of us and our first three star, as we proudly watched "Strength and Drive" take over the reins of our Alma Mater in late June. The weather was great and the excitement was high as we all joined Dan and Susan Christman on Sunday afternoon at the beautifully restored West Point Train Station for cocktails and a dinner buffet. As you can see by the pictures, we came from far and wide for this magnificent event. From PA came Tom Abraham, the Scheiners, Koz', Don Kurtz, and a few others. John Alger, Joe McChristian, Mitch Bonnet, the Lloyd Briggs', Jim Conley, Art Hester, Randy and Betty Guenther, John Howell and his lovely lady friend Carole Richardson, Fred and Maralee Laughlin (only member of Class ever caught saluting a barber!) and the Larry Bennett's were also there. Tom and Tosh Barron, the Tony Clay's, Bud Bucha (with new crew cut), Reg Dryzga, Dave Hurley (only classmate known to be recently nominated as the "youngest grad" at a Founder's Day dinner--in FL), Jack and Annette Lowe, Chuck and Rosemary McCloskey, Duncan MacVicar and the Henry Mickell's also dined with us.
During the cocktail hour, Class Pres Joe Anderson presented Dan and Susan with Class hats with the appropriate three stars embroidered on same. And then, in one of the new Supe's more prophetic pronouncements, he proffered Quarters 100 to "any and all classmates whenever in the area" while Susan stood alongside aghast trying to comprehend the magnitude of what that might mean down the road! Some wise guy in the peanut gallery yelled out "big mistake!" to the assembled crowd! After cocktails and dinner, the Christmans had to rejoin their extended family celebration while the rest of us headed out for an absolutely beautiful cruise on the Supe's yacht up to the Poughkeepsie bridge and back. The weather and views could not have been nicer!
On Monday morning, the Class officers and fund raising committee met. Dermody et al have been hard at work but need many helping hands to make this million $$ contribution work. Tom Barron and Ed Knauf have started us off in the right direction with major donations. As of now, we are about 1/3rd of the way there but from only 84 guys, less than 20% participation. More from the Old Man later. Other interesting tidbits: we will make a major effort to get caught up on outstanding Obits, especially ones still undone from RVN. Christman's Obit on Phil Harper (due in Jan 97 Assembly) will show us how and why it should be done; John Howell will head up the planning for the 35th; Chuck McCloskey will present a plan to the next officers meeting on ways to keep the widows and offspring of our deceased classmates involved; and finally, Fred Laughlin is looking for some volunteers to help with the Thayer Walk project design, especially anyone with some aesthetic ability.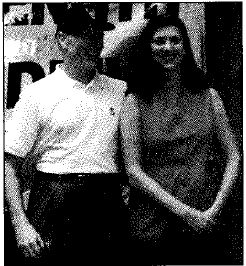 As Dan mentioned during his remarks at the change of command, the Norse god Odin must still be listening to the cadets, because rain forced the ceremony into Ike Hall. The Chief was very laudatory toward Howard and Gracie Graves as they departed as well as Dan and Susan on their arrival. Dan's acceptance speech was typically Dan---short and to the point! During it, he mentioned the constant reminder of our departed First Captain as Dan gets up each AM and looks out his bedroom window at the Arvin Gym. He also thanked all of the Class, not just those in attendance, for their support in the past and asked for their support in the future. Classy guy, classy speech.
Others in attendance were the Dermody's, Mosely's, Doughty's, Walt Orhrlein, Parcell's, Pollard's, Lloyd Clinton Ray (aka Sonny),Salamone's (whose son starts at USMA in July), Sanchez', Karl Savatiel, Bob Scully's, Sheridan's, Fred Smith's, Tomaswick's, Bob Wolff's, Ross Wollen' the Zadels and the Scribe's lovely lady Cathy Schulze. Our good friends Manny and Carol Maimone made it up for the festivities even though Manny's ALS (Lou Gehrig's disease) has slowed him down a step or two into a wheelchair. Supposed to be in attendance but not seen by this Scribe were Bill Triick (who led a behind the scene Congressional push to get Dan the job), Csoka, Pat Kenny's, and a few others. After the official festivities at Ike Hall, the Class adjorned to Qtrs 100 for a private party and tour of this magnificent house which even predates Dermody (1820s). It was indeed a fine weekend for '65! Congrats to Tom Barron for the arrangements and Joe Sanchez for handling all the money. Great job guys!
And finally, don't forget, we have a Class home page at the AOG site on the WWW. Check it out at "aog.usma.edu". If the Scribe can become computer literate, there is hope for you also!!