Greetings once again from Chicago! Well, the 55th Supe has been named and he and his lady are ours! Our sincere congrats to Dan & Susan Christman on their new assignment. The Class is planning to turn out in full force at the Change of Command on June 24th, to be preceded on Sunday by a Class party on the Supe's yacht cruising the Hudson near our rock bound highland home! More on that next time. And while we are talking about Supe's, our Class would like to extend its heartfelt gratitude to Howard & Gracie Graves ('61) for all that they have done these last five years from Quarters 100. It is a BIG job, requiring two full time and dedicated people, and they did it in a superb and classy manner. We wish them well in their future endeavors!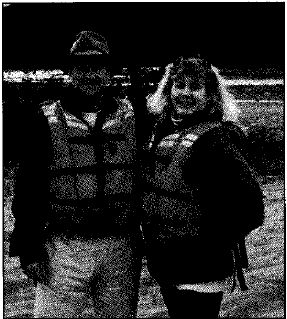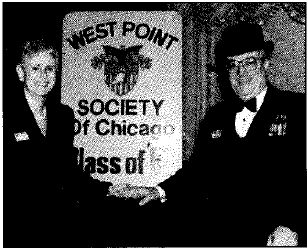 Jack Lowe is now the East Coast regional mgr for the Food Div of EDS, necessitating a move back to VA in Jun. I visited Joe & Lynne DeFrancisco at Ft. Stewart, GA in late Feb. They are both doing and looking great and awaiting their next assignment in Jun. Feedback from some of the troops on Post as I took my walks was that Joe is very highly regarded by both his officers and enlisted as a caring, hands-on kind of leader. Let's hope that more stars and higher commands are in order for our "war-fighter" who has done us all proud! By the way, Joe pointed out that four of our classmates from A-1 made their stars. Can you name them?? Since we are low on pix, I thought you might enjoy seeing how we Irish celebrate Founder's Day on St. Patty's Day in the city where the rivers run green one day a year. My special lady Cathy Schulze told me that the hat and shillalah might have to go next time!
Bill Hecker reported from Vienna, VA that he is looking for Dean Loftin, as are we all, so if you know Dean's whereabouts, let me know. Bill works for Teledyne-Brown Engineering and is doing aerospace engineering for DoD, specifically as PM for MLRS. His son (USMA '91) and wife just had a baby and are on their way to Germany. He also reports that Steve Spoerry and Dan Christman are working on Phil Harper's obit. On a sad note, Rusty Pullen passed away in April in CA and was buried in NYC, next to his parents. Class condolences were sent to Hope. The obit will be written by Boohar and Julio DeSantis.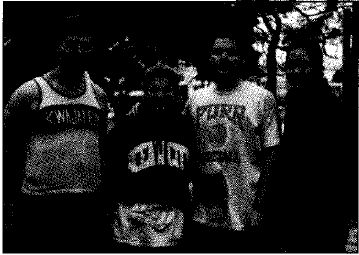 Betsy Reed sent in a pix of Howie with daughter Debbie and fiance Matthew Lenaghan and friend Jill, all of whom finished the full Tenneco Marathon in Houston in Jan, but were also all beaten by a 77 year old lady! Howie did beat all three of the youngsters--I'm impressed! The Reeds are still in Lima, OH with Ohio State and will go to Debbie's wedding in New Jersey in August.
Barrie Zais reports that he tired of meeting all those heads of state and hung up his spurs and retired last June to Boiling Springs, PA near Carlisle. The photo shows Barrie with Tom Carll and Chris Dorney last Nov in PA. Living nearby is former president Mark Walsh who "promises" to attend the 35th. Barrie has located some of our lost souls, namely Dorney in Stonybrook, NY, Bob Higgins in Tuscaloosa, AL, and Jim Kelly in Castine, Maine. The Chuck & Cathy Moseley newsletter arrived over the holidays and it appears all is well there. Chuck's company is doing well in spite of defense spending cuts and Chuck continues to chair 8 national industry committees! Cathy is, as usual, quite involved in church and volunteer activities. They both seem to enjoy the mountains near Oak Ridge, TN. Another Christmas newsletter arrived from Kent & Sherry Brown in Boise, ID where Kent still is still building bridges and roads for Ada County and Sherry is the Executive Director of the Idaho Christian Coaltion. Son Ted was married last August in New Jersey while Chris graduated from James Madison U. Jeff and Liz are both O-3's in the USAFA where he flies C-130's but doesn't get to yell "Airborne!"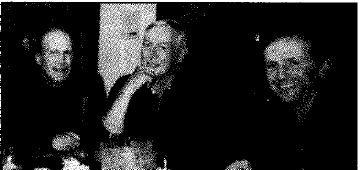 Skip O'Donnell's regular missive was received just after the 30th. His son Chip was married to Danielle Corboy last July in 140 degree heat index. Most of the saber-bearers were Chip's '92 classmates. After a two week R&R in HA, they returned to Ft. Hood where Chip is a Cavalry Troop XO and Danielle is using her PhD in pharmacy at the U of TX. Skip reported seeing Rich Donahue several years ago and believes that he is in the Philadelphia area. Skip is also looking for Scotty Nelson.
And finally, the A-1 stars belong to Joe D, Rick Shinseki, Dave Benton and Wes Taylor. Keep those pix and letters coming, PLEASE!