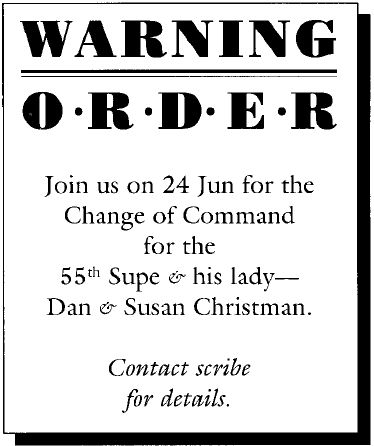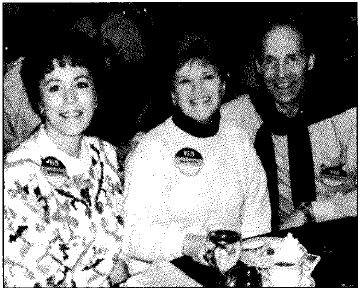 More on the 30th! Here are the more pix from the 30th! Tom Ferguson is shown with his wife, June, at the Sat. party, as are Duncan and Jeanne MacVicar seen with Cathy Moseley, while Tom Carll gets a laugh out of "Z", Andy Zaleski. The group shot shows Birdseye, Prokop, Anderson, Kulbacki and Gill standing behind Hudson, Hennessee and Bernie Kistler's son, all of C-1 fame! . The family pic shows Dave and Darlene Hopkins with Mark and Amanda.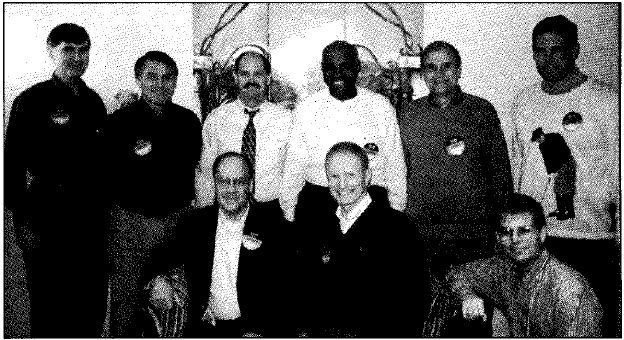 Many of you have written and included pix, but because of space limitations and the reunion articles, I haven't been able to get your letters in. So here goes! I haven't figured out the caption to capture the look on Bobby Jones' face as he and Freya stand over a mock-up of the "Hanoi Hilton" during a POW reunion. He is still flying for American and enjoying his son Matt being a Plebe at USMA. Their daughters are Katherine (17) and 10 year old Courtney. Some of you may not know but Bobby was a highly recruited QB who was brought in by Dale Hall to enliven the Army passing game. End of Plebe year, out goes Dale, in comes Pepsodent Paul (he of the Woody Hayes theory of passing---three things happen when you pass, two of them are bad), and Rollie and the rest is history!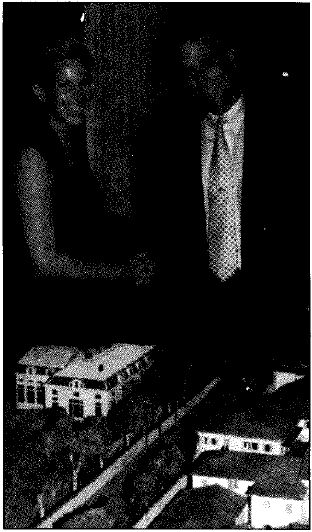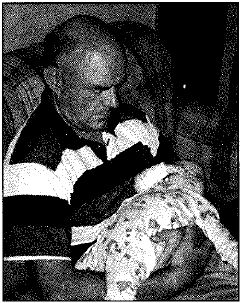 Thanks to those of you who have heeded my request to pass on your thoughts to the offspring of our fallen classmates. The most recent one was passed through me from Tom Kovach to Ed Menninger's son, Jeffrey, which I was delighted to forward. If you feel up to it, why not write and tell them about their father! Either send them to me or send them direct. I am also trying to get extra copies of the two Assembly mags to forward on to them. Bob Anderson's Christmas missive arrived from Germantown, TN with an update. Dave (19) is a Hotel Mgt. major at U. of Denver, Cheryl is working on her graduate degree at Johns Hopkins' in Italy, wife Barb still enjoys her work at a local pain mgt. clinic. As previously reported, Bob retired from the VA after 31 years and now works in food service admin.
Ron Williams wrote his "every decade" letter with a great update on John Wells' son Brian who advanced to the World Skating Pairs Championships in 3/96. Ron's oldest son Ed is a yearling at USMA where he is involved in orienteering and the flying club. Their younger son Matt is a great soccer player and played in the IL state finals. Judy and Ron live in St. Louis where Ron is a Program Mgr. for Westar Corp. They visited with Jim and Sharon Talbot whose son is at U. TX-Austin while his three very talented sisters (piano, figure skating, ice hockey and soccer) keep Ron and Judy busy at home.
Wayne and Susie Scholl are out in Redmond, WA and really enjoy the area, according to their Christmas letter.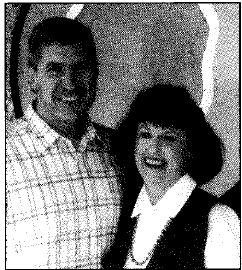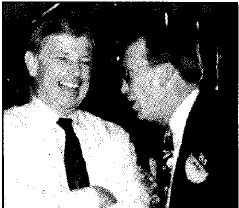 On my visit in Feb. to Benning to see daughter Shannon complete Airborne, I stayed with Pat and Alice Kenny at their lovely new home with pool, overlooking the 8th fairway on a private country club just east of Columbus. I had always wondered what retired O-6's do for kicks--the attached pic of Pat checking his eyelids for holes while holding grandson explains it all! We then traveled to Savannah where Shannon will be stationed with the 24th ID, soon to be reflagged to the 3rd ID! I was able to spend a long weekend with Joe and Lynne DeFrancisco. I don't know what they pay CG's (or their wives) anymore, but it isn't enough. These guys are go, go, go from the early morning to late evening. Joe runs with the troops every week and looks to be in great shape. Lynne, as always, looks gorgeous. They each took first place at their recent high school reunion for the male/female who hadn't changed (in appearance). I can tell you that they also should have taken first for two people who are the same basic, good people whom I met over 34 years ago! As one of our two or three classmate "war fighting commanders", Joe's future is very bright. He and Lynne should be moving on in June. Who knows where??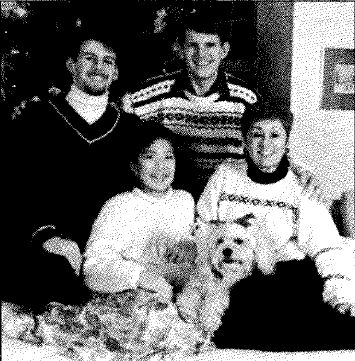 Reports from Col. Springs indicate that John Pickler is now the CG of Ft. Carson where he has a Cav. regt., an Infantry bde, a Special Forces Gp amongst others. And I also have heard that Rick Shinseki is now in DC where he is the deputy DCSOPS. And apparently Dave Benton is still C/S of USAREUR. Way to go guys. Steve Bliss has retired. I will try to get more details on these guys next time.
Some really sad news to pass on - Kala Kukea died suddenly of an apparent heart attack while paddling his kayak in Feb. As the front page Honolulu article stated, everyone figured he would "outlast us all!" Kala and his Olympic hopeful son Nalu were serious rowers and Kala was seen as a mentor to many in the sport. Our condolences were sent to Carol. We were represented by Tad Ono and others at the funeral. Buddy Bucha has volunteered to do the obit. Also, Dave Brown's son Patrick died in his sleep in Feb, also. He was 24.
Some of you have sent me pix that I can't use (Mogan-too dark, Sharkness with son on top of Devil's Tower Wyoming-too dark, O'Donnell son's wedding-too far away, and Slutsky-group shot-too far away). Sorry, but the pix need to be properly lit and as close as possible. And, I still have several 12/95 Christmas newsletters and pix that will be the next issue. Strength and drive!