Well, if you didn't spend a splendid weekend on the Hudson this past November, you really missed a SPECIAL time. Our thanx to Chuck Boohar, ably assisted by Don Kurtz and Joe Sanchez (and others) for such a splendiferous weekend! And don't forget, the 30th Reunion Roster Book, complete with names, addresses (home and business), kid's schools, military experience and lots of pix will be available in early 1996 @$15. Send a check payable to USMA '65 to Sanchez--first come, first served!
Many arrived on Wednesday night with the majority checking in Thursday. After in-processing at the Sheraton, we immediately went to the Hospitality Suite, where it was standing room only. The official greeter's business card listed Tom Abraham's titles as "Uncle, Godfather, Friend", which he is! The pix outside the First Div shows Tom with the Scholl's, Stewart's, Lipsit's and others. Rumors ran amok as to whether the Salomone's would reprise their performance at the 20th! No word yet. Others in attendance were: Keyes Hudson is in Peachtree, GA, Art Adam is a consulting engineer in DC, while Mike Applin works on his military art collection, Ed Foehl is in the factoring business in Portland and our new Pres, Joe Anderson, just got a new $175 mil contract for his Detroit based car parts company.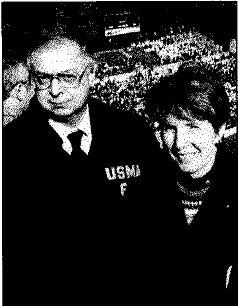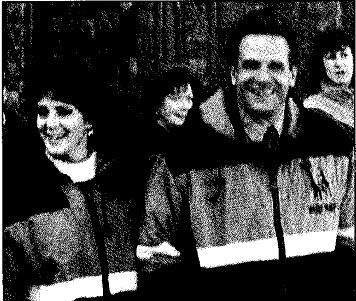 Mitch Bonnett, looking statesman-like, gives investment advice in Detroit for estates and trusts and will head up Dermody's midwest Class fund-raising operation. Speaking of Dermody, he is still fighting the crabs on the east shore of MD when he is not putting the arm on classmates for more money for the Thayer Walk. I wondered how Ray Hawkins got roped into being Harry's #2, but then I remembered how close old "Ranger buddies" can be! My very special lady friend, Cathy Schulze, did not readily grasp Jack Terry's comment that he may have "slept with the Scribe more that she had!" The pix shows Ray and harry with Cathy.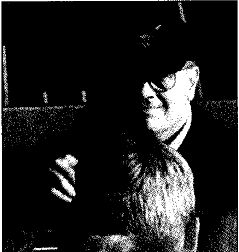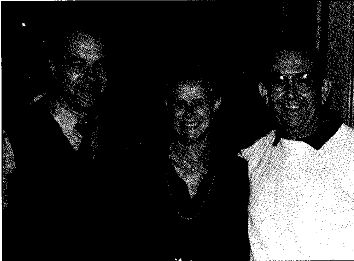 On Friday, Dave Kuhn presided at his last official Class function as our Pres. What a great job he has done for us! The Arvin Gym, the Arvin Memorial Award (to the top wrestler), the $35,000 Prep School Permanent Endowment Scholarship, Class stone pavers for our deceased at Herbert Hall, a new four "person" crew shell and the initiation of the $1 million Class Gift for the Thayer Walk will be his legacies. The attached picture shows the Kuhn's at our Class tree (6 steps north, 5 steps east of Patton, by the Library). We all owe Dave (& Rosie) a great big THANK YOU! The Supe (Graves '61) briefed us on the status of our Alma Mater, which has been under attack from the left but which seems to have weathered the storm. He also told us that we were officially "over the hump!" About 1/2 of all grads were before and 1/2 after '65! Hope ran high that Dan Christman might follow Graves to USMA next June (he has been rumored to be in the final 2).The Class voted on our new officers for the next five years: Joe Anderson-Pres, Tom Barron-VP, Denny Coll-Secretary/Scribe, Joe Sanchez-Treasurer and Ross Wollen-Historian.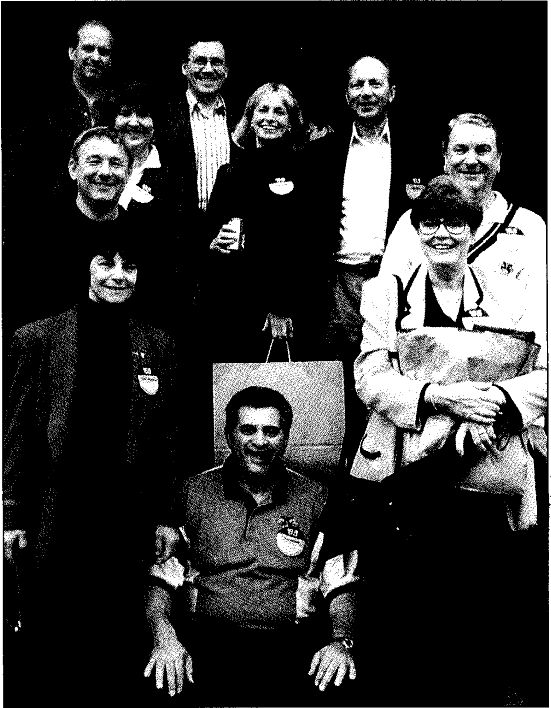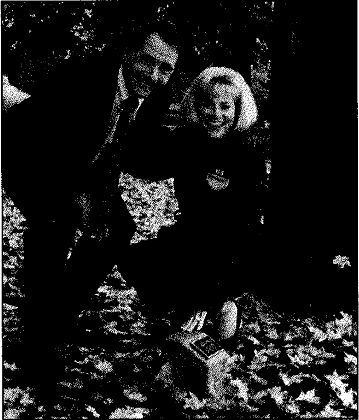 There was plenty of free time after the meeting/lunch for shopping at the magnificent Herbert Hall Alumni Center as well as browsing around the Plain. After departing in June, 1965, Don Nowland had not returned and was amazed at the changes as he and lovely friend Davita walked by the Supe's House with Denny and Diane Hawker, who were in from Mesa, where the Hawk is involved with the local group which is building a new winter playing facility for the Chicago Cubs. Nowland runs a small business unit for Raytheon in MA and finally discovered why he never could score much in any of those infamous pick-up B-ball games when we were Cows/Firsties (he couldn't go to his left!).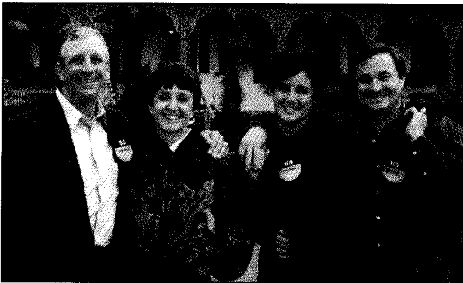 Later that afternoon, we boarded buses to Jersey City, where a cruise ship awaited us, as did wine at the top of the gangway and a very formal dinner setting inside We cruised under a full moon past the Statue of Liberty, the UN, etc. What do you think were the Scribe's chances of arbitrarily choosing a table where we were joined by the Class' only two OG-Gyn MD's! Simply amazing! Bill & Mary Paula Byrne are in Harrisburg with their three children where Bill is in private practice. Wally Divers is an OB-Gyn at Randolph AFB in TX and will be retiring in early 1996. He & Rita spend time at USAFA where their son is a junior. Wally's older son is a USAF jet pilot. The dinner was exquisite but what followed was simply amazing. It seemed all 300 on the cruise hit the dance floor at the same time. A rollicking good time was had by all!
| | |
| --- | --- |
| 1965: Nancy and Wendy Jeffcoat. | 1965: Donna & Joe Anderson. |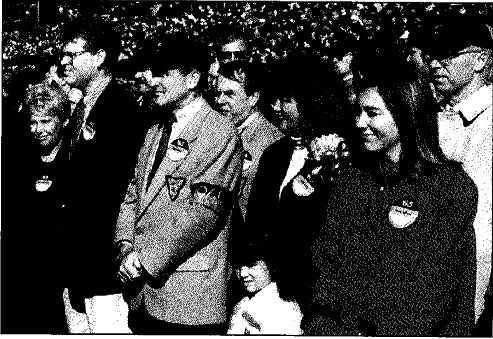 We have had Memorial Services at past reunions, but this one on Saturday morning was very special. Thanks to Chuck McCloskey's efforts, we were joined by several widows and other family members of our deceased comrades in arms: Linda Harper Eades with her husband and two children; Leslie Hays Campbell and her two children; Nancy Jeffcoat (shown at the game) was also there with daughter Wendy and friend Joe Carter with Class escort Lance Hewitt; Jeffrey Menninger Butler was finally located by Sanchez and attended with his adoptive parents Ed and Nancy Butler (his mother passed away after George's death); Judy Hemingway was accompanied by Chuck, Jr. and daughter Jennifer; Rosemay Kistler and son Bernie II (the pix on the Plain shows Judy Hemmingway, Bernie Kistler, Linda Harper Eades and her young daughter Krystal, escort Dave Gnau and Wendy Jeffcoat take the "Pass in Review"); Suzanne Riley Reta attended with Guy's brother Pat; and Pat Zonne Cargould. Tammy Wuertenberger Van Spriell brought her son Brad, age 27, and her husband Larry, an ex-Marine who also served in RVN. During the weekend, especially on the dinner cruise, these sons and daughters heard many stories attesting to the high regard in which the Class holds their fallen fathers. (As a follow-up, I would like to hear from any of you who would like to pen a page or two to these off-spring about any of these or other deceased classmates. I will collate them and pass them on to the sons and daughters thru McCloskey. Please get them to me within 30 days after this article appears.)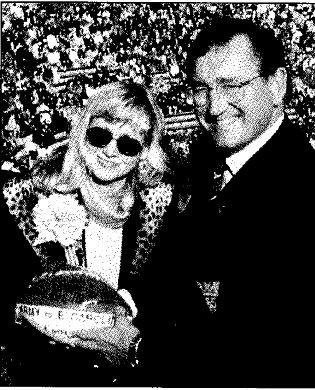 The actual Memorial Service at the Cadet Chapel was orchestrated by several of our general officers, namely John Pickler as MC, assisted by Christman and Clair Gill, who read the names, as other classmates throughout the chapel answered "present" in absentia for our 38 deceased classmates. Joe Anderson (shown with Donna at the game) intoned two songs with that great voice of his and Fred Laughlin summed it all in a most moving and apropos eulogy. Our good friends of the cloth, Monsignor Robert McCormick and Chaplain Jim Ford were joined by Rabbi Ben Romer, accompanied by organist Dr. John Davis.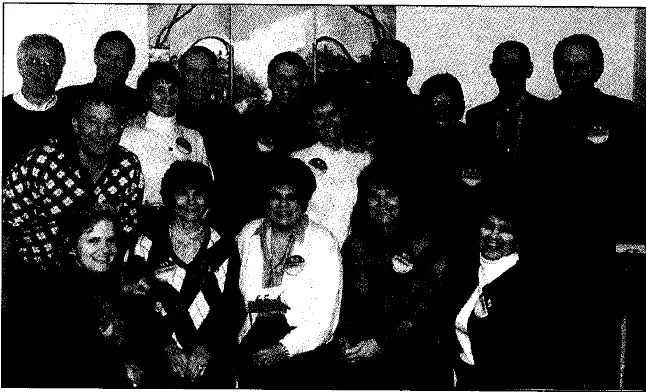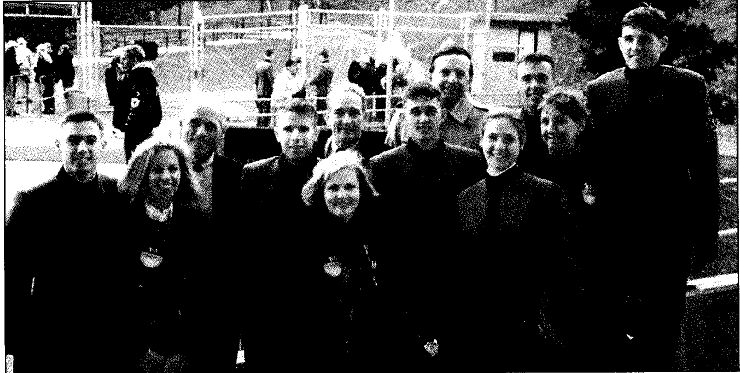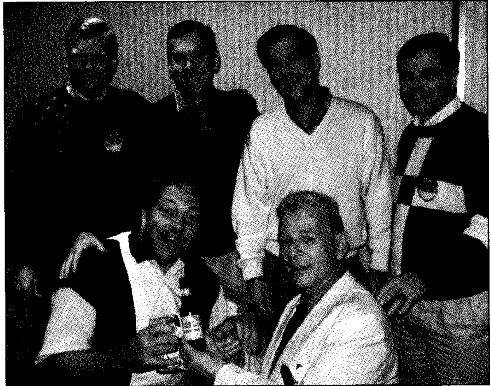 Just before 1100 hrs, the Class formed and was led onto the Plain for the Cadet Review by Judy Hemmingway, Bernie Kisler, Wendy Jeffcoat and others (see picture). We then had a "tailgate" brunch at Ike Hall and then watched a very tough East Carolina team (which beat Syracuse and Rutgers) defeat Army 31-25, even though ECU was favored by 26! The honorary game ball was presented to our All American Bill Zadel, shown with his lovely wife Betty.
At halftime, we again assembled our off-spring currently at USMA: the Zais boys, Matt and and Mark ('97), Matt Jones ('99),Mark deLaar and cousin Matt Gnau with Gnau's fiance Karen Mysliwiec (all '96). Ledzinski ('96) was AWOL. After a long ride back to Mahwah, the week-end was capped off by a '60's dinner/DJ dance party. While the dancing did not compare with the riot on the boat the previous evening, most of us took the opportunity to renew old friendships with those whom we hadn't seen the night before. More pix elsewhere in this issue and also in next issue.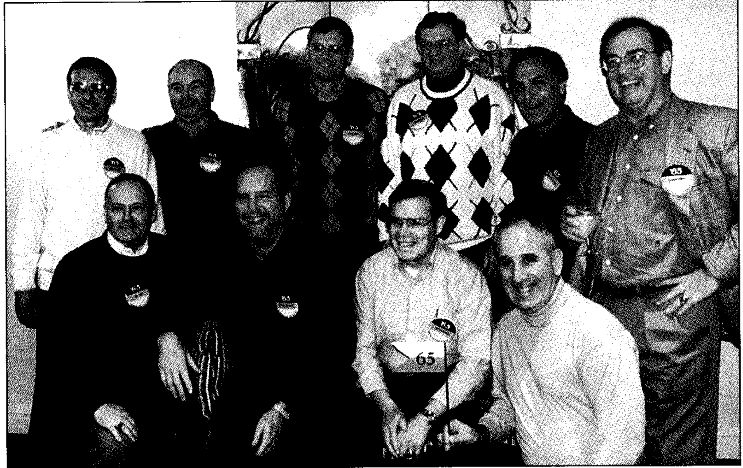 It was indeed a special time. A time to meet and greet old friends, ones with whom so much was shared, so much cherished. But perhaps what will remain most vividly in this Scribe's memory were the special moments with Tammy and Brad and Judy and Wendy and the others, all of whom will hopefully continue to be part of Strength and Drive and from whom, we all drew so much strength and drive on this marvelous weekend at our rock-bound highland home!