Greetings once again from Chicago. The Reunion is coming along just fine, thanks to a lot of hard work by Boohar, Kurtz and many others. Reservations are running at over 150, which is good, but they are hopeful of getting 250-300 classmates. So, if you are sitting on the fence or your Plebe roomie is, let's get hopping and get those reservation request in. Also, if you haven't ordered the little goodies that go with a reunion (e.g. coffee cups, hats, etc.) and most of you haven't, you'll need to get your orders in by August because of the lead time. Ditto AAA football ticket reservations!
Part of the 30th Reunion will focus on our Class Gift for the 35th. Harry Dermody (and God, is he getting old and cranky!) with help from Hawkins and numerous others, as well as the Gift Selection Committee (about 20 led by Fred Laughlin) are hard at work and will present to you 2 or 3 choices for the gift and a national organization to raise the money. Very impressive what a group of determined guys can do. And Joe Anderson has agreed to stand for election as our new Pres for the next five years to replace a successful stint by Dave Kuhn. So, the 30th should be a real happening. Be there!
| | |
| --- | --- |
| 1965: The Yoshitani family. | 1965: The Paskes and Rogerses. |
In early June, three of us stood proudly on the Plain, and then at Miche Stadium and finally at a private soiree at the new (and Fabulous) Herbert Alumni Building, to represent "Strength and Drive" as two sons and one daughter from "With Honor We Strive in '95" were graduated and joined our ranks in The Long Gray Line, 30 years almost to the day after we raised our right hands. The attached pictures show Ken and Izumi beaming proudly at their son, new Engineer 2Lt Dunn Yoshitani in front of our Class banner, surrounded by fiancee Laura Reibel (to be married 5/96) and brother Shaw ('91-a CPT with the 82nd). On the Plain earlier in the week, a great looking Ray Paske and his wife and Jack Jannarone and his Mom surround an about to be graduated Shannon Coll and her best friend and roomie Catherine Gaffigan, as well as Judy Coll and Shannon's brother Gavin (2nd from left). The Paske's were there as guests of Distinguished Grad (and Mrs.) Bernie Rogers (former NATO chief), for whom Ray was an aide early in his career. (The same tar bucket and saber that Shannon is wearing saw action on the Scribe's bod 30 years ago).
| | |
| --- | --- |
| 1965: Fred & Maralee Laughlin with 2LT Ryan Laughlin and Heather Ann Raymond. | 1965: Jon Thompson. |
The next photo shows Fred and Maralee Laughlin with a newly minted 2Lt Ryan and fiancee Heather Ann Raymond (to be married 7/1) at the post-grad party. And the final pix shows the three of us with Tom Barron and Mrs. Jannarone, who was also our guest. BG John Jannarone, our Dean, had passed away several weeks before and we were delighted that Mrs. J. could join us for this celebration. Did you know that it took the Dean three times to get into WP and then he graduated #1 in his Class of '38. A Class sympathy card was sent to the Jannarones.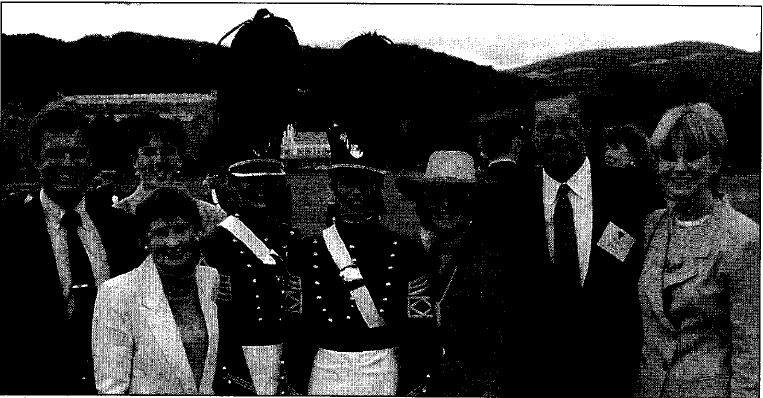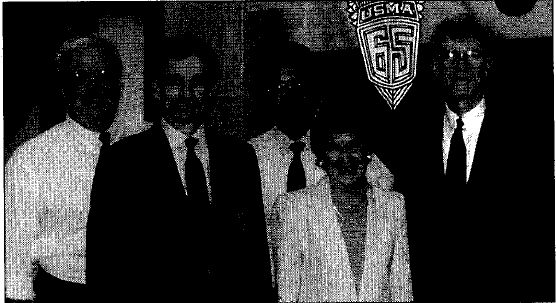 Preston Hughes is running for State Senator in a town called Kosciusko, MS. Not sure if Joe is his campaign manager or not. An update on our green-suiters from Skip O'Donnell and others: Ric Shinseki from CG, 1st Cav to DCSOPS, Clair Gill from Forces Cmd to CG, USA Engineer Center at Ft. Leonard Wood and John Pickler from Forces Cmd. to DCG, 18th Airborne Corps at Ft. Bragg (supposedly at the specific direction of the new Chief, Denny Reimer). Dave Benton is still DCS Resource Mgt at TRADOC and hosted the Founders Day there.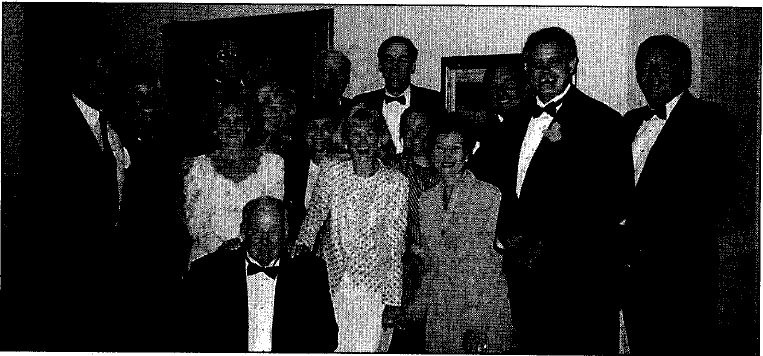 The entire gang showed at the wedding of Denny Lewis' daughter Eileen in Ohio in May. Shown are: Vogel (kneeling), Bob and Freya Jones, Marie Lewis, Bette Zadel, Carole Stichweh, Rose Kuhn, Nancy Bumpass, Donna Seymour, Papa Lewis and John Seymour. In the rear are: Bill Zadel, Rollie Stichweh, Merritt Bumpass and Dave Kuhn. And speaking of Bobby Jones, his son Matt will be joining the Class of '99 and perhaps playing baseball. The other "old man" of this Class, Jon K. Thompson is shown receiving an award from the WPS of the Mid-South for his speech on the vital importance of China in international trade. Ron Floto lost out on the race to become the new KMart CEO but is still one of their senior executives, according to the WSJ. Ron was running their Super K store operation before the reorg. He was remarried 2 years ago and promises to send me some pix, AND he did get rid of the Porsche! George Trowbridge is looking for Sinnreich--so are we. Let me know if you know his whereabouts. Steve Clement is in TX helping with the downsizing of the Army and reports that our good Class friend Max Thurman is back at Walter Reed. Max, we're praying for you!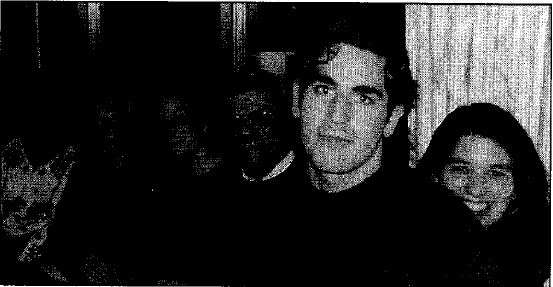 And finally, if you thought that Chivas was the name of a fine Scotch, look again. That is the name of Joe Anderson's new company ($55 million in sales) that makes interior parts for the car industry. Wife Donna runs the Anderson Art Gallery in Pontiac.
That's it folks. Keep those letters, pix AND Q's coming.