Greetings once again from Chicago. Well, some more Questionnaires have come in but we are still woefully short on hearing from MOST of you. Please send your Q in or call me and I will fax you one. We would like to have our 30th Reunion N & A roster ready by the reunion!
Dermody has agreed to take charge of the 30th Fundraising, so you may be hearing from him soon. He needs volunteers to help in different sections of the country. If you indicated on your Q that you would help, Harry has that info. If not and you want to help, call The Old Man at 410-758-4816. In his spare time, Harry is working with Dave Jones in Annapolis as an international security consultant. Joe DeFrancisco came up from his duties as CG at Ft. Stewart to give the speech to '95 at 100th Night in early March. I will try to get a picture. Lynn reports in their Christmas missive that Joe was in Kuwait from October until the holidays and their son was a company CO in Haiti.
Ted and Betsy Kleinmaier wrote from Indianapolis that Ted retired from Reserves after 28 years, they celebrated 29 years of marriage last November. Oldest son Lee graduated from Indian U. and is now in San Diego, daughter Joy is with Chase bank in England and youngest son Keith graduates from IN U this year, meaning no more college tuitions! Both Ted and Betsy are very active in their church while Ted continues to manage 11 strip shopping centers and do some other commercial real estate. Bob and Barb Anderson's letter was short but indicated that he also retired after 28 years in the Reserve and continues with the VA. Barb works at a local Pain Rehab Center, while son David is a senior and stand-out soccer and hockey player. Daughter Cheryl graduated from Smith College in MA last May and did an internship with our consulate in Strasbourg.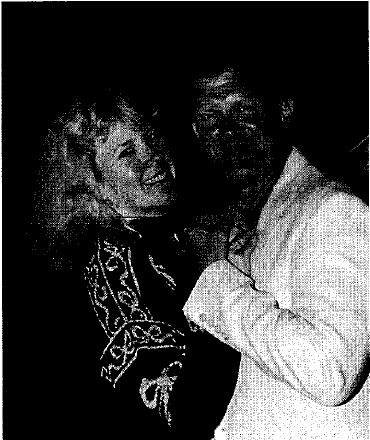 The Harman's Christmas letter arrived from Springfield, VA where Steve is with Unisys and wife Anne is back with Nations Bank. Son Steven is a freelance photographer here in Chicago, daughter Mary and husband (and navy SEAL) Todd are in VA Beach where he has had several deployments and she is a student at Old Dominion U., son Jim is a cartographer with the Defense Mapping Agency when he isn't backpacking thru Europe, other son Joe graduated from St. Mary College last May and then entered the Army, Kate is completing her work at Arizona State and will become a high school math teacher, son John is in his second year also at St. Mary's in Leavenworth, and finally, youngest daughter Barbara is a sophomore in high school and active in soccer and in-door track. Wow, lots of tuitions!
Janet Dyer writes that she and Jim are in great shape and were pleased with their daughter Lauren's marriage to Rob Nelson in Nags Head in a beautiful house overlooking the ocean. Son David graduated from West VA U. with a degree in finance and now works for Lance Hewitt at the Pentagon Federal Credit Union, while youngest daughter Krisitin turns 16 and can't wait to get the wheels." Jim just ret from Senior Exec. Service completing 35 years of government and military service and has joined (with some help from Manny Maimone) RAM, Inc. in charge of their D.C. operation. Small world, eh? Anyone know where Ben and Gladys Whitehouse are? Let Janet know please. Jack and Annette's letter had most of what was previously reported, with a nice picture.
| | |
| --- | --- |
| 1965: The McElieces, the Kuhns and the Seymours | 1965: Rabyecks at USNA, Jun 94 |
Speaking of nice pix, the Kuhn's and Seymour's welcomed Jim and Julie McEliece to So CA where the two newcomers are taking quite nicely (thank you) to that style of life. Great letter from Judy and Bruce Raybeck who has been with EDS for 24 years. Daughter Kelli is in her 4th year of Med school and lives with her two children and husband in Philadelphia, daughter Kristie was married to another EDSer in May and lives in Raleigh, while youngest son Mark graduated from Canoe U" last year and is in his first year of Med school at Penn State. The Raybecks are still in Plano, TX and looking forward to retirement in Wilmington, NC in a few years. A "Squid", perhaps our first?
We got Dick Wirth's attention by listing him as MIA, but he is firmly ensconced at Hilton Head, where youngest daughter Abby is a frosh at a local Prep school, oldest son Rick graduated from U. of Arizona and is now a realtor in Tucson. Daughter Elizabeth graduated from Northeastern U. lives in Atlanta where she works for Bell South. After retiring as a pilot for Eastern, Dick has kept busy as a sales executive for Sea Pines and says that his door is always open. And finally, the Koz retired in January from the USAF!
That's it folks. Keep those letters, pix AND Q's coming.