Greetings once again from Chicago. Lots more 30th Questionnaires have arrived but we are still missing about 50% ! Please, please don't wait until the last minute!! Harry Dermody and Ray Hawkins (who has agreed to assist Harry) are off and running on the Class Gift and Fund Raising. Fred Laughlin has agreed to head the Gift Selection Committee while The Old Man and Ray organize the Class into geographical areas for fund raising. If you haven't been contacted and want to help, call Harry, Ray or me. One million is the goal by the 35th!
Visited WP in Feb and saw Tom Abraham and Ed Sharkness who were there to honor wrestling coach Alitz. Army tied Navy at 15 in the meet--we haven't beaten the Middies on the mats since 1963. The other picture shows Pres. Dave Kuhn, Tom and my daughter Shannon with Dave McCormick, the 2nd Arvin award winner. Coach Alitz looked to be in great shape. The long awaited pic of the Kurtz wedding arrived. What a motley crew, excepting the lovely bride!
1965: Don Rowe & Judy Howsom

1965: Dave Kuhn, Dave McCormick, Cadet Shannon Coll and Tom Abraham

1965: Kurtz and Longhauser

1965: Sharkness, Coach Alitz and Abraham
Kudos to: McCloskey, Ono, Ellenbogen, Bradley, Bell, Plaas and several others who continue to contribute $65 each year. It does add up after a while. A late Christmas newsletter from the Moseleys rep that grandson #1 arrived in 1994. Cathy continues her active Bible study while Chuck watched his new company go down the tubes, at which time he switched over to Performance Development Corp. which enabled them to stay in Oak Ridge. Their son Chip graduated from UNC and was also married on the day when Chuck had to have emergency retina surgery. Bummer dude, as the kids say.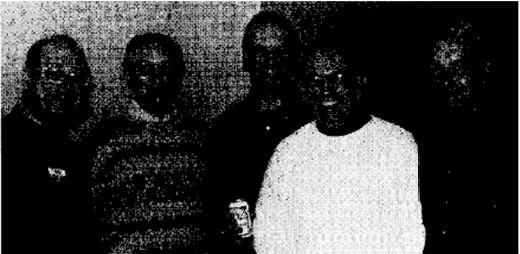 Kent Brown sent his second Scribe message and included his last 4 Christmas newsletters. Neat idea. He retired in '91 (with the DSM awarded by his boss, the J-7 and attended by Billy Mitchell) and moved to Boise where he became the head road engineer for the county. Son Jeff was married to another USAF type and both are stationed at McChord. Sherry is still quite active as a lobbyist for The Christian Coalition. Son Ted graduated from James Madison U while other son Chris is finishing up there also.
Skip O'Donnell sent in his usual meaty update with a pic of the AF game attendees: JP and Bobby Greene came up from Atlanta and 737 duty, Jane and Jack Barwis, Bob Scully and fiance Jeanette Cuzzi, Paul Schultz, COO of Ambel Precision Mfg., and Barry and Linda Zais, obviously happy that their boys survived Plebe year in great shape. Bob Rood was there but left early as did Gil and Ginny Curl. Skip and Marilyn's son Chip is in the 1/7th Cav and ran into his CG (Rick Shinseki) at Ft. Bliss.
On your next visit to WP, you will find the individual Class members Paving Stones at Herbert Hall. Most are at the SE back corner, some are under the balcony near the NW corner. Only 298 of our Class subscribe to ASSEMBLY.
Art Mark et al still in VA where 7 are still at home. Simply amazing. Oldest daughter Nicolette is awaiting 0-3 list after having three children. The Mark family pic was too dark, Mark, to send in. Sorry. Ross Wollen had his original 'vette restored and wonders whether anyone else would be interested in bringing their originals to the reunion. Any takers?
And hey, K-Mart shoppers, guess who may be running the show? In March I had a nice chat with Ron Floto from Detroit and then saw a few days later in the WSJ that Ron was appointed "interim chairman of K Mart's executive committee." Ron just remarried and promised a pic of same.
Tom Ferguson married June Kim in early Dec--congrats to you both! How about a pic?
That's it folks. Keep those letters, pix AND Q's coming.