Greetings once again from Chicago. A great time was had by all at the A-N weekend. Great game-got to watch it from the field level-couldn't see much, however, over the cheerleaders, ABC camera crew and our team. The howitzer was 10 feet away--at shot #52, my friend Ed and I lost all hearing! The Yoshitani's took in the game from a safer distance. At the Friday night Class party, a really cute young Army cheerleader (can't imagine who her father is) weathered the groping risk of certain classmates and posed with: Joe Sanchez, Shannon, Don Kurtz, Bob Scully, new 2 star John Longhouser, John Alger, Karl Plotkin, Bob Harter, Tom Abraham and Bill McKemey .
1965: The Yoshitanis, A-N 94

1965: Salomones and son, A-N 94

1965: Peterson, Salomone, Swick and McKemey, A-N 94

1965: Mark Sheridan and Linda Harter, A-N 94
Also attending the Class functions were: Carl Peterson, just retired John Salomone, the "Swick" (Jim Tomaswick) and McKemey. Speaking of Salomone, the next picture proves that '65 still has what it takes, as evidenced by Mary Kay and John sitting next to (sleeping) young Andrew, who was conceived, I am told, at our 20th. Way to go guys! In the "why is he looking downward" category, Doug Gentzkow seems fixated on Linda Hawkins earring (or something) while Ray keeps cool, as usual.
1965: Gentzkow and Linda & Ray Hawkins

1965: Kuhns, friends and Cadet Paula Krantz

1965: Scully & fiancee, Plotkins and Boohar

1965: Zais with Carol Richardson and John Howell
About to be married Scully stands with fiancee Jeanette Cuzzi (Ladycliff '65), the Plotkin's and Chuck Boohar, near the beer supply. And how about this next good looking couple, Mark Sheridan and Mary Harter. Mary spent part of the evening trying to convince your scribe to convince daughter Shannon to go out with this "cute young Middie" who would be dropping by with his parents, friends of the Harters. Mary, I'm not sure this world is ready for Shannon and a Middie and besides, her boyfriend Todd ('95) might not like it. Also near the beer supply, the Zaises surround John Howell and date Carol Richardson, who did not look surprised when the scribe mentioned that we had a Richardson in the Class. Oh well, extract foot #1. More A-N pix next time.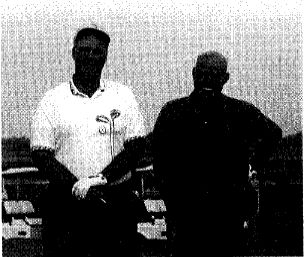 Other news from the home fronts. Dave and Rosie Kuhn smile for the scribe along with their California friends, the Rev & Mrs Ron Allison and cadet Paula Krantz ('95), a brigade staff officer and very neat young lady. Pat Kenny and Bob Radcliffe took in a few rounds at Myrtle beach and only the mist on the ground gives away their 7 AM tee time. Alice Kenny saw John Pickler at a Benning CoC proudly showing pix of his grandchildren. In case you missed the latest "Chuckie Sighting", an unbelievable article on Pfeifer and his VN experience appeared in the Sep 94 Esquire, complete with pix of Chuck and Gen. Giap. Let me know if you want a copy. This guy has a great PR agent!!
The "Old Man" wrote in October confirming that he was only 54, not 64, when he and Kay retired at Ft. Meade after 35 years. The Dermody's found some great waterfront property on the Eastern Shore of MD, built a home and a dock, joined the USNA Golf Club (30 minutes away) and are enjoying the easy life. Kay has been instructed that when the Old Man goes, just push his carcass down a ramp into the bay and let the crabs do the rest. Harry is doing some real estate investing as well as planning for the wedding of their youngest, which finishes the coll/marriage financial situation for them. No matter what I or anyone else says, Harry is still a class act!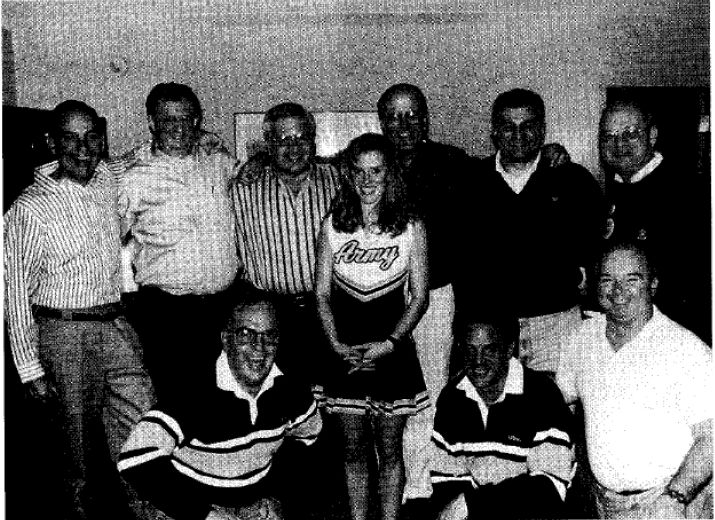 Jack Lowe has moved to San Francisco still with EDS. Annette to follow shortly. And finally, a great Christmas newsletter from the Paley's. Jim and Marianne are now in Houston and are happy that their furniture finally arrived after 3 years in Kuala Lumpur. Her tennis game is still great but Jim just had knee surgery and is taking it slow. Their door is always open.
Well folks, that's about it for now. If any of you are at West Point on 3 Jun for the Class of '95 Graduation, stop by the new Alumni Center (old hockey rink site) and join the Coll's, Laughlin's and Yoshitani's and our three newly commissioned Cl off-spring to celebrate!