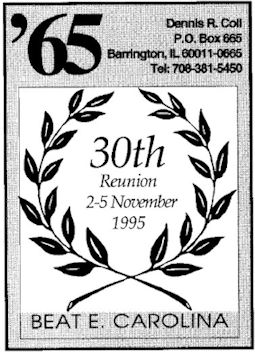 Greetings once again from Chicago. The Reunion letter and accompanying Questionnaire were sent out in August, but as of the date hereof 17 Oct), only 80 of about 500 have been received by your scribe, and most of those are without pix. So PLEASE, get it together and send yours in or call me for another copy.
Lots to report, so here goes. Just came back from WP were the Kuhns, Bumpass, Kurtzes, Sanchezes and I watched Army come from behind and beat a very tough Louisville team by 1--same team that "easily handled" the #17 team the week before. Army's #4 string Yearling QB is not only going to be good, but my sources in A-2 say he is the nicest guy in the Corps! Stay tuned. Mandatory formation for '65 offspring produced Firsties Dunn Yoshitani and Brian Laughlin (who was part of the Bde. Staff for the parade). Daughter Shannon had to go to Florida. Others in the pix are Mrs. deLaar, her grandson and grand-nephew Mark deLaar and Matt Gnau, while Ivan Konerman was leading the Cadet Close Combat Team in a match in TX. AWOL were: John Johnson, Justin Ledzinski, Edward Williams (Ron) and the Zais boys. Great game and fantastic weekend to see the fall colors in the Hudson Valley.
1965: At DC CI mtg: Ammon, Taylor, Howell, Sterbene and Alger

1965: Adams and Maimone tell great jokes

1965: Coll, cadets Yoshitani, deLaar, Gnauand Laughlin, Mrs deLaar and Bumpass

1965: At DC CI mtg: Kulbacki, Laughlin and friends

1965: Sanchez, Tomaswick, Salomone, Thompson and Boohar

1965: Your scribe with his parenrts, COL & Mrs Hoy D Coll
Prior to WP, I stopped off in DC to update the troops on the 30th. Great turnout arranged by Bob Harter. In attendance were: Curt Adams, John Alger, Steve Ammon, Ron Bailey, Bob Cato, Emery Chase, Bill Connelly, Tom Ferguson, Colin Haverson, Sandy Hallenbeck, Steve Harmon, John Harrington, John Howell, Ed Knauf, Walt Kulbacki, Fred Laughlin, Manny Maimone, Bruce Marshall, Chris Needles, Terry Ryan, Ed Simpson, Steve Sperry, Hank Sterbenz, Wes Taylor, John Thompson, John Vann and Mike Watson. Adams is still in Charlotte and loves it, Alger retired in 87 and is the Dir of Warfare Info and Strategy, Ammon retired in 84 and is with Coopers and Lybrand in mgt consulting, Bailey (out in 88) studies cost effectiveness for CMI, Cato (92) is a CPA with his own practice, Chase (84) dismantles Russian nukes at Science App Intl, Ferguson is still in the Pentagon and studies the "spooks" for savings opportunities, Halverson is still with Logistics Mgt. Institute and studies force mgt issues, Hallenbeck (90) is with SAIC and also teaches at a college, Harmon (91) was with GE Aerospace and now with Unisys, Harrington works with Halverson, Harter (85) double century man and all, hosted the event and has an O-3 son in the airborne, Howelll studies Saudi Arabian base ops, Knauf is still making lots of money with Titan, which he started in 81, Kulbacki is in the systems commmunication business, Laughlin has now spent 21 years with Price Waterhouse while he awaits 3 June 95 grad of son Ryan, Manny has been in DC since 72 (yuk!)works at RAM and also has an O-3 son, who is in Special Forces, Marshall is a certified Fin Planner in MY with IDS and climbs lots of big mtns in his spare time, Needles just beat Eisner and Disney on the DC area theme park and is back running the national parachute organization after leaving the White House when Hilary arrived, Ryan (86) runs an undergrad and grad program at Mason U, Simpson is with SCIC, Sperry (88) is with Applied Research Associates while Sterbenz works with Harter at Kamen, Wes Taylor gets out 12/94 and goes to Amarillo to head up Cal Farley Boys Ranch, a working ranch somewhat like Boys Town, Thompson wears two stars and runs the old OPO (Mil Pers Cmd), John Vann (91) is a consultant and reports that Dave's wife just had gall bladder surgery but is OK and finally, Watson was retired medically and works with Bell Atlantic. Great show guys and thanx for inviting me.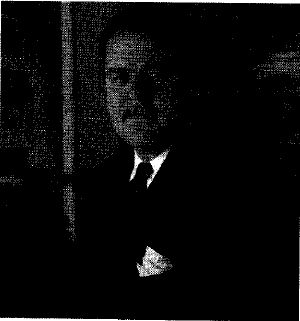 Other news: Joe DeFranciso is in the thick of it again with his 24th ID being deployed to stop Saddam while Dan Christman is now the exec to the Chairman of the Joint Chiefs. Buddy Bucha lost his race to represent the NY district that emcompasses WP in Congress, Chuckie Pfeifer had another PR article written about him in Sept issue of Esquire while Bill Griffin is still looking presidential (see attached) while rooting for Roto-Rooter in Cincinnatti. Dave Bangert teaches at the business school at U of Hawaii and reports that Tad Ono is there also and runs an engineering company, Locurcio just departed and Chris Kinard heads up human resources for AMFAC there.
On the promotion front, another Scribe sent me the following update from Army Times: Clair Gill was #1 on list for 2 stars (Clair is still at Ft. McPherson running human resources for Forces Cmd); Dave Benton is at TRADOC, and John Longhouser is still with the Army Tank Automotive Cmd in MI. Our congrats to all! I was sorry to have to miss the retirement ceremony in September of John Salamone, but fortunately, Sanchez, Tomaswick, Boohar and Thompson made it (see pix) and report that all is well with the Salamones. And finally, for you F-2 files, our old Tac, CPT (now retired COL) Hoy and his lovely wife sat in front of me at a recent parade. It was good to see them both again.
That's it for now. Keep those letters and PIX coming! Beat Navy.