Greetings once again from Chicago. You should have received the Reunion ltr and accompanying questionnaire in late Aug. If not, call me or Sanchez and we will get one to you. Please, please complete the Qs and get them, and your pix, in to me ASAP.
The "pickins" are slim for this issue, so here goes. As previously rep, Joe & Lynne DeFrancisco are firmly ensconced at Ft Stewart and seem to be enjoying their new challenges. Joe rep that 3 more of our 'mates are on the two-star list: Dan Benton, Clair Gill and John Longhouser. Congrats, guys-let me know how things are going! Tom Ferguson still is at the Pentagon in Defense Intel (cmd and control issues) and worked, for a while, around the corner from Rick Shinseki before Rick's move. I will be going to DC soon to brief the troops on the Cl's fund-raising plans. Speaking of DC, Bob Harter is trying to revitalize the DC '65 contingent while he is at Kaman Sciences with Randy Guenthwer and Hank Sterbenz. Call Bob if you are in DC and available.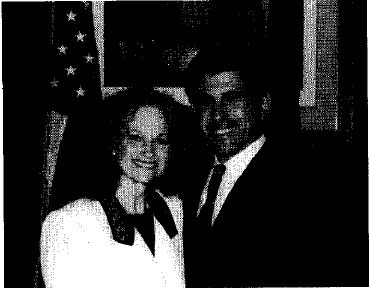 Got a nice ltr and pie from Bob & Phyllis Wolff (ever wonder why the Wolffs of this world always get the good-looking babes??). Bob was asked, 20 yrs to the day after his Army resignation, to join the USAF in a sr exec svc position as dep civil engr reporting to the two-star CE with the responsibility for 140 bases worldwide. Attending the ceremony were Stan & Barbara Genega, Dorie Skidmore and Mike & Cheryl Viani. Congrats to you both! Their son Allen grad from U of Ml, and daughter Dina is nearing the end of her pursuit of an art ed degree from the Museum of Fine Arts in Boston. Phyllis still has her successful interior design business.
Roy ("another decade, another ltr to the scribe") Garms wrote with an update. He ret from the USAR last yr after one last shot in the Pittsburgh Engr District, where he had spent most of his Reserve time. Genega passed through and Roy collared Stash for breakfast, then saw him again on PBS assuring everyone that the MS River dikes would hold this time! Roy spent about half of last yr in Thailand for Exxon working on a large refinery expansion project. His current project will take him to Singapore. Eldest daughter Ali is a jr at Albright Coll in Reading, PA while youngest daughter Laura, a budding pianist, is a sr in HS. Renate stays busy running local charity events. Good ltr and thanks, Roy.
1965: Dryzga, Sanchez, Taylor and Kuhn

1965: The Abraham poker game

1965: The Plotkins and Sanchezes

1965: Sanchez and Abraham et al
And since we only had ONE pie sent in, I am attaching the last of my 93 A/N pix showing Reg Dryzga, Joe Sanchez, Wes Taylor and Dave Ku hn; the great Abraham poker game; the Plotkins and Sanchezes; and Sanchez, Abraham and friends.
As I said, slim pickins this time. Please keep those cards, pix and ltrs coming! Thanks.