Greetings once again from Chicago. A few more late updates on our general officers. Nice to see Joe DeFrancisco take over the 24th ID and Rick Shinseki take over the 1st Cav to become our first (I believe) division CG's. Congrats Joe and Lynne, Rick and Patty. John C. Thompson is now the CG, PERSCOM as a two star. Dan Benton is now DCS, Resource Mgt, TRADOC.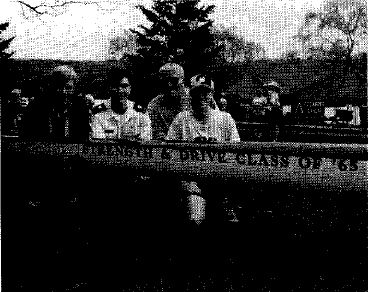 While at USMA for a Spring crew regatta, Fred Laughlin and son Ryan, as well as Shannon and I, checked out our Class' shell. I heard from Col. Ronald Roberge ('51) who taught some of us in Mil Art concerning my mention of Judy Hemmingway last Nov. He was to give Judy away at her wedding to Chuck but was sent early to Vietnam instead. He passed his good wishes on to Judy and the Class.
At the last Trustees meeting, we also had a Class officers meeting, primarily to review plans for the 30th. Boohar, Kurtz, et al have it well under control and things are looking good. Make your reservations now at the Sheraton Mahwah. You will probably have received a letter from Kuhn by now with more details. I will publish another yearbook, so please fill out the Q that Dave sends you and get it back to me. Kurtz was married in a neat ceremony (according to Tomaswick) to Sara Staub last Mar. In attendance were: Slats Letterie, Mike Higgins ('66), Tom Abraham, Joe Sanchez, Kurtz, Swick and Carl Peterson. The Scribe's invitation was apparently "lost in the mail."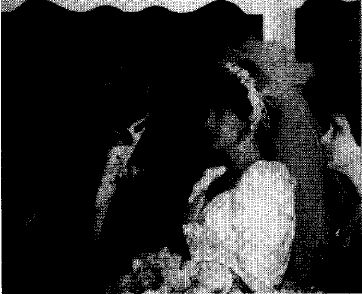 Dave Kuhn also reported that Denny Lewis had a scare earlier in 94 at Hilton Head but is doing well now with the aid of a pacemaker. John Seymour had some by-pass work and is also doing well! The picture shows Kuhn with Shy Meyer, Seymour and the Malpasses at the Orange County Founder's Day. Wayne Scholl is doing very well in the engineering business in Houston and is now a full time Program Mgr working on several large UASF contracts.
John and Mary Kay Salamone traveled from Heidleberg, where he is the head endodontist in Germany, for the weding of CPT John Salamone Jr. to Susan Peoples in Casa Grande, AZ. Also pictured were sons Stephen and Andrew and daughter Susie. Swick also reported that he and Carol went to Hilton Head in May where they linked up with Dick and Pat Wirth, who are both in real estate there and are looking forward to the marriage of their daughter Elizabeth next Spring. great letter and pix, Swick. Thanx!
Jim McEliece retired in June and he and Julie are off to live in Escondito, CA where Jim will be working at Point Loma Nazarene College teaching business with a shot at heading that department. They bought a BIG new house and have invited everyone to come and see why Julie likes S. Cal. so much. A month of sailing in the carib will come first. Congrats to you both!
1965: John & Pat Mogan

1965: Pat & Dick Wirth and Carol Tomaswick

1965: Kuhn, Meyer, Seymour and the Malpasses

1965: Letterie, Higgins, Abraham, Sanchez, Kurtz, Tomaswick and Peterson
Great pix of Pat and John Mogan at WPS of Mid-TN Founder's Day, where John was elected pres and has been called back to duty to assist his state's efforts to find jobs for newly separated vets. Daughter Tara was married to Phoenix police officer Tim Martin last Mar. John also reported that Mike Deems recently relocated to DC area and Dick Mohlere is in Huntsville working for Boeing. He also saw John and Karen Pickler and Clair Gill at FORSCOM.
1965: Gen & Mrs Jannarone and Jack Jannarone

1965: The Salamone family

1965: Dick Williams and Dorotyn & Tom Peters

1965: The Colls and Andy & wife
At the May Alumni parade, we were all happy to see our old Dean and Mrs. Jannarone, as well as Jack, who is still flying commercial airlines for United. Dick Williams sent the pic of he and Dorothy and Tom Powers at the WPS of FL West Coast, where they also expected to see Ron Floto (Pres of Cash and Carry food chain) and John McMillan (an attorney in Temple Terrace, FL). Dick is retired and works for the Pinellas County gvt. Tom works for Computer Science Corp and does simulations at McDill fort USAF. And what would early morning at WP be like without some good eats at Andy's in Highland Falls, enjoyed by Brandon, Shannon and I and Andy and his wife!
And finally, a sincere good-by and thanx to Bruce Turnbull ('57) who just retired from USMA Admissions after 29 yrs and unbelievable assistance to many of our Class' off-spring at USMA. Please keep those cards, pictures and letters coming! Thanx