Greetings once again from Chicago. After the last article on our general officers, I was pleased to hear that Rick Shinseki took over the 1st Cav after a stint as Dir., Tng, ODCSOPS. Rick, if you're out there, drop me a line.
Cal Kahara wrote from Va. Beach, where he retired from the Army in '85 after 4 yrs as the asst IG for the Atlantic Fleet (go figure). He then got into the human resources business with Bio Gro Systems, which manages (as opposed to memorizes) "poop" for municipalities. Fast growing company, was acquired by a sub of Waste Mgt. Wife Pat, in addition to being an experienced beach and boogie board devotee, works as an assistant at their church and school. Attached photo shows daughter Jennifer's wedding to Rick, after she graduated from Michigan State and he got a law degree from Syracuse. Son Jason graduated from William and Mary and works for the Republican Senatorial Committee. Youngest daughter Emily is in her second year at UVA, and loves it. They're in the phone book, so call.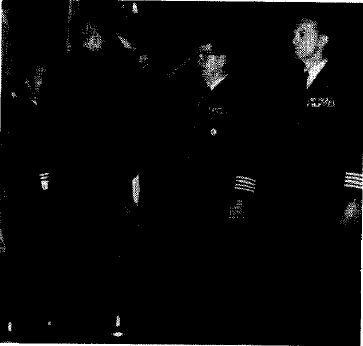 Joe Koz sent a good pic of his change of command at the USAF Institute of Technology in Feb. '93, as previously reported. Also received their Christmas ltr wherein they reported that Ann's 4th (and hopefully final) hip replacement was a success. All of their children are doing fine, with Juile in MD, Dawn and Kevin in NC, and Joe in SC.
Chuck Moseley's Christmas ltr arrived a bit late due to the mails. He had a detached retina operation that precluded Chuck from being his son Chip's best man, but all is well now. Chip is a senior at UNC-Chapel Hill. Their move to Oak Ridge, TN went well and they love it there.
There was a nice story in the Dallas paper about Art Hester and his transfer and promotion to Detroit where he is the program manager of the cars that he used to assemble at the Arlington, TX plant. Jack and Annette Lowe's Christmas missive brought the attached pix and a report that Annette had to postpone seeking a Master's in English due to some last minute pneumonia in both lungs. She's OK now. All the children are doing well as previously reported.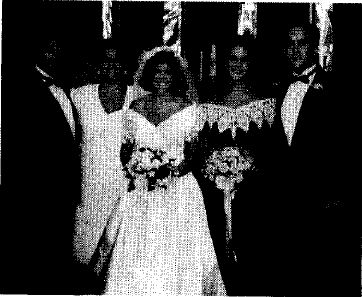 In the understatement of the last 29 years, Ron Layer starts off by saying that he "has been silent for some time..." But, he did write. He and Dolly celebrated #28 last July. Oldest daughter Lisa lives in NYC after graduating from NYU and is an aspiring screenwriter working on a new movie starring Paul Newman. Other daughter Michelle spent the summer working for Green Peace in San Diego and decided to stay rather than return to Arizona State. Ron and Dolly are still in Hammond, IN.
Art Mark wrote that 7 of his 10 are still in the nest in Aiken, SC. Sorry we can't print the pix Art, but it has to be clearer than the one you sent. Skip and Marilyn O'Donnell saw Preston and Sandy Motes in Salt Lake City where they are into alot of hiking, etc. At a mall there, they also ran into Harley Moore and a lady friend who were there skiing before heading back to NY. Skip also reported hearing from Marty and Leni Resick who are still busy with their teenage daughters, Duke and Sally Wheeler reported their two sons graduated (one from Clemson and the other from U. of Central Fl), Jim and Karen Ferguson are still just outside Ft. Sill, Harry and Kay Dermody (Old Man-pls see opening sentence to Ron Layer above), finally retired (once he hit 70??) from Aberdeen and moved to Centerville on the MD shore. Thanx again Skip!
1965: Jack & Annette Lowe

1965: Don Kurtz & OAO at A-N 93

1965: Bob Scully & fiancee at A-N 93

1965: Pat & Alice Kenny at A-N 93
And finally, a few pix from A/N to include Kurtz and OAO (now wife), Bob Scully and his OAO (now wife) and Pat and Alice Kenny.
Please keep those cards, pictures and letters coming! Thanx