Greetings once again from Chicago. Hope all is well at your end. Lots of pix this time, mainly from Army/Navy. Great game-feel sorry for the Navy plebe kicker but he had an impossible angle. Joe Sanchez et al did another great job putting together our Class party. Probably 80+ showed at various times.
At the game, we saw (1) Harley Moore, Nancy and Joe Sanchez, Mark, Jennifer and Linda Sheridan, (2) Pauline de Laar, Geralyn Laut, Bob de Laar, David Gnau, Marcella de Laar Gnau, Jeff Laut, Barrie and Lynda Zais, Bob and Martha de Laar and Tom Ferguson, (3) Ilse Gabel, Ann and Curt Adams, Dave Gabel and Harley Moore, (4) Rusty Pullen, Joann and Karl Plotkin, (5) Jim and Lee Wood and Jack and Sue Terry, (6) Helen O'Donnell Greene, Patrick and Katie O'Donnell, Lisa Greene, Bob Scully and fiance Janette, Nancy, Marilyn and Skip O'Donnell and Pat and John West, (7) Bruce and Sue Clarke, Priscilla and Dan Cunningham (Harvard '65), (8) John and Karen Longhouser, (9) Ross Wollen, Reg Dryzga and friend Greg Friess.
1965: Moore, Sanchez and Sheridan




1965: deLaar, Laut, Gnau, Zais and Fergusson




1965: Gabels, Adams and More




1965: Pullen and the Plotkins

1965: The Woods and Terrys




1965: Clarke and Cunningham




1965: The Longhousers




1965: Wollen, Dayzga and Friess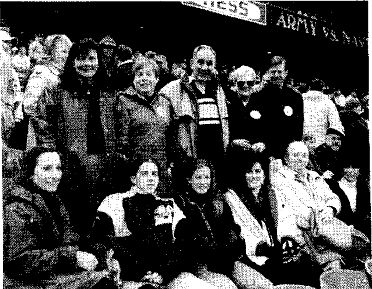 At the pre- and post-game parties, we also saw: Pat and Alice Kenny, Jack Barwis, the McCloskey's and two sons, Abraham, Stichweh's, Paske's, Andressen's, Peterson, Rowe, Lewis, Kuhn's, Parcells', Harmon, Boohar, Wes Taylor's, Don Kurtz and fiance Sarah, amongst others.
Jim Woods is stationed at NAS Oceana (Va. Beach, VA) where he is working incognito on joint service coordination and is looking to join the civilian world soon. Pat Kenny is now at Mercer College in Macon, GA, Kurtz and OAO Sarah will be married in the city of Brotherly Love 3/20/94--all are invited!! Kuhn's survived (barely) the terrible CA fires and now have a neighbor family living with them. A back-fire started by fireman across the street saved their abode in Emerald Bay in Laguna.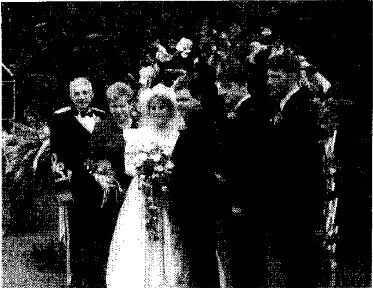 Jack Lowe reported that Rae Ann Hindsley (Joe's daughter) married Aaron Riggs(10) this past Oct at Ft. Bragg. Jack's son Bruce still at Carson as Plt. Ldr in Engineer Co, one daughter just grad Mary Baldwin College and is a guidance counselor, and youngest daughter Stephanie set the school record at Mary Washington College for discuss in Track and lowest goals scored against as goalie in Field Hockey. Way to go guys! Jack also reported that Sonny Ray grad law school and is still the Clerk of Court for Central TN District and Emory Pylant is with W.H. Kellog in Houston where he is an international PM.
John Johnson wrote that he and Mary and son John could not make Class Off-Spring pix at Homecoming due to USMA tennis match at Rutgers. John retired from Unisys and is enjoying life. Empty nest in Vienna, VA due to one daughter getting PhD in French and other daughter teaching school in DC
As I reported last time, Chuck Shaw is here in Chicago after a brief stint in Cambridge. He is doing software conversions for companies. Misses being a vintner! He sees Labe Jackson, John Seymour and others at their summer homes in MI. Jim Holmes called from Phillipines looking for Ed Abesamis. Jim lives in Phoenix but travels alot as a Lottery consultant. He got the old USSR into the lottery business. Let's hear it for capitalism!!
Well folks, out of space for now. Keep those cards and letters coming. Send your Christmas newsletter if you have one.