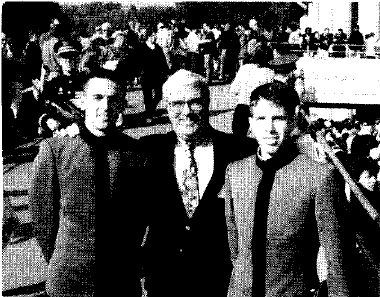 Greetings again from Chicago. Hope all is well at your end. The attached pix were taken at Homecoming in Oct.
In pic are some offspring in Cadet gray: Mark deLaar, Claire Gill, Matt Gnau, Ivan Konerman, Colleen O'Hara and Dunn Yoshitani. Also shown in the pie are Don Kurtz, Sue Goodfellow (your scribe's date), the deLaars, the Doughtys, Jim McEliece, Joe Sanchez, the Stichwehs and Cheryl Gill.
The other pie shows your scribe with the two Zais boys, Mark and Matt, who came a little late. Also at WP but unable to make the pie are Doug Andersen, Shannon Coll, Nancy Csoka, Mark Hopkins, John Johnson, Ryan Laughlin and Justin Ledzinski.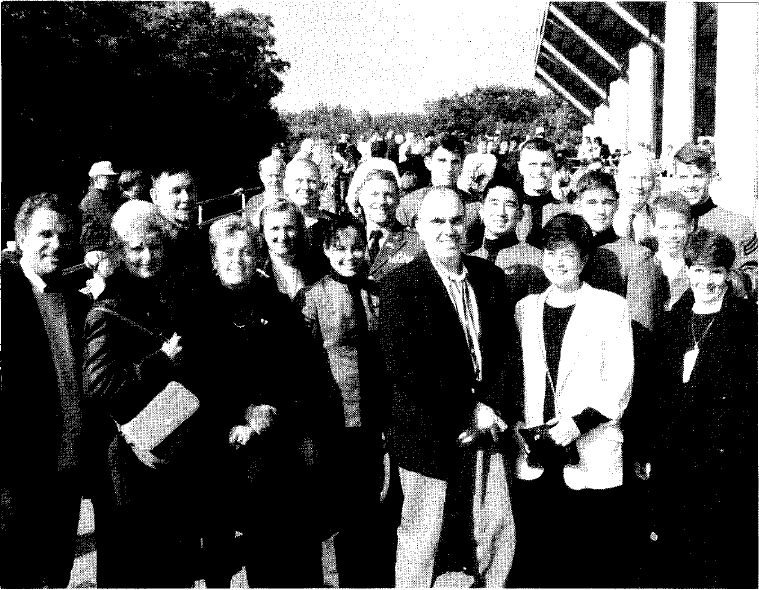 Ross Wollen has a neat idea. Why not erect a miniature Wall with the names of our deceased classmates in the area where the SE Asia memorial now stands? Gil Curl left IBM and works with distributed relational database applications and still may end up at WP in some capacity.
| | |
| --- | --- |
| 1965: The Stichweh family | 1965: Brian & Carolina, Judy & Denny Coll |
Jim Peters moved to El Paso and now runs the air pollution opn for El Paso Natural Gas. He ran into Pickler at Ft Bliss, waiting for star #2. Jim keeps busy on the mil side-he is a MALO for WP, on the adjunct faculty at CGSC, applied for AWC and just got an extension of his USAR through the yr 2000!
Bob Baldinger rep he ret a second time and moved to Phoenix (Foundation Hills), where he wants to try furniture making. Good luck. If you didn't get Dave Kuhn's State of the CI ltr last Jul, the 30th will be 4 Nov 95 and is being coord by Don Kurtz and Chuck Boohar. We are also going to try to raise $1 mil by the 35th!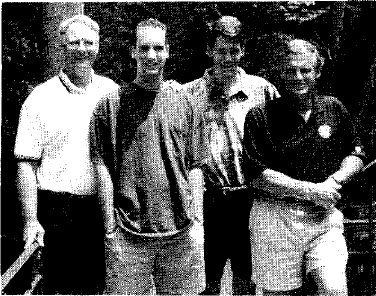 Bob Scully is engaged to Jeanette Cuzzi (Ladycliff '65). He works for Amoco here in Chicago, and she teaches on L.1.-not sure how that works-stay tuned. I requested a pie of the change of cmd for the Koz but, in good USAF tradition, they sent me a Xerox copy in black and white-of the flag in front of the Koz' face. Koz, if you read this, please send a pie. Thanx.
Pix are short this time but have a great one of Bob and son Jeff Radcliffe sent by Steve Darrah (shown also with son Greg). Bob and Steve won a golf tourney and were sharing the prize of a wknd vacation with their sons. Both Darrah boys are out of coll and still single; one (Clark) started his MBA at Notre Dame while Greg works for Anderson Consulting in Phila. Steve & his bride of 28 yrs, Phyllis, live in Richmond, where he is Sr VP of manufacturing for Phillip Morris USA and she teaches French at the U of Richmond. Steve wondered where his A- I roomie Bob Clover was. Anyone know??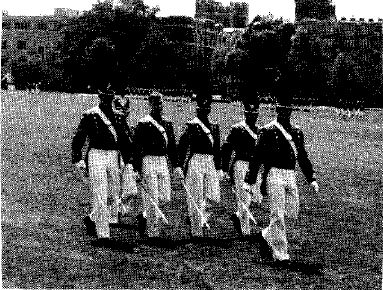 Stitch, or should I say Carole, provided the attached shot of their daughter Jenny's wedding. Also in the pie are other daughters Lisa and Kathy. Jenny is with an investment mgt firm in Greenwich, CT. Her husband is with a pension consulting firm.
Oldest son Brian married his WP sweetheart, Carolina, in Reading in Aug-eclectic wedding, to say the least. Bride, groom and one bridesmaid were Army 2LT's, maid of honor was a Navy ensign and two cadets were bridesmaids (one USMA '95 and one USAFA '94). See '92 article for another pic.
And in case you wondered about the Corps, note the headgear (or lack thereof) on the Regt staff as they passed in review.
Please keep those cards, pix and ltrs coming!