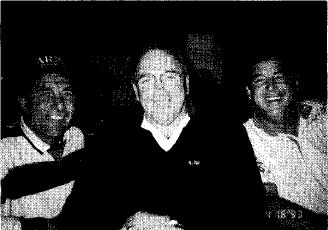 Greetings once again from Chicago. Please note the new mailing address and tel number. Some interesting news on the lost-and-found front. Ron Butterfield popped up in CA for the annual A/N golf match, in which he helped sink Navy for the 3rd yr in a row, along with Dave Kuhn and John Seymour (see pic). Ron & Marcia live in Redman, WA, just outside Seattle, where Ron is the district mgr for Data General.
Kuhn received an interesting ltr from a guy in DC who belonged to a DC-based orgn called "In Touch," which is associated with the Vietnam Veterans' Memorial and has as its mission to put Vietnam vets in touch with the family mbrs of deceased vets with whom they served. This guy had been asked to talk to Jack Hutton's mother and sister, which he did on a visit to VA Beach where they live. Really neat idea. I have details if you're interested.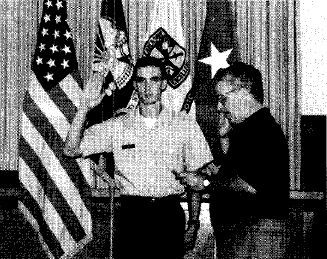 I traveled to Ft Bragg in Jul to pin gold bars on son Brian [see nearby pic] and, while there, contacted the Hindsleys to see what was happening. Joe (aka David by his family) was out fishing, so I had a delightful talk with Kay. They have 3 children; two of them are getting married. Rae Anne was married in Oct after finishing her last yr in nursing sch. Son Joe is finishing his last yr at Methodist Coll after a sojourn in Desert Storm with brother Chris, who is at NC State. Joe Sr ret about 13 yrs ago and has been teaching ever since. Kay helped in my attempt to track down Chuck Burgardt, but to no avail. Chuck, if you're out there, let us know. Kay also rep that Tom Shaw is no longer in Fayetteville. He & Gwen just moved to Atl. Their daughter Leanne, also an Army nurse, was married at Ft Bragg in Aug.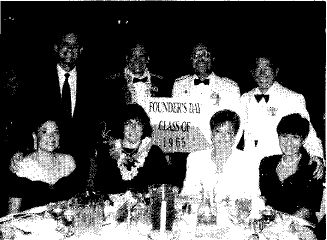 According to Jim McEliece, 4 more offspring have enrolled at USMA: Trevor Hill (Charles J), John Johnson (Johnny Johnson) and the two Zais boys, Mark and Matt (Barrie). Congrats to all!
The pic from FD in HI shows Dan Wattendorf (who was the guest speaker) surrounded by the Bangerts, Locurcios and Onos. Bo Forrest called from Shelby, NC, where he is a dentist and lives with Maxine, daughter Mary Graham (14), who is into horses and show jumping, and son Russell (10), who is the local baseball star. Bo got out in 71 and rep no other classmates in the area. Chuck Moseley wrote that he left Carolina Power after 21 yrs and is now mgr of Corp Quality programs with Quadrex, a Nasdaq-listed co, and will be moving shortly to Oak Ridge, TN. His daughter Debbie was married last spring. At the Apr WPS meeting at WP, he & Cathy joined Zig & Linda Roebuck (Huntsville, AL) and Jerry & Tia Ledzinski (Monterey, CA). The other pic was from a May picnic with Nan & Jerry Dernar, Steve Leach, Judy Hemmingway (Chuck's widow) and the Moseleys. Chuck also has his hands full with son Chip's wedding in Dec before starting med sch.
| | |
| --- | --- |
| 1965: The Roebucks, Moseleys and Ledzinskis | 1965: The Derner, Leach, Judy Hemmingway and the Moseleys |
Well, folks, that's it for now. Don't forget to include me on your Christmas newsletter list. And I'll see you after the Army/Navy game at the '65 party--call Sanchez for details!