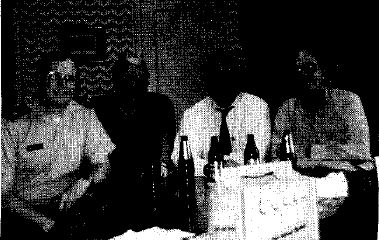 Greetings once again from Chicago. Please note the new mailing address and tel number. The ltrs and pix picked up a little this time, but we still need more--of graduations, weddings, etc.
The Exec Bd met at WP in May and finalize plans for the 30th. The Reunion Cmte will be Chuck Boohar, Don Kurtz and Carl Peterson. The date is 4 Nov 95. If you want to volunteer, call Chuck. Still working on gift ideas to be presented to Cl and other details. More to follow from Pres Kuhn.
Pic above shows Exec Cmte (Doughty, Coll, Kuhn and Sanchez) working hard! Bob Doughty had a great idea for a gift for contributors, re: reproduction of WP War's Atlas map.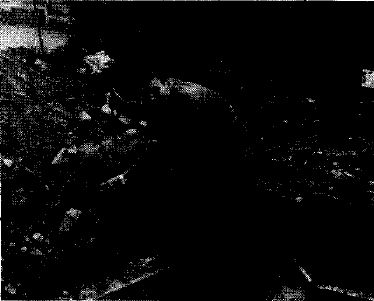 While at WP, Julie McEliece showed me the work Jim was doing outside their qtrs on Thayer Rd putting in the new steam line-and who says that the permanent staff doesn't work hard!! Down the river, Fred Smith is the pres of Foster-Wheeler, a steel co. While we were there, the Charles Kuralt Sunday Morn show did a piece on WP. It aired that following Sun and had a great segment with Bob Doughty, showing the producer through the WP cem in the Cl's section. Well done, Bob.
Nic pic of Ernie Westpheling talking at Ft Monmouth FD--could he have been the oldest grad there?? I tracked down Denny Sellers in Charlotte, NC after running into a friend of his here. Left several phone messages-Denny, if you're there, please call. Bob Axley rep that Jim Holmes is in Dallas after running State Lottery games for IN and OK.
| | |
| --- | --- |
| 1965: Ernie Westpheling | 1965: Joe & Lynn DeFrancisco, Chad & Mrs Morrison and Ken Lemley among attendees |
From Savannah comes this great pic of FD sent by Joe DeFrancisco. With Joe & Lynne are Chap & Mrs Morrison (USNA '65); Henry Klingler & wife, who live in the area; and Ken Lemley, the Garrison CO who ret in Jun.
Curt Adams was in town in May and brought me up-to-date on his travels. He rep that his Ranger buddy Joe Hindsley is in Fayetteville, NC; Jim Long works for NC owner and lives in Charlotte; Chuck Mosely left NC Power; and Mike Connor is a Hilton Head consultant. Curt & Ann moved to Charlotte 3 yrs ago.
1965: Bob and Mark deLaar, Matt and Dave Gnau and Ivan and Larry Konnerman

1965: Howard, Debbie & Andy Reed, Sheila McG and Betsy Reed

1965: Denny Coll and PDJ Kenny

1965: Denny Coll and Brian
Late-arriving ltrs, one from Dave Gnau, with pic taken during Plebe Parent Wknd, showing Bob and Mark deLaar, Matt and Dave Gnau and Ivan and Larry Konnerman. All of the '65'ers were in F-1.
The other ltr was from Betsy Reed in Lima, OH, with the pic of Howard, Debbie (who grad from Rhodes Coll in Memphis and was selected for Teach for America), Andy (who announced his pending 9 May wedding), Sheila McGreane (Andy's fiance) and Betsy. Congrats! And finally, PDJ Kenny and I spent some time together in Columbus, GA, where I was watching son Brian complete Abn sch. Pat works for the local Chamber of Commerce.
That's it for now. Keep those ltrs and pix coming--it really helps.