Greetings once again from Chicago! I received several Christmas newsltrs this yr--a first for '65. It's a simple way to keep your scribe up-to-date. The Barkleys are in Newtown, PA, with outposts in Annandale, VA and Erlangen. Joe is the CFO of a business gp at Chase involved in the retail sale of insurance and investment products. Joe had a bout with abdominal surgery that took him out of action for a mo last summer, but all is well now. Diane works for a dentist and is trying to adjust to being a grandmother. Son Chris spent some time in LA during the riots and other son PJ joined the Army and is now in the 3rd ID.
Art Mark rep all is well with him and his family in SC. Grandson Anthony was born to daughter Nicolette, and they think that is just "grand." Art, sorry, but the pic just wound not copy.
Our dp scribe, Skip O'Donnell, sent another great update on the A/N game festivities last Dec:
| | |
| --- | --- |
| 1965: Skip O'Donnell, Bob Scully, Paul Barber and Fred Smith | 1965: Fred and Ryan Laughlin |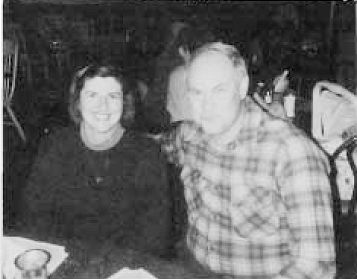 Seen there were Barry & Linda Zais, who are at the War Coll and have twin sons (Matt and Mark) at USMAPS. Bill Hecker is with the "Star Wars" gp in the Pentagon and will ret this summer.
Paul barber is looking for an electrical power mgr's job when he gets out this summer. Oleh Koropey also is getting out in Mar 93. Others in attendance were Fred Smith, Bob Scully, Chuck Boohar, Chuck McCloskey, Thomaswick, Ryan, Yoshitani, Fred Laughlin and son Ryan '95, Don Kurtz, Bruce Clarke and John Howell.
Sandy & Preston Motes are looking good and are still the "gatekeepers" of the best ski area in the US at Salt Lake City. Jim Ferguson rep from Lawton/Ft Sill that BG Dan Benton is the asst cmndt at the FA sch and that Rich Sinrich has ret in the area.
The old man, Harry Dermody, is back in CONUS at Ft Meade. Isn't there a mandatory ret age at 65? Bill & Sue Trednnick spent a wk in Scotland last summer. And in the "unusual" category, Larry Isakson used to be in the Salt Lake area as a surgeon, but two yrs ago he decided to re-up and took a commission in the USAF as a LTC and moved his entire family to Mildenhau AFB in England. Thanks for a great ltr.
John & Karen Pickler sent their Christmas ltr and rep that all is well at FJTF6 in El Paso. He is on the two-star list and will be re-assigned later this yr. They had two weddings to celebrate. Son Andy married Laura Helton and lives in Knoxville, where he is a sr at UT.
| | |
| --- | --- |
| 1965: Andy & Laura Pickler's wedding | 1965: BG John & Karen Pickler, son Jeff, daughter Nevelyn & son-in-law Mark Smith, and son Andy & daughter-in-law Laura |
Daughter Nevelyn was just married in Feb and works as a manager at the Opryland Hotel. Young son Jeff celebrated becoming a Christian in Sep and continues to play soccer. Karen enjoys working for their church and being a good general's wife.
Savannah welcomed the new ADC of the 24th ID last Jul and Joe & Lynne DeFrancisco rep for duty. Daughter Laura grad from La Salle U and is working at the Pentagon. Son Eric is finishing his 3rd yr in Ger and will return to Benning soon for the Advanced Course. Please, folks; no drawl!
Ann & Joe Koz were in DC until just after the New Yr, when Joe became the cmdt at the USAF Air U at Wright-Patterson AFB. Ann had been working at the AF Publishing opn in DC and is doing fine after her hip opn. She was ably assisted in her recovery by daughters Julie and Dawn. Young Joe is in SC, where he manages the best steak house in Myrtle Beach. The Kozes have two grandchildren, Hannah Marie and Jacob.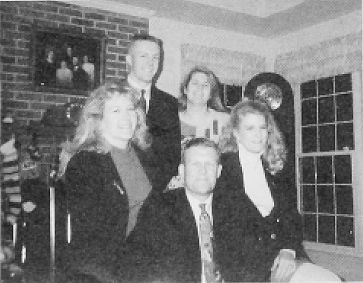 Another Christmas ltr arrived from the Lowes in VA. After Engr Basic, son Bruce & bride were off to Benning to learn how to eat snakes and jump out of perfectly good airplanes. They are now at Ft Carson, where Bruce is in the 4th Engr Bn. Jack, future Coll daughter-in-law Carolina Rodriquez-Rey is now the S-2 (not bad for an 0-1) in the MP Bn there. Melanie is finishing her last yr at Mary Baldwin Coll while Stephanie just started at Mary Washington Coll. Speaking of MWC, G-2 rep a late-night football event there with Annette as the star-flanker--eh, what?
The Scholls have moved to Houston, where Wayne's newly-organized co (Brown and Root Environmental) is located. They have a great new home, and Susie had to retake her real estate license there. Son Brian is back at home while Jennie is in the 4th of her 5-yr engring program at CalPoly.
Our requests for long-lost classmates work--Jim Peters responded from LaMarque, TX, where he is an environmental consultant after spending 20 yrs in business. In 89 he reverted to the USAR and did 6 mos voluntary duty during Desert Storm. He also completed C&GSC and started a novel about Desert Storm entitled The Hero of Feedlot. In addition to being a busy guy, he is also looking for a publisher. Jim, thanks for the update. Also from the long-lost list, Dennis Brewer rep from San Jose where he works for FMC, that he ran into Ray Ludwig, also at FMC.
Phil, Cookie and son Wherry are here in Chicago and doing well. And finally, the award for getting the Q in a few yrs late has to go to Ralph Locurcio, our own shah of Kuwait. Loco is now the Engr Div Cmdr for the Pacific in HI. Roy Garms came back to UT for some vacation. He spends most of his time out of the US working on big refineries for Exxon.
Well, folks, that's it for now. The Christmas ltrs really help, even if they're late. And don't forget--it's time for $65 for '65!