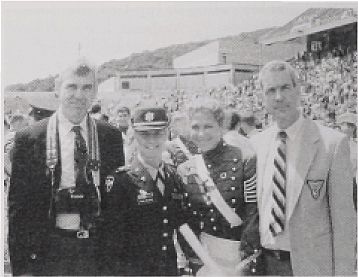 Greetings from Chicago. Please note the new address above. Received a nice ltr from David Vann with the enclosed pic of him and John as well as David's two daughters, Sandra Vann-Olejasz '89 and Debra '92, taken at Grad. One wonders how two such lovely, young Army ofcrs come from such humble forebearers. This is actually a third-generation pic given by MG Walter Vann '39. Debbie was the CPT of the women's lacrosse team and led them to a 16-5 victory over Navy, capping another winning season and remaining the only Army team never to have lost to Navy. David observes that, for those who are wondering about women in combat, Sandy is now a qualified 'scud dodger," having spent close to 6 mos in the Persian Gulf war running supplies to the front in a QM forward spt unit. John has completed his transition to civ life and enjoys work as a project mgr for Mgt Analysis, Inc in McLean, VA, solving Army and DOD problems from the outside, associated with the new corporate info mgt initiatives and Defense Business Opns Fund.
Merritt Bumpass rep from Cleveland that he is alive and well and still earning a penny or two as a lawyer, He saw Labe Jackson, who lives outside of Lexington, KY and spends his winters in FL. Labe is on the Cleveland Fed Reserve Bd.
Thanks also to those who continue to send in money to our Cl fund.
Bill Connolly wrote from Ft Meade, MD that he's been the XO to ASA/Finance since early 91. He was in Panama before that and saw Him Kelley (ADA). Jim was a Gp CO and has just returned. Bill may be going with Jim to Kuwait with a co from Tampa that cleans up mine fields. Bill also rep that Fred Scruggs is with the 7th SF in Panama and apparently has turned over his cmd. Rocco McGurk is ret and still in the DC area. Bill also saw Leo Kennedy and Jim Halberg in DC. Bob Cato is also there. Tim Timms called Bill and rep that he & his wife stayed in Europe after he ret, but they since have moved to Huntsville, AL. Daughter Kim lives in Alexandria, and they have a son in the 25th Inf.
Mike Hudson sent in his questionnaire (a little late, but who cares) and rep that his 3 children (Lauryn, Jeff and Meredyth) are all doing well. Lauryn graduated from TX Tech and Jeff graduated from U of Texas in Austin.
| | |
| --- | --- |
| 1965: Skip, Chip and Marilyn O'Donnell | 1965: Chip O'Donnell and Don Appler |
Skip O'Donnell sent two pix of him & Marilyn at Chip's grad. They drove down with Chip to Ft Knox over the July 4th wknd and stayed with the Applers. It's nice to see someone in the Cl with more gray hair than the scribe. Don ret last summer, does construction work and is settled in Elizabethtown, just south of Ft Knox. Carol traded in her active duty svc for a civ svc job as head of preventive medicine at Ft Knox Hosp. They have two lovely daughters, Adrienne (HS sr) and Valerie (8th grade). Skip also rep that Barry Zais left Ft Carson for Carlisle Bks and he thought that Dan Benton was no longer at the 1st Arm Div but rather is at Ft Sill. Skip, thanks for the continuing ltrs.
Jim Harmon in NY rep that he left a large law firm to start his own firm, where he is a litigator specializing in white-collar criminal work. He goes to the Army football games a lot with Ray & Linda Hawkins. Ray is a freelance consultant in electronics in the defense area. Chuck McCloskey moved to Garden City, Long Isl, where the Harmons live. Mark Sheridan als is in Garden City. Jim has two grandchildren (3 and one). Of his 3 children, the youngest girl is a soph at Boston Coll. Jim also rep seeing Chris Needles.
I was working on a business deal and needed some advice concerning a firm in Milwaukee, so I called Pat Kenny, who ret from the Army this Oct and works for the Chamber of Commerce in the Ft Benning area. They have a major program underway to bring people to live in the Columbus/Ft Benning area in order to keep Ft Benning alive. There was some sort of function at Ft Benning at which Pat was going to introduce Dan Christman.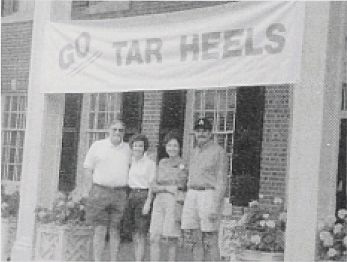 Joe Barkley sent the nearby pic of him & Diane at the Army-UNC game. They rep that they seemed to be the only Army people at the Old Carolina Inn. Their second son Patrick is an Amy PVT with the 3rd Inf Div in Erlangen. First son Chris is an engr working in Fairfax, VA and doing well.
And finally, an update on the A-N game in Phila. Joe Sanchez rep that there was a good turnout for the game and post-game activities. He & Nancy were joined by Don Kurtz and new friend Sarah; Jim & Carol Tomaswick; Paul & Diane Barber (still at USMA and plans to retire late '93); Carl Peterson & Bobbie (rep that they've just changed jobs); Chuck & Rosemary McCloskey (came in from Long Island); Chuck & Anne Boohar (rep their oldest son just got married). Bob Thompson and wife (who the Scribe noted have not sent in their questionnaire) were there along with Don Rowe and friend Judy (he is still at Valley Forge Ma), and John Howell. Ernie Westpheling was also there and rep that, although he had retired, he was called back to active duty to straighten out the National Guard in NJ. DA is now trying to figure out how to keep him on board--stay tuned on that one.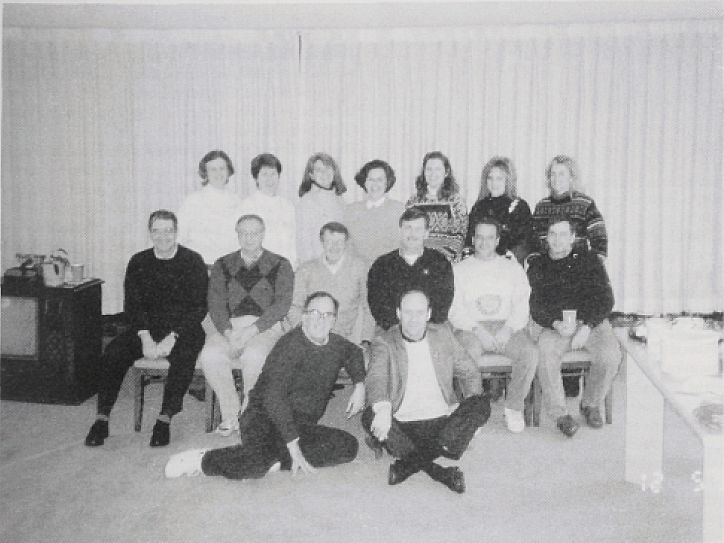 And finally, Sanchez rep that they have reserved a block of rooms for the Army-Navy '93 game at the Meadowlands and will have a party like we did there 5 yrs ago.
Well folks, that's it from Chicago. Strength and Drive!--Dennis Coll.