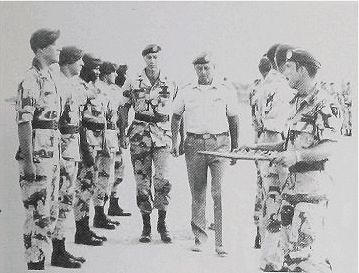 Greetings from Chicago. Please note my new mailing address indicated above. Received a number of ltrs from John Lucero in Haves, K S. who is writing a book about our deceased classmate, Marv Jeffcoat. You may get a call from Lucero concerning his book. The pic of Marv was one of the last taken before the crash at Gander.
My oldest son Brian was networking in the CO Springs area for his upcoming move there and spent a good deal of time with Tim Simmons, who is a lawyer and a municipal judge who deals with city ordinances.as well as acting as a neutral arbitrator while he's practicing law. He got out of the Army at Ft Carson in 76 but has stayed in the Army Reserves (JAG). His oldest child grad from San Diego State, and another son grad from Marquette in 90 in biomed engring and has a 9-yr-old daughter.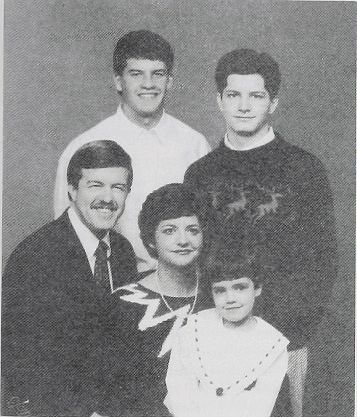 The pic shows Tim & Roberta with sons Tim Jr and Mark and young daughter Kimberly. For anyone looking for a lifestyle/location change, CO Springs seems to be the place.
Was reading the 18Aug Wall Street Journal about a probe of a large NY real estate developer when my eye was attracted to the name of the federal prosecutor in the case, none other than our own Roger Frydrychowski, who's still in Richmond. I haven't seen Roger since the Vietnam parade here in Chicago a number of yrs ago. Also on the E Coast, a confirmed sighting of our old friend Nick Principe, who works in NYC for the Talon Gp on Park Ave. They're involved in Hotel 6 and Sofitel in the Caribbean.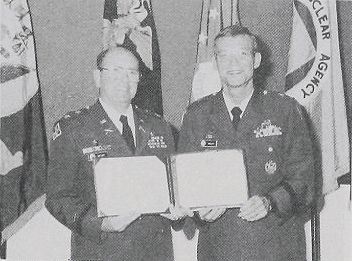 Frank Meier ret in Aug at Kirkland AFB and is currently deciding what to do with himself. They have been in Albuquerque for quite some time, where he was the ch of above-ground nuclear test opns for the DNA. Frank received his degree in physics from Purdue and has been in the nuclear business for the last 25 yrs. His son is at AZ State and the other is at William and Mary.
In case you're thinking of cremation down the road, there is a new Columbarium Chapel in the Old Cadet Chapel for your remain. Just thought you'd like to know!
Nancy Singelyn wrote for a copy of the Cl roster since Paul didn't get his Q in on time. Their oldest boy Jim was at Ft Leonard Wood and is going to Aberdeen for some further schooling. They still have their wood-moulding business in Chicago and are doing well. Incidentally, if you send me a pic of one of your children, Please make sure that our WP classmate (or spouse) is in the pic or ASSEMBLY will be unable to publish it.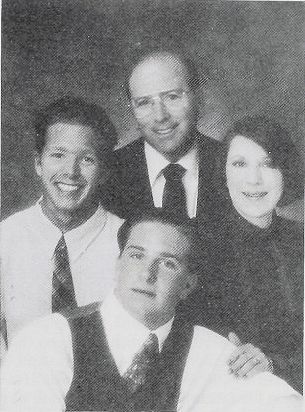 John Howell rep that 36 people have contributed about $5,000 of the $7,500 needed for the Cl four-man crew shell. Additional contribs can be sent to John. Speaking of contribs, thanks to those of you who remember to send in your $85 (or more) every Jun. I get notification from the AOG and it's amazing how some people just mark this on their calendar and keep the money coming in.
I finally tracked down our Cl pres Mark Walsh at Leavenworth and left a few messages for him, all to no avail. If anybody's there and sees him coming, please ask him to give me a call.
Dick Williams called in Sep and updated me on his family. His daughter, a sch teacher who attended IL State, was married here in Chicago in Aug. Dick is still the project mgr for Smart Munitions, many of which were used in Iraq.
According to Joe Sanchez, Wes Taylor is still in DC but is now in the Off of the SecDef for Special Ops/Low Intensity Conflicts working on policy issues. He & Linda bought a new house last yr. Wes apparently talked to Mike Dean and rep that he & Chris may move back to the E Coast; nothing definite.
And finally, we are missing some classmates whom we have been unable to track down. If you know the wearabouts of any of these folks, drop me a line or give me a call: Gordon Larson, Ray Ludwig, Lou Manness, Jim Mins, Tom Mushovic, Jim Peters, Doug Richardson, Steve Poerry, Greg Steele, Francis Tantalo, Michael H Thompson, Tomas D Thompson and Jim Tillman, You guys are officially AWOL and need to contact your friendly scribe ASAP.
Received a last-min note from John Knowles, who packed it up from the Quad Cities (IA/IL) and headed for "God's waiting room" in Venice, FL. He turned over his duties at Rock Isl Arsenal to Ed Sharkness, who took an early out from civ svc, although he stayed in the reserves for a while. While there, John traveled to Cresco, IA for LeRoy Alitz's induction into the IA Wrestling Hall of Fame and rep our Cl at ceremony. John rep that Carol is still setting up the new house, while son Mike started HS and other son John is a jr at Drake in Des Moines. John heads up a new planning div for the county utilities dept. On his way S, he stopped in at Ft Benning and had a nice visit with Pat Kenny, who's dir of engring/housing there. Jeff, thank for the update.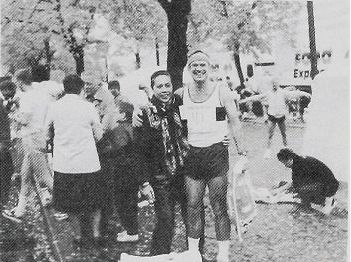 And finally, the best "opening line to your scribe" award goes to Bob Baldinger: "I suppose everyone ought to contribute a ltr once in 27 yrs. . . .. Bob & Sam live in NE England near Newcastle, where Bob is building a nuclear power plant. They have lived in Europe since 79. They raised two nephews (one is a FA 02 at Ft Hood, and the other a MSC 01) and one niece (who is in ROTC at U of HI but is curently on a one-yr work/study program in Bonn). Bob rep that Ken Moorefield, who is the counselor for Economic Affairs at the US Embassy in London, spoke at last yr's FD. Bob, great ltr--but don't wait another 27 yrs for the next one.
Well folks. that's about it from this end. Keep those ltrs and pix coming, and remember: Your scribe gets lonely if he doesn't hear from a bunch of you.