Greetings once again from Chicago. We've some great news and great pic, espec of several weddings. As you can in the first pic, our good friend the Deputy Dean & wife Jim & Julie McEliece, beam very proudly as their daughter Annabet walks out of the Cadet Chapel with husband Tom Pettit '9l.
We're not sure which of the two young ladles is the prettier, the mother of the bride or the bride! A great reception was held at the Thayer, with both Jim &Julie leading the way with fancy dance steps.
| | |
| --- | --- |
| 1965: The McEliece wedding | 1965: The Wattendorf wedding |
On that same Sat morn, John & Addrienne Wattendorf saw their son Danny marry Nicole Trotter.
Both are Cornell grads serving in the USAF. Danny will start med sch at George Wash shortly. Nicole has her master's in aerospace engring and will be going to DC to get another master's in public health. Also in attendance at the wedding (see pic) were the Vanns, the Doughtys and the Csokas.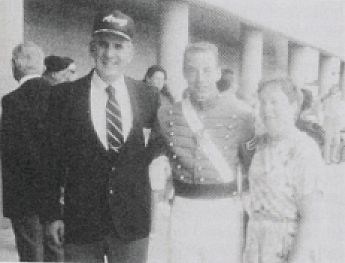 At the grad ceremonies for '92, our Cl was ably represented by new 2LT Pat Howell (who graduated high enough in his Cl to be in the first row of cadets receiving their diplomas) and Chip O'Donnell, shown with his parents.
Skip called it a tearjerker because it brought back memories of Jun 65. Also in attendance were Rich Osgood and Dave & Slosh Vann. Future Coll daughter-in-law Carolina Rodriguez-Rey was also amongst the 92 grads and was looking forward to her wedding to Brian in Aug 92 in Reading. PA.
As '92 joins the Long Cray Line, '96 starts Beast, led by our own off-spring: Mark DeLaar, Matt Gnau, Ivan Konermann and Justin Leozinski (can you believe ii?)
Bob Wolff sent along the pic of the Cl engrs who attended the SAME conf in New Orleans in May. Pictured are Frank Skidmore (who's with Berger and Associates in Gaithersburg, MD), Ralph Locurcio (Pacific Ocean div cmdr), Chuck McCloskey (see later), Clare Gill (DCS USAREUR) and Stan Genega (S Atlantic Div).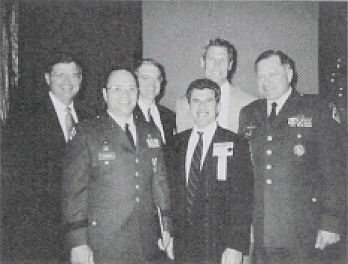 Bob has a new job as ch of engring at a Baltimore district, which causes him to commute from Potomac to Baltimore each day. His daughter Dina (23) is at The Sch of the Museum Fine Arts in Boston and son Allen (20) is at U of MI. Phyllis is doing well in her interior design business. Speaking of the SAME mtg. Loco was presented the Wheeler medal, an award presented annually to civ and mil mbrs for outstanding contribs to mil engring. In Loco's case, he received the medal for his work in rebuilding Kuwait.
Speaking of McCloskey, he is now VP of Gas Energy, Inc a subsidiary of Brooklyn Union Gas, the nation's 5th largest gas distribution co. Within Gas Energy, he is the pres of Energy Pro Construction Partners and directs the engring procurement and construction opn of a natural gas-fired, 90 megawatt generation power plant at JFK Intl Airport. The $240 mil project is scheduled to be on-line within two yrs and will provide all the electrical power for the airport as well as the central heating and cooling for 9 passenger terminals. They have their house in Little Rock up for sale and will be relocating to Long Isl shortly. Since he's been back, Chuck has renewed ties with Russ Campbell, Jim Harmon and Mark Sheridan.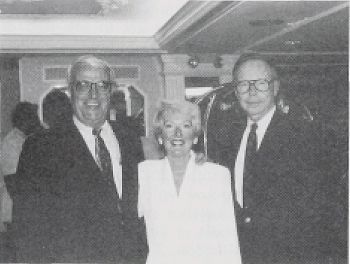 Our old friend Max Thurman was in town with the Pres' Commission on Women in the Mil, and we were fortunate to be invited to a private dinner that the CG, SUAREC had for him. Max looks, acts and feels great and is back up to his normal cruising speed of 150%. Miracles do happen and certainly not to a nicer guy. Max also accepted an honorary '65 mbrship and said he was proud to do it (as long as it didn't cost him any money).
John Alger is now with Prudential Realtors in Fayetteville, NC. John will be working for his first co XO who runs this real estate opn. He & Linda will be moving as soon as they sell their home in VA.
The new two-star list came out in Jun, and, of the 28 nominated, several were '65. Dick Tragemann is currently at Leavenworth. John Thompson is also on the list and is the ADC, 5th Inf at Ft Polk. Stan Genega and John Pickler round out the list. Our congrats to all 4 of our deserving classmates. Jimmie Wood wrote from AK that he & Lee will be leaving after 4 long but enjoyable yrs. He cmded a bde and then was C/S for the 6th ID. They are going to Norfolk where he will be dir of Joint Doctrine, trying to take the lessons from Desert Storm and turn them into doctrine.
Betsy Reed wrote that Howie has accepted a new position with OH State at Lima as associate dir (fiscal responsibility) for the campus. She planned to join him after daughter Debbie finishes teaching swimming this summer. After that, Debbie will head back to Rhodes Coo in Memphis for her sr yr, and Andy will be staying at NYC, where he is in the mgt trng program with Consolidated Edison.
I saw Joe & Lynn DeFrancisco in Apr in DC, and we had a great dinner together. My notes indicate "Joe will buy Lynn a Jaguar," but the context of same was not transcribed by your scribe. Lynn, call me when you get the car, and we'll go for a ride. G2 reps from USMA indicate that Kim Olmstead Jr is going to be part of the sr cadet lership (deputy bde cmdr) for 93. I received late questionnaires, which will be added to our master roster, from Mike Hudson, who's an atty in Marina Del Rey, CA; Jim Stephenson, still in Minneapolis; and Duncan MacVicar, still in Los Altos, CA. If you still have your questionnaire, send it in and it will go into the master roster. If you need a copy of the printed roster, send $25 made payable to the Cl Fund.
And finally, don't forget the Cl party at the Cherry Hill Hyatt Hotel on Friday, 4 Dec and Saturday, 5 Dec immediately following the A/N game. Call Joe Sanchez for reservations. Thanks for the ltrs and pix--I was a little afraid that the last article was indicative of decline, but not so! Beat Navy!