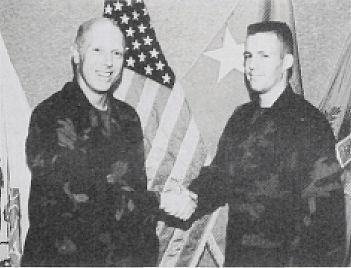 Greetings again from Chicago. Received a nice pic of Dan Christman congratulating Bruce Lowe during engr off's basic course at Ft Leonard Wood. Bruce, according to Jack, is off to Ranger Sch; then he will be assigned to Ft Carson, where Barry Zais is the CS.
Thames rep that he's now in Brownsboro, AL after having been in the 320 AADCOM. George Ruggles sent a nice note with an article about Bob Huffhines. Bob, who grad from Harvard Law Sch, works in WA representing indigents. George also rep that Sue is doing fine with her new co and is working ut of the house. Daughter Stephanie grad from Northwestern, works in San Fran at a big law firm and plans on going to law sch. Son Jonathan is now working on a ranch in central OR, after which he'll probably go to Europe for a while. George is still traveling quite a bit and gets back to WP every so often. George sees Doug Gentzkow every few mos. He owns a nice vineyard near Corvallis, OR which produces some good wine. He is a pilot on his regular job.
Ed Foehl hasn't been seen other than for a brief appearance at the annual A-N game in Portland, according to Ruggles.
David Gnau rep that son Matthew received a 3-yr ROTC scholarship and also was accepted by Lehigh. During that entire process, he also received an appt to WP, enrolling with the Cl of '96. In the same Cl will be Mark deLaar, son of Bob & Pauline. This may be the first time that two first cousins of classmate fathers have entered the Acad. Yes, there still are plebe parents at WP. The new cadet does not choose one; they are assigned one. Just when we were there, some of them take the asgmt seriously and others do not. Chuck Shaw is still alive and well, getting on with his life, as they say, in Napa Valley.
Jimmy Stephenson wrote from Minneapolis and sent the Cl Roster questionnaire in a little late. Jimmy rep that since most news at our age consists of unpleasant developments, he has no news to rep. I'm not exactly sure what that means, but it was good hearing from you, Jimmy. He has 3 children (two girls and a boy) and is still a lawyer with a large law firm in Minneapolis.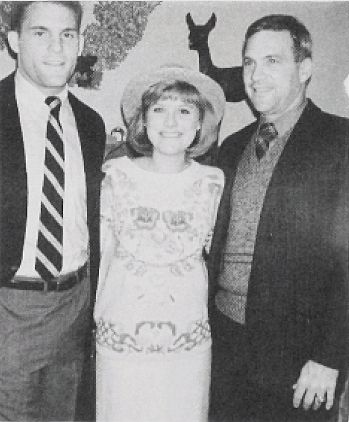 Speaking of the questionnaires, we still have a few rosters available; if interested, send $25 made out to the Cl of '65, and I'll be happy to send you one. Although the Exec Cmte did not meet this last May, a gp of classmates at USMA is busy putting together a potential list of Cl gifts for the cmte's review and recommendation to the Cl. Judging from the list, it seems they've done a thorough job looking at all angles.
John Howell, as rep in last issue, indicated that our new boat, the Cl of '65 crew shell, did very well in its initial runs as well as in the Dad Vail finals in Phila. The contribs to help pay for the shell are coming in, but John still needs some help. Please send your checks to either John or me.
Jim & Julie McEliece gave away their only daughter Annabet at a Jul wedding at WP. Her husband, Tom Pettit, is Cl of '91 and a super guy. He just grad from Furman with a degree in English and has done an outstanding job in a writing career, incl several articles in the Pointer View, good luck to the newly weds.
Well folks, two pix and very few ltrs makes for a dismal article. This is the first in a very long time that this has happened, so let's not make it a habit. Please write!