Greetings from Chicago! All should have received Cl Roster by now, at least those who sent in the questionnaire. If you have not or if you did not send in a questionnaire, we have a few extra copies. Send a $25 check payable to the Cl of '65 Fund, and we'll get one off to you. Also, if you see any errors, please call or write; it will make our next issue more accurate.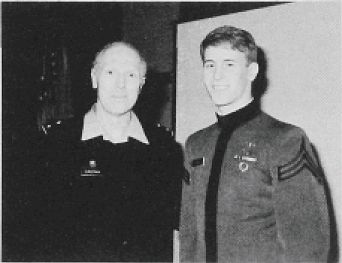 Emery Chase wrote from Woodbridge, VA that the arrival his Roster motivated him to drop a line. He ret in a formal ceremony with the "Old Guard;" if you've got to go, that's really the way to do it. He's now with FAIC in northern VA, and works just down the hall from Ed Simpson. Eldest son Emery III grad in the Cl of '89 and is an O-2 with the 19th Engr Bn at Ft Knox, having spent last spring in Desert Storm. Emery participated in the commissioning svc for his Army nurse daughter-in-law Tara in Dec. Second son Kent grad with '91 and is at Ft Rucker learning to fly helicopters. He & Anne are expecting the Chases' first grandchild this Jun, and daughter Heather is in the 7th grade. Emery saw Frank & Cam Hennessee as well as June & Jim Harvey at Kent's wedding. Jim & Lynne Helberg go to the same church.
Dan Christman sent the encl pic of him and Pat Howell '92 taken while Dan was meeting the Engr Lts. Dan rep that Jack Lowe's son Bruce is at Ft Leonard Wood attending Engr Basic. Ken Yoshitani's son Shaw grad in Dec from LW. The FD dinner there was organized by Rich Charles, and a good time was had by all. Christman is also showing Cl ldrship by his annual $65 ea Jun. Several others are following suit, most recently Don Exelby. Guys, if you would mark it on your calendar ea Jun to send that amount in, we could quickly achieve Dave Kuhn's goal for our Cl. And lastly, Dan's still waiting for the Cl offspring pic from Princeton.
John Howell is now a banker in VA and still maintains an active role with the WP crew team bd (along with my wife Judy).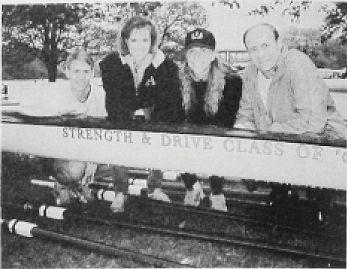 The pic shows John with our new Cl boat, a gift which he and Judy Coll are spearheading. With John are son Pat (CPT of Army Crew Tm), Shannon Coll '95 and future Coll Daughter-in-law Carolina Rodriquez-Rey '92. The new shell won its first three races and is the pride of the Army Crew Team. While at the "jr" Natls in Phila in early May, Colin Halvorson (whose son rows for Marietta Coll) saw "Strength and Drive--Cl of '65" racing, and he followed the shell to the dock. There he saw John and our offspring. By posting the second fastest qualifying times, our boat and crew have been invited to the col natls. A fund-raising ltr was mailed to all classmates in mid-May.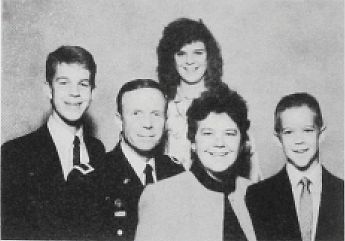 Paul Schultz rep he is working for the merchant banking/consulting co that specializes in turn arounds. Jim Peters '64/65 wrote from LaMartue, TX reminding me that he had written last yr, but I never received it. Jim (I-2) left the Army in 69 after visits to Benning (2), Ger and Vietnam. He joined the TX Guard in 79 and reverted to USAR in 89. He vol for Desert Storm and spent 6 mos at Ft Harrison, where he saw Ed Klink. He has spent 20 yrs as an envir engr and would love to hear from former roomies Tom Van Dyke, Dave Brown, Dan Christman, Bubba Pickup, Haynes and others. His address is PO Box 121, 77568. John Pickler wrote from JTF6 on the whereabouts of Barry Zais (CS, 4th Inf at Ft Carson) and Dave Benton (ADC-1st ARM in Baumholder).
Daughter Nevelyn grad from Middle TN St last May and is working in Nashville's Opreland Hotel in mgt tng. Son Andy is engaged to Laura Helton from Baumholder. Andy works at Milford Proving Ground. Son Jeff is finishing 7th grade and excels in science. John & Karen really like their new comm and church. Karen, my apologies for omitting your name on the roster--we'll correct it next time. (NB--Family Christmas newsltrs are a great way to update your scribe. If you still have last yr's, send it along.)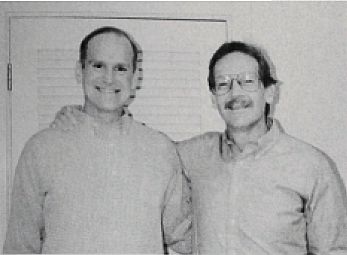 Pix from Dick Williams: one shows him & John Bell last Jan at John's Merritt Isl home. John is a dentist with two ofcs. He, Becky and their two sons enjoy all those good warm-weather sports.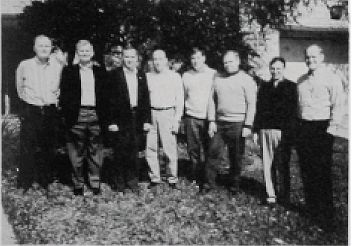 Another pic shows classmates at the Jan Army PM's conference in Orlando: Lee Hewitt (Army Data distribution Sys), Oleh Koropey (Dep Prog XO for Armarments at Picatinny), BG John Longhouser (Asst Dep, Sys Mgt, OASAR), Barry Levin (Nuclear munitions at Picatinny), Dave Jones (brilliant anti-tac munitions at Red Stone), Ron Williams (CH-47 Helicopter modernization program at St Louis), Tony Gamboa (Dep Army Gen Counsel for Acquisition) and Dick Williams (search and destroy armor at Picatinny). Our long-lost Cl Pres Mark Walsh is on the staff of the AWC, where he is dir of arms control studies.
Bob Radcliffe ret and moved from Ben, OR to Concord, NC, where he works for Phillip Morris. Dave Hopkiins works in Richland, WA for Westinghouse on the nuclear waste disposal issue, with quite a few USNA grads. Darlene and daughter Armanda are trying to sell the house in Wilmington. Son Mark is at Messia Coll studying human resource mgt. Kent Brown is just down the road in Boise as the mgr of engr svcs for the local county.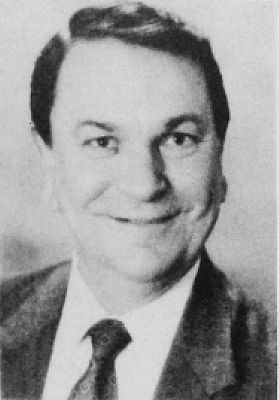 Jon King rep he is still in Houston as in-house legal counsel for the RTC on special projects. He meets monthly with a business networking gp that incl Jim Lane, Jerry Hoffman, Woddy Eperson and Fred Grates. John, your friend never called me. Pres Dave Kuhn did a deep one off the 13-ft bungie drop in Australia. Toughest part was walking off the plank with his feet tied.
Our sympathy has been extended to the family of GEN Stilwell, who passed away earlier this yr. He was a great man and will ge remembered by our Cl. Jerry Lipsit made his career move in smooth fashion, from Centel to becoming a local realtor. Dave Gnau wrote from Detroit that his son expects to enter USMA '96. Dave is married to Lucky deLaar's sister and rep that Lucky's son Mark received early admission for '96. Buried in the media hoopla of the large GM layoff in early Mar was the fact that 4,700 jobs in TX were saved by the cool, quiet professionalism of Art Hester. While everyone else was fighting the sys, Art made it work for his plant. He and union leaders last yr began an around-the-clock production sched using 3 crews and 3 work shifts, a first for the auto indus in the last 20 yrs. There were flattering articles in the NY Times and the local TX papers.
In closing, I have a few more pics from A-N get-togethers last Dec. In the first, the Curls, Raybecks and Petersens.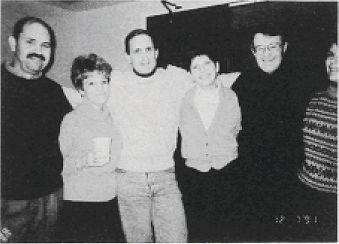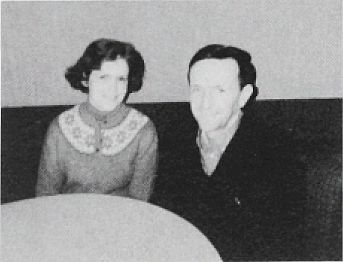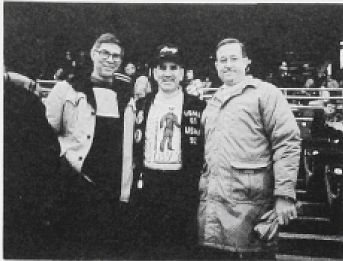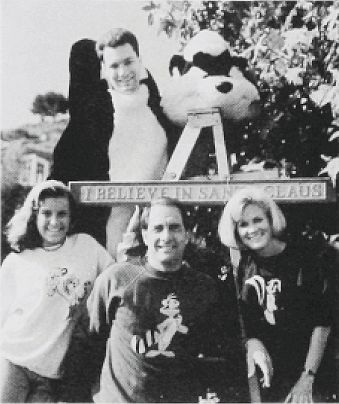 Barry & Linda Zais are in the second, followed by Howard Reed, Skip O'Donnell and Bruce Clarke at the game. And finally, Santa Claus (aka our pres) is surrounded by his two beautiful women and aspiring producer son last Christmas.
After seeing the Woody Harrelson movie, your scribe decided to improve his vertical leap by having surgery on both knees. My goal is to make a shot similar to Woody's in the final scene.
Keep the ltrs, pics, and corrections to the Roster and your 91 Christmas newsltrs coming. Also, active-duty asgmt changes and your $65 check in to our treas, Joe Sanchez.