You should have received your Cl Roster by now; they were mailed near the end of Feb. If you care to purchase one (or an additional one) send me a check for $25.00 payable to "Cl of '65." The rosier has business and home info, a geographical breakout by cities within states, an industry breakout and info on offspring, Cl history and the like.
What exactly is Joint Task Force Six? John Pickler is now running it, and it is the DoD gp fighting the drug war Harry Haines encl a copy of a newspaper article on Bob Rojas, Minister of Foreign Trade in Costa Rica. Harry manages purchasing for AT&T in FL. Anyone passing through Maitland should give Harry a call. Bob Harter wrote from VA where he is with Kamin Sciences Corp, along with Hank Sterbenz. Since the departure from DC of Kurt Adams, Cl activity has ground to a halt. Bo & Mary went to Ger to visit their son, an S-2 with the 11 ACR. Tom Henneberry wrote from MIT, where he is the dir of insurance and legal affairs.
Our prez took a "dive" in Australia: Kuhn and son joined the ranks of the bungy cord jumpers. Dave's impression was that it wasn't quite as scary as the Slide for Life! Dave Jr grad from the Sch of Cinema and TV at USC last Jun and is working for Warner Brothers. Daughter Rose Emily is in HS and is doing very well on her volleyball team. Mike Connor departed the 6th Inf. where he was the ADCM. Jim Wood was their CS. He has ret, and they are now at Hilton Head, where he will do consulting. The O'Donnells went to CO to see the USAFA game and took some great pics.
1965: Keyes Hudson with shady lady

1965: Skip O'Donnell and John and Jack Swensson

1965: Marilyn O'Donnell and the Tredennick family

1965: Vogel and Peterson
Visiting with them at the game were Keyes Hudson, Barry & Linda Zais and John Swensson with father Jack. They also saw the Tredennicks (Bill, Sue and children).
Skip also went to the A-N Game. Where he spent some time with Tim Vogel, Carl Peterson, Howie Reed and Bruce Clarke.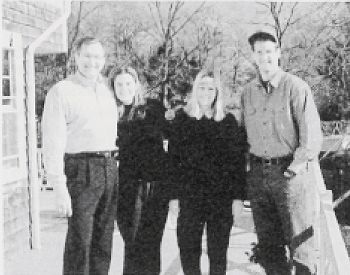 Bill Zadel wrote from M A, where he is still with Ciba-Corning as their CEO. Their 3 children range in age from 16-25.Two of them (Elizabeth and Bart) are shown with mom & dad on their back porch.
Bart is a second-yr law student at the U of Toledo and wilI be married soon. Elizabeth grad from BU und is working on a portfolio of paintings to apply to grad sch in fine arts. Other son David is a HS sophomore and goes 6'4" and weighs about 200 lbs.
Bill rep that he, Kuhn and John Seymour played a little golf in southern CA; John had the first hole-in-one on that course.
He also played with Don Parcells in NJ. Last Jul, the Stichwehs' daughters held a surprise 25th anniv party for them, attended by the Zadels, Parcells, Lewises and Seymour. Not too far away from Zadel is Doug Gibson.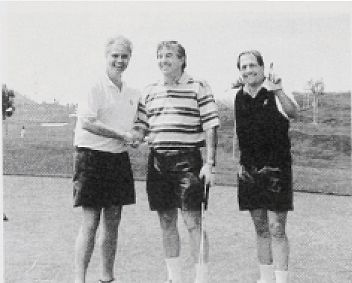 Joe & Lynne DeFrancisco are still in VA, where Joe is the XO for the SA. Lynne works part time in a specialty shop in Old Town Alexandria and absolutely loves it. Daughter Laura is in her final semester at LaSalle, where she had two PR internships this last yr. Son Eric is still in Ger where he is an inf co XO.
In the small-world category, a neighbor of ours is named Cindric. Having nothing else to do, we called Tom to see if there was any relation (there was not). Tom is a HS math teacher and lives in Woodbridge, VA. He sees John Schuford occasionally. Bob & Barbara Anderson wrote from Germantown, TN that they left AKK after 5 yrs and drove 5,500 mi on their was S. Bob is the assoc dire of the VA Med Ctr. Daughter Cheryl is at Smith Coll, and son David is a HS freshman, plays in the marching band and is heavily involved in intl soccer tournaments. Chuck Moseley rep things are going well with him & Cathy. Cathy is quite involved in local bible study and other church functions. Daughter Debbie, a 5th-grade teacher, is engaged and will be married this Easter. Future son-in-law is 6'4"--will add a little height to the otherwise "not Tall" family. Son Chip is at UNC-Chapel Hill in pre-med. The Markses wrote from Aiken, SC that they had 7 of their 10 children home for Christmas, including daughter Nicolette '91 & son-in-law Eddy Cartaya '90. Jim Thomaswick "volunteered" with pics from the Cl A-N get-together (anybody ever seen Abraham without a cigar?) Shown in the pics are Plotkin, Sanchez, Salamone and Thomaswick.
| | |
| --- | --- |
| 1965: Plotkiin, the Sanchezes, Salamones (with little Andrew), Tomaswicks and Abraham | 1965: Boohgar, Peterson, Gentzkow and Sanches |
Also there were Boohar, Peterson, Gentzkow and Sanchez, as well as the Curls, Raybeck and Peterson. Swick also rep seeing Selkis, O'Donnell, Bob Jones, Jim Hall, Bob Thompson and Tim Vogel at the game.
Pat Kenny is at Ft Benning considering whether to go into the facilities mgt business in civ life. Jim Paley rep they started last yr in Kuala Lumpur, then went to New Zealand and ended up in Houston, He & Maryanne are into running and walking and enjoying life without kids.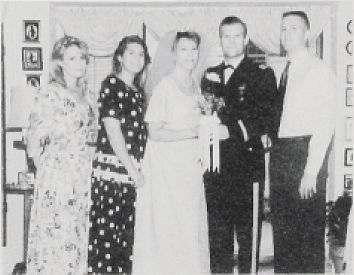 Susie Scholl rep that Wayne joined the civ world last Jun. He is the dir of Federal Business Devel with Halliburton in Gaitersburg, as well as Houston (he spends equal time commuting). They still live in Alexandria. Son Brian is back home looking for a job, while daughter Jenny does outstanding work at Cal Poly in architectural engring.
The attached photo of Jack & Annette Lowe should cause envy. Who amongst us could both bet into our old uniform and wedding dress? They did for their 25th wedding anniv. Son Bruce & new wife honeymooned in Cancun and then returned to TX A&M, where he's finishing his master's. Daughter Mary Melony is a jr at Mary Baldwin Coll. Daughter Stephanie is in HS and Annette teaches home economics at the local HS. Nice pic of Don & Joy Erbes at the recent wedding of their daughter.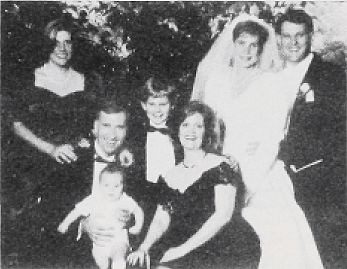 The latest news from the Chicago Colls is that son Brian became engaged over the holidays to Carolina Rodriquez-Rey '92. Daughter Shannon is fearful that second-semester Plebe academics will be more difficult than first, but she continues to enjoy being the coxswain of the USMA varsity men's crew team (with team CPT Pat Howell on bd).
Weil, folks, that's about it from this end. The inclusion of your friendly scribe on your Christmas Newsltr mailing list really made this issue worthwhile. Please, please add me to your mailing list so you won't forget next yr. And the pics this yr were spectacular--some will have to run next issue.
Please let me have your comments on the Roster--don't worry about hurting my feelings. And, now is the time to send your check for $65 to Sanchez for the Cl Fund!